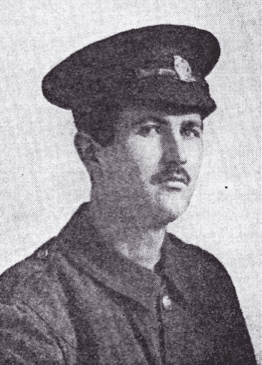 Thank you to Lenka Cathersides for the following research.
Henry Harman Young was born on the 2nd of September 1893 in Dorking, Surrey and was baptised on the 3rd of October 1893 in North Holmwood, Surrey.
Henry's parents were called Major Henry Harman Young and Bessie Pulford.
Henry Harman Young Snr was born in the first quarter of 1855 in Dorking and was baptised on the 18th of May 1855 in Dorking. Henry Snr's parents and Henry Jnr's paternal grandparents were John Young, Esq of Stapleton and Caroline Young.
Bessie Pulford was born on the 14th of May 1851 in Kensington, London and she was baptised on the 16th of May 1851 at Holy Trinity Brompton in Kensington & Chelsea. Bessie's parents and Henry's maternal grandparents were Henry Doughton Pulford, a gentleman and Elizabeth Pulford. At the time of Bessie's baptism her father Henry Doughton was working as a tailor.
Henry Harman Young Snr and Bessie Pulford married by Banns on the 18th of January 1883 at St Barnabas, Addison Road in Kensington & Chelsea. Henry Snr is stated to be a brewer, who at the time of the marriage lived at Stapleton in Dorking. Bessie lived at 11 Holland Villas Road in Kensington.
An article from the 1883 Sussex Agricultural Express described the wedding. Bessie was wearing an ivory satin wedding dress trimmed in lace and orange blossoms. Her hair was covered with a wreath of orange blossoms and a lace veil. She was also said to be wearing brilliant pearl and diamond ornaments. Nine bridesmaids were wearing hats with ostrich feathers. Amongst wedding presents stood out an elegant, polished oak stationary cabinet with an inscription on silver plate from the brewery.
At the time of the 1891 Census, the family lived at Balgowan, Harrow Road West in Dorking. Henry Harman Snr was a Captain of the 2nd Volunteer Battalion the Queen's and a brewer. He and Bessie were bringing up four children: Bessie Harman, John Harman, Kenneth Harman and Barbara Harman. All children were born in Dorking. The family was being served by a nurse, under nurse, parlourmaid, cook and housemaid.
During the 1901 Census, the family still lived at Balgowan, Harrow Road West in Dorking. Henry Harman Snr was now a retired brewer, wine and spirit merchant. Bessie was at home together with her children Bessie Harman, John Harman, Kenneth Harman, Barbara Harman and the now 8 years old Henry Harman Jnr. The family also employed a nurse, parlourmaid, cook and housemaid.
At the time of the 1911 Census, Henry Snr, a retired brewer, Bessie and their children John Harman, a chartered accountant, Kenneth Harman, a solicitor and Barbara Harman lived at Balgowan, Harrow Road West in Dorking. They employed a nurse, cook, parlourmaid and housemaid. The Balgowan had 14 rooms.
The seventeen year old Henry Jnr was at the time of the 1911 Census a boarder at Charterhouse School, Godalming in Guildford.
Henry attended Charterhouse School from 1908 to 1912. Later he became a land surveyor.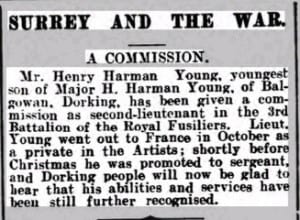 At the outbreak of World War I Henry  became a private of the 28th (County of London) Battalion (Artist Rifles). His regimental number was 1651.
Henry disembarked on the 26th of October 1914 in France. Shortly before Christmas he was promoted to a Sergeant.
On the 9th of May 1915 he was given commission as the 2nd Lieutenant of the 3rd Battalion Royal Fusiliers. Then he spent four days on leave with his family in England and returned to the front on the 14th of May.
By beginning of June 1915, the Dorking and Leatherhead Advertiser reported that Henry was wounded in Flanders.
According to the 1915 Dorking and Leatherhead Advertiser, Henry's father, Major Henry received on the 21st of December 1915 news that his son Henry had been taken prisoner of war in Germany after being wounded during the 2nd Battle of Ypres on the 24th of May 1915. This was the first time since an official notification 'wounded and missing' was published by the War Office that the family heard any news of Henry; although Major Young had been desperately seeking any information about his son. He had also been asking wounded soldiers from his son's regiment about Henry's whereabouts, on their return home. Nobody had heard anything. It was only the intervention of His Majesty King of Spain, addressed by the Major in August 1915, that brought news to the family. According to the Spanish Ambassador to Berlin, Henry Harman Young was a prisoner of war in a camp in Giessen in Hessen.
In reality, Henry Jnr was killed in action on the 24th of May 1915 during the second Battle of Ypres.
In 1921 Major Young received a letter from a German woman, Eugenie Hahn of 4 Ptarrstrasse, Stuttgart. In the letter, she tells that her son Gottlieb Hahn had found a seriously wounded Henry on the battlefield.
He gave the dying Henry water and wrote to his mother to contact Henry's parents that their son had been taken care of. Gottlieb Hahn was also later killed.
In 1923, Major Harman received another letter from Mrs. Hahn, Eugenie pleaded with Major Harman  "You English people are kind and will help when you can".  She then described awful condition in Germany. A pair of boots cost nearly one million marks. She asked for a pair of boots and some clothes: "A payr of boots cost nearly one Million, I need a payr very badly, perhaps you would be so kind and send me one and some left of chloses".
Eugenie also mentioned living with her son  in England prior the war, that he is dead and asked whether Major's friends could send her some needful things.
Henry left his farmer brother Kenneth £808, 12s and 10d in Soldiers Effects.
By December 1915 Henry's brother John Harman Young became a Captain of the Queen's Royal West Surrey Regiment.
Henry Harman Young is commemorated at the Menin Gate Memorial to the Missing on panels 6 and 8 and on a panel wall at Memorial Chapel in Charterhouse School. He is also written in the school's Roll of Honour.
He was awarded the British War and Victory Medals and the 1914 Star.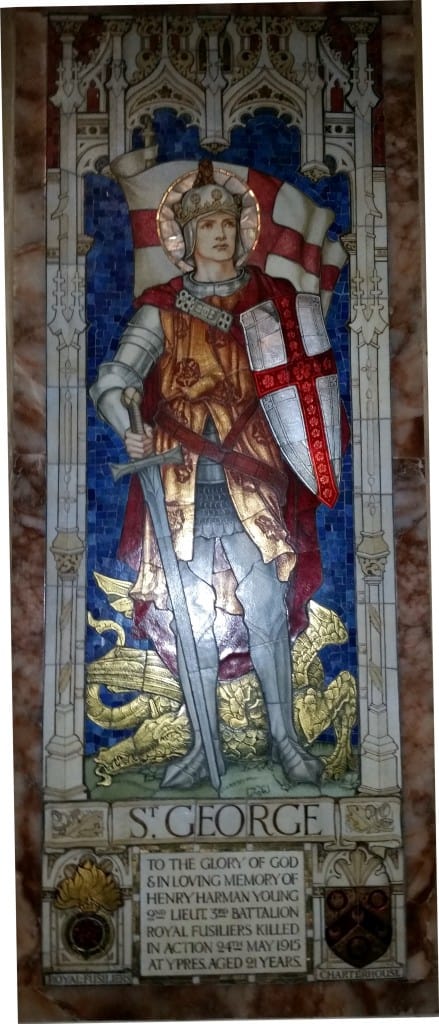 There is a Memorial plaque dedicated to Henry Harman Young that hangs in St. Martin's Church Dorking.
| | | |
| --- | --- | --- |
| Born | Dorking | |
| Lived | Dorking | |
| | | |
| Son of | Major Henry Harman Young and Bessie Young, of "Balgowan," Dorking, Surrey | |
| | | |
| Regiment | 3rd Battalion, Royal Fusiliers | |
| | | |
| Former Regiment | 1651 Private 28th Battalion London Regiment (Artist's Rifles) | |
| | | |
| Date of Death | 24th May 1915 | |
| Place of Death | Ypres, Belgium | |
| Cause of Death | Killed in Action | |
| | | |
| Age | 21 | |
| | | |
| Memorial | Ypres (Menin Gate) Memorial, Ypres, Belgium | |