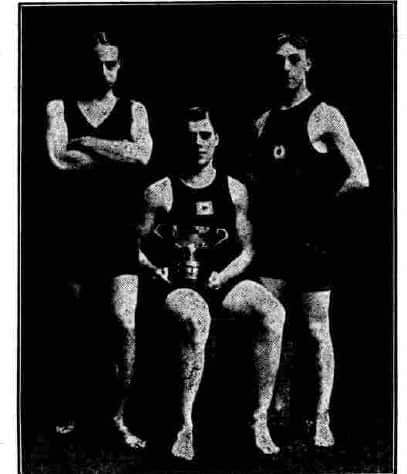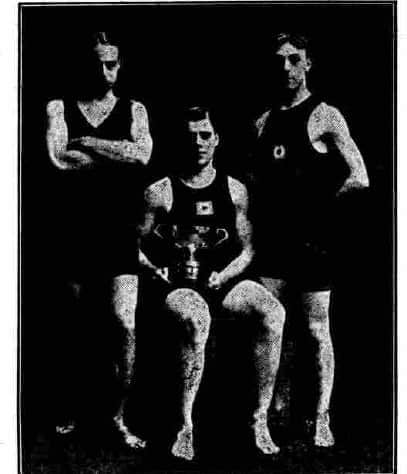 Thank you to Patricia Brazier for the following research.
Herbert was born on 26th September 1889 in Holmwood and baptised in the parish church on 8th December 1889. His father is Henry Samuel, a gardener and his mother is Eleanor Frances (nee Godwin). They married in Holmwood on 22nd December 1887.
Herbert started his education at South Holmwood School on 28th August 1893. He then transferred to the Dorking British School in 1898. He left school on 29th May 1903. Bert, as he was known to his friends, was a keen swimmer. He was Captain of the Dorking Swimming Bath Club in 1909 and Secretary in 1912.
On three occasions in 1906, 1907 and 1912, he won the swimming club's half mile challenge cup over the River course and set the local record of 14 minutes and 11 seconds.
In 1910 he came 7th in the National Championship race from Kew to Putney. He also competed in the Mile Southern Championship securing 4th Place.
The photograph shows the Dorking Relay Swimming Team: DG Rix, Herbert George Stokes, A Chalcraft on September 17th 1910.
In the 1891 census, Herbert is staying with his grandparents Thomas and Eleanor Godwin at 25 Vincent Road in Dorking. His parents are living at Holmwood Lodge with Herbert's brothers Henry, aged 2 and John, aged 1 month.
In the 1901 census, the family are living at 17 Orchard Road in Dorking. Herbert now has three siblings: Henry Lewis who is now 12, John now 10 and a sister, Nellie aged 5. Herbert is 11 years old.
When the 1911 census was taken, Herbert is still living with his family, now at 10 Norfolk Road. His father Henry is still working as a gardener. John, his brother is a draper's assistant and Nellie is a dressmaker. Herbert is 21, and working as a tinsmith at Messrs Stone Turner. His elder brother Henry is boarding with a family in Guildford; he is a railway engine cleaner.
Herbert joined the 77th Company of the Royal Engineers and arrived in France on 10th July 1915. He was reported as missing in March 1918. On 26th September 1918 the Dorking Advertiser reported that, he was officially killed in action on 25th March 1918. He has no known grave and is remembered on the Arras Memorial, Bay 1.
Probate records show that he left £132 to his father who was living at "Viewlands," Fiztharris Avenue, Bournemouth.
| | | |
| --- | --- | --- |
| Born | | Holmwood, Surrey |
| Lived | | Dorking, Surrey |
| | | |
| Son of | | Henry Samuel and Eleanor Frances (nee Godwin) Stokes of Dorking |
| | | |
| Regiment | | 77th Field Company. Royal Engineers |
| | | |
| Date of Death | | 25th March 1918 |
| Place of Death | | Pas de Calais, France |
| Cause of Death | | Killed in action |
| | | |
| Age | | 29 |
| | | |
| Memorial | | Arras Memorial, France |