Thank you to John Callcut for letting us reproduce the following information, taken from his book: A Village at War. Newdigate in World War One.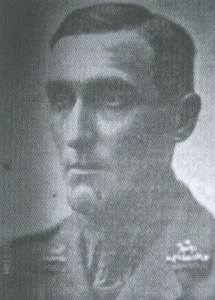 Herbert Walter Goldberg was born on the 12th January 1880, the son of Leopold and Louisa Goldberg. His father, a solicitor, was born in Prussia but was a naturalised British subject. The daily lived at 10 Clapton Common and later in Folkestone before he established a practice in London. They had a London home at 23 Cadogan Gardens and in the 1890's they bought an estate in Newdigare, building the Red House. Herbert, or Bertie, as he was known, was educated at Charterhouse and University College Oxford, where in 1898 he gained a first in jurisprudence. On leaving Oxford he was called to the bar at the Inner Temple where he became a pupil of Mr. Leigh Clare. In the elections of 1910 he unsuccessfully stood as a Liberal candidate for the Reigate Division and his interest in politics led to him publishing a book entitled 'Politics for the Pocket'. Just before the war he married Angela Vernon Sanderson (1883-1959), the daughter of the Rev. Lancelot Sanderson who was formerly the headmaster of Elstree School.
Herbert joined the Inns of Court Officers Training Corps at Christmas 1914 and gained his commission with the 3rd Battalion, The Queens in April 1915. He went to France on the 1st June with the 1st Battalion and on the 21st July he was wounded in the leg and arm by shrapnel from a bomb accident whilst at Beuvry. He was taken to No. 2 British Red Cross Hospital at Rouen. The hand grenade then in use had a dangerous method of ignition and many accidents occurred; it was not until the arrival of the Mills bomb that this type of weapon was considered to be safe. In the same accident. nineteen year old Alfred Cecil Armitage from Worcester Park was killed along with another man. Herbert wrote to his father that he expected to be invalided back to England very soon but that he might lose an arm. His hopes of returning were not realised as he died from his wounds on the 31st July.
He was buried at the St. Sever Cemetery in Rouen and his name is recorded on memorials  at Charterhouse, Temple Church in London and in the Newdigate Churchyard. On the gravestone his name appears with those of his mother, father and brother, Frederick William. At the time of his death his wife is described as living at Glenbourne, West End, Southampton but they also kept a London address at 11 Victoria Grove in Kensington.                                                      
| | | |
| --- | --- | --- |
| Son of | Leopold and Louisa Goldberg of The Red House, Newdigate | |
| Husband of | Angela Goldberg of Glenbourne, West End, Southhampton | |
| Brother of | Frederick William Goldberg | |
| | | |
| Regiment | 3rd Battalion attd. 1st Battalion, The Queen's Royal West Surrey Regiment | |
| | | |
| Date of Death | 31st July 1915 | |
| Place of Death | Rouen, France | |
| Cause of Death | Died of Wounds | |
| | | |
| Age | 35 | |
| | | |
| Cemetery | St. Sever Cemetery, Rouen, France | |