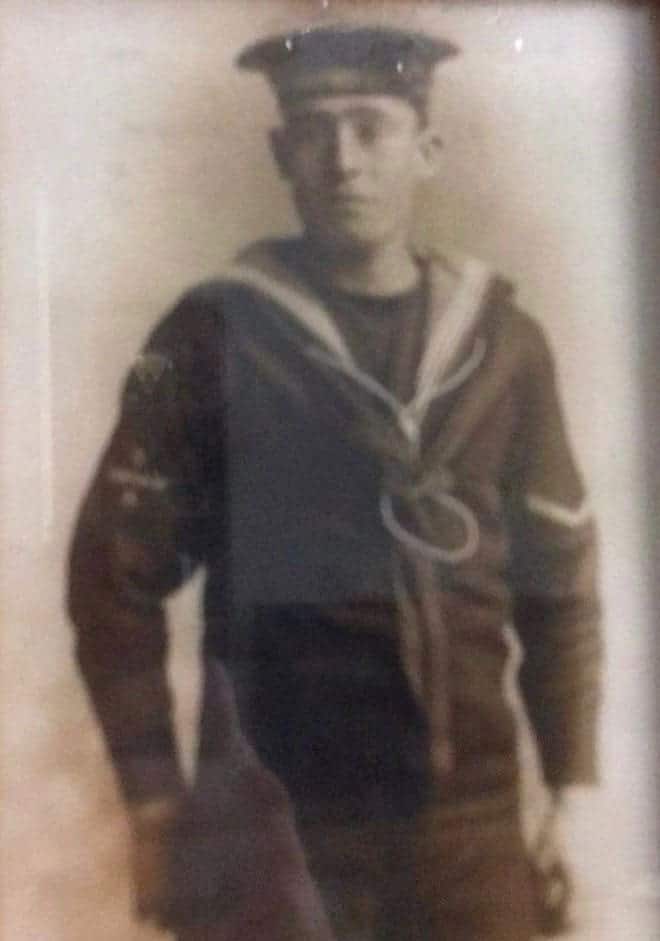 Thank you to Lenka Cathersides for the following research and also to Barbara Gale, Granddaughter of Leonard for the family photographs and additional family information.


Leonard Frank Gale was born on the 28th of September 1892 in Dorking to labourer George and his wife Annie.
Leonard's father George was born in the 1st quarter of 1859 in Dorking to labourer Jonathan, born about 1818 in Fetcham, Surrey and washerwoman Mary nee Peryer, born about 1820 in Dorking. George was baptised on the 13th of March 1859 at St Martin's Church, Dorking. His mother Annie West was born about 1869 in Capel to general labourer James, born about 1835 in Capel and Annie born about 1838 in Reigate. Annie was baptised on the 8th of August 1869 in Holmwood. George and Annie married, by Banns, on the 26th of December 1891 at St Mary's Church in Holmwood. At the time of their marriage George was working as a labourer. The couple lived in Holmwood.
Leonard had three brothers: Albert George born about 1895; Edward Benjamin born about 1901 in Dorking and Alfred James born about 1908, all in Dorking, Surrey.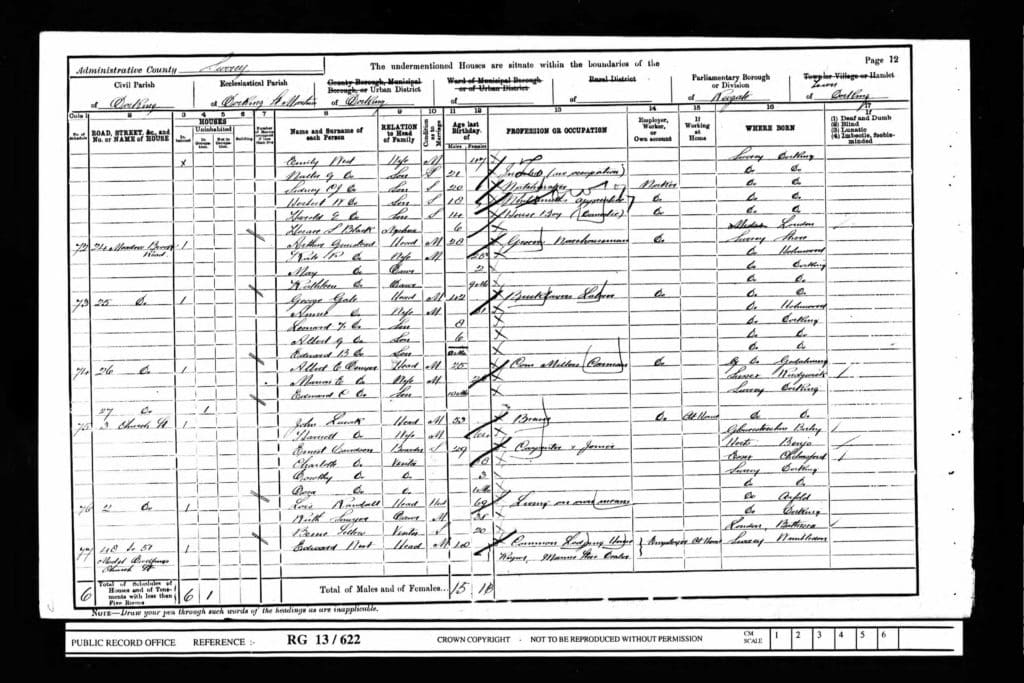 At the time of the 1901 Census, the family lived at 25 Meadow Brook Road, Dorking. George was working as a bricklayer's labourer and Annie was at home looking after their three sons: Leonard, Albert and Edward.
At the time of the 1911 Census, the family lived at Junction Road, Dorking. George was working as a contractor's foreman and Annie was at home. The household further comprised of their children: nurseryman gardener Albert, Edward and Alfred James. Annie stated that she had given birth to four children. The accommodation had four rooms.
On his birthday, on the 28th of September 1910 Leonard Frank Gale joined the Royal Navy in Portsmouth for a duration of 12 years. His service number was J.8830 (Po) and he was a Boy 1st Class. He had brown hair, blue eyes and a fresh complexion. Prior to joining the Navy he was working as a labourer.
Leonard married Nellie Rosina Culmer in the 2nd quarter of 1918 in the Registration District of Dover, Kent. Nellie Rosina was previously married to Samuel D. Dicks in the 2nd quarter of 1915.
Nellie was born in the 2nd quarter of 1895 in Hougham, Kent to boiler stoker Ernest, born about 1868 in Luddenham, Kent and Rosina, born about 1871 in Preston, Kent.
Leonard's son Frank E. Gale was born on 28th August 1919 in Dover, so never met his father.
At the time of his death Leonard was serving as an Able Seaman with the submarine depot ship HMS Lucia.
On the 1st of January 1919 Leonard Frank Gale fell accidentally overboard H.M. Submarine L11 into a dock and fractured his skull. He died two days later on the 3rd of January 1919 at Cleveland House Navy Hospital in Grangetown. For more information on the accident visit The Dover War Memorial Project.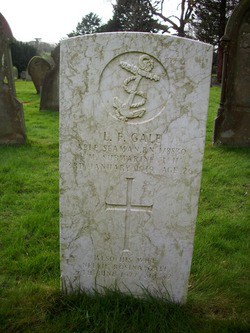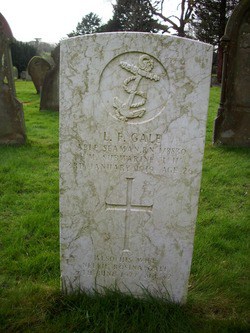 He is buried at Dover Charlton Cemetery, Sec. Y.S. 9/-/6569.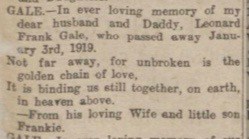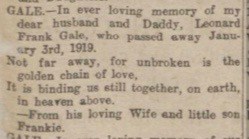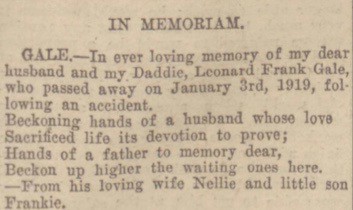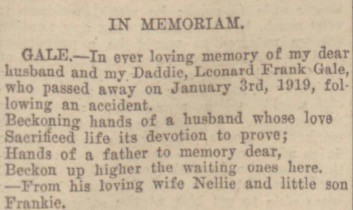 At the time of his death Leonard's wife Nellie lived at 13 De Burgh Street, Dover, Kent. In 1921 in memory of her deceased husband Nellie wrote: 'Not far away, for unbroken is the golden chain of love. It is bonding us still together, on earth, in heaven above.' Nellie continued to remember her husband in the Dover Express newspaper. She died on the 3rd of June 1977 and was buried with her beloved husband.
Leonard's mother Annie died in 1922 and was buried on the 27th of May in Dorking Municipal Cemetery.
His father George re-married Gertrude Mary Howard, on the 6th of July 1924 at St Paul's Church in Dorking. The couple lived at 7 Clifton Terrace, Dorking. George was working as a builder's labourer.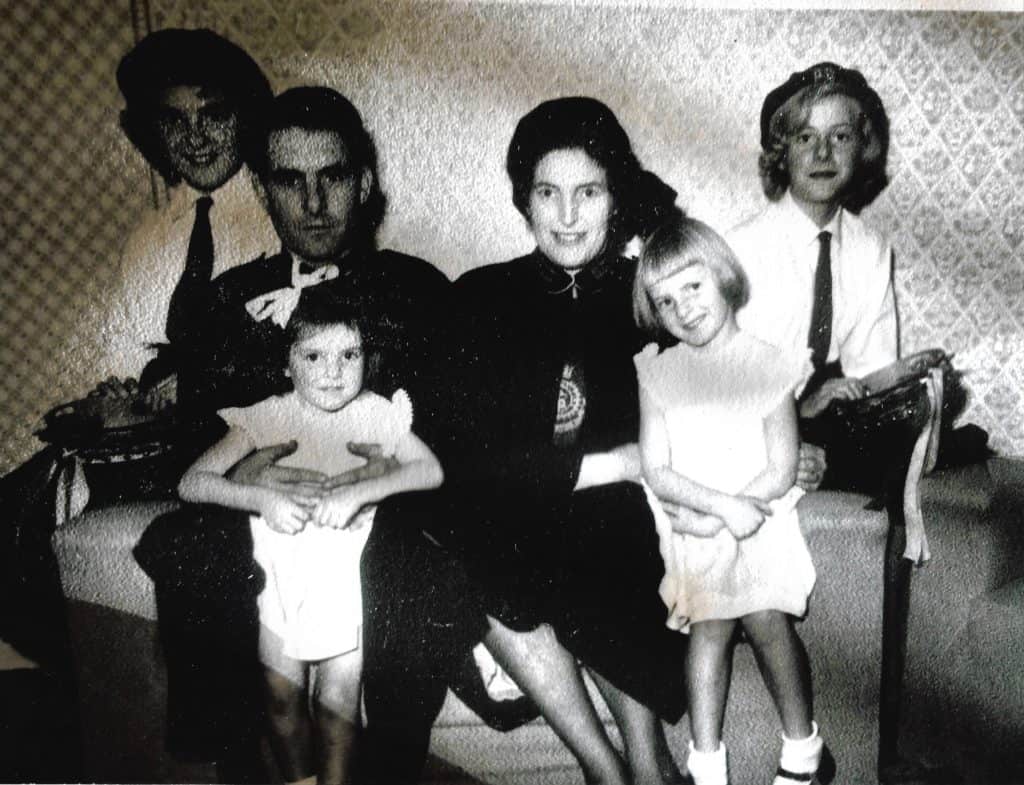 Leonard and Nellie's son Frank died, aged 92, on the 4th July 2011.
| | | |
| --- | --- | --- |
| Born | | Dorking, Surrey |
| Lived | | Dover, Kent |
| | | |
| Son of | | George and Annie Gale of 5 Junction Road, Dorking |
| Husband of | | Nellie Rosina Gale of 13 De Burgh Street, Dover |
| Father of | | Frank |
| | | |
| Regiment | | Royal Navy (P.O.) H. M. Submarine L.11 |
| Number | | J/8830 |
| | | |
| Date of Death | | 3rd January 1919 |
| Place of Death | | Cleveland House Navy Hospital in Grangetown, Middlesbrough. |
| Cause of Death | | Fell overboard into a dry dock |
| | | |
| Age | | 26 |
| | | |
| Memorial | | Charlton Cemetery, Dover |