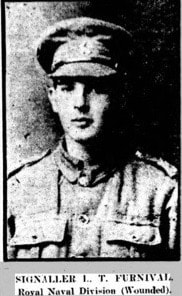 Thank you to Lenka Cathersides for the following research.
Leonard Thomas Furnival was born on the 25th of June 1896 in Broadwas, Worcestershire.
On the 2nd of May 1910 Leonard was admitted into the Dorking High School for Boys. At the time of his enlistment his family lived at The School house in Coldharbour. Frederic was working as a schoolmaster.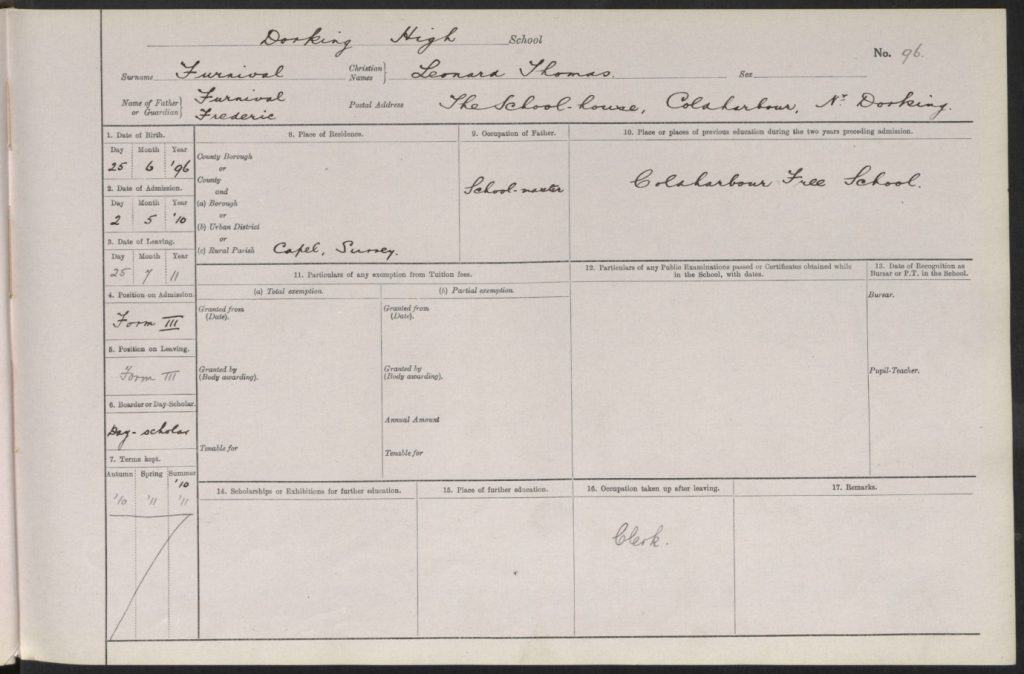 Leonard left the school on the 25th of July 1911. After leaving school he was working as a clerk.
Leonard Furnival enlisted on the 19th of July 1915 into the Royal Naval Volunteer Reserve. He was an Able Seaman. His service number was: Z.P./1178.
On the 16th of February 1916 Leonard Thomas was selected for the Mediterranean Expeditionary Force as a Signaller. On the 28th of February 1916 he joined the Hood Battalion of the Royal Naval Division. On the 25th of March 1918 he was rated Able Seaman Higher Grade. On the 15th of May 1918 he was shot in the right foot. On the 26th of July 1918 he re-joined the Hood Battalion.
On the 8th of October 1918 Leonard Furnival was shot in the abdomen. He died of wounds on the 14th of October 1918 in the 22nd General Hospital Dannes Camiers, France.
He is buried at the Etaples Military Cemetery in France. His cemetery reference number is: LXVII.J.31. His headstone bears the inscription: "Duty, Service, Sacrifice."
Leonard's brothers Frederick William and Harold Edgar were also killed in the First World War.
For more information on the Furnival family, see Harold Furnival's page
Born                            Broadwas, Worcestershire
Son of                          Frederick and Agnes Furnival of 64 Falkland Road, Dorking
Regiment                     Hood Battalion, Royal Naval Division
Number                       Z/P/1178
Date of Death              14th October 1918
Place of Death             France
Cause of Death           Died of Wounds
Age                              22
Cemetery                     Etaples Military Cemetery, France
Previously : R.T.G. Farindon                                                                     Next : S. Gardiner