Thank you to Wendy Shuttleworth for the following research.
Percy John Mackrell was born on the 13th July 1893 in Brockham, and was baptised in Leigh on 3rd September 1893. He was the son of Robert Henry, who worked as a printer and his wife, Lois Mary Mackrell.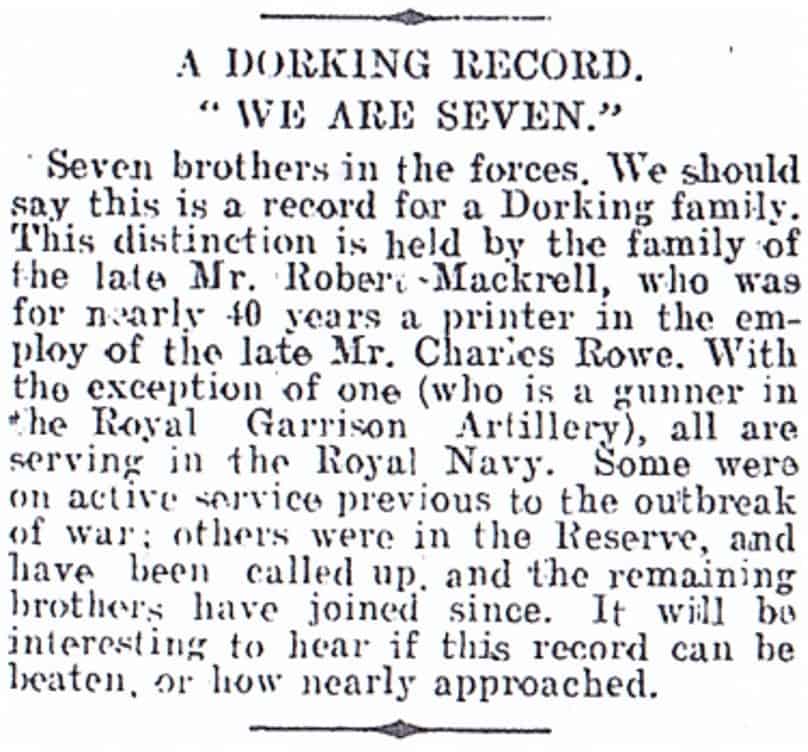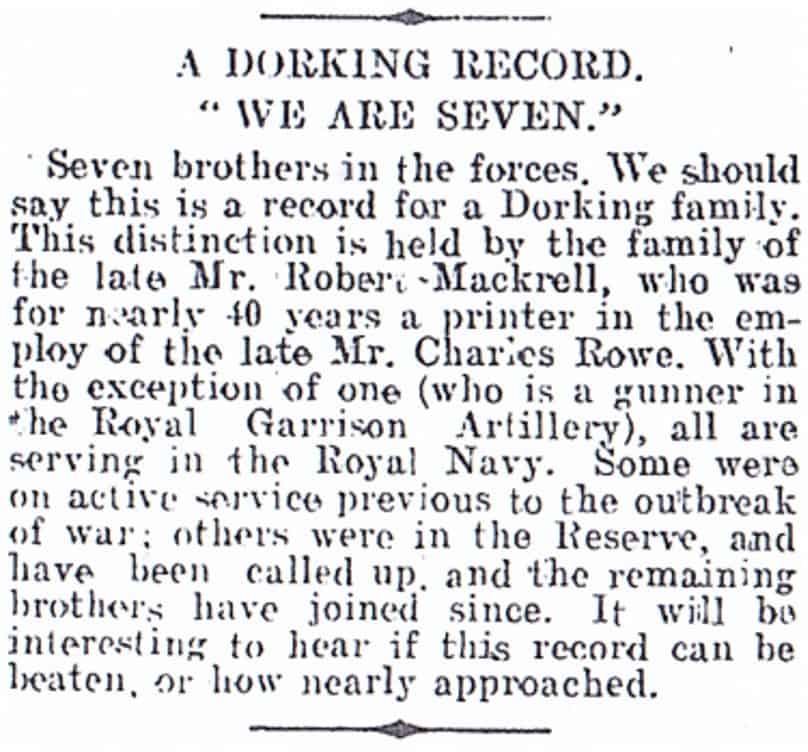 A DORKING RECORD
"WE ARE SEVEN"
Seven brothers in the forces. We should say this is a record for a Dorking family. This distinction is held by the family of the late Mr. Robert Mackrell, who was for nearly 40 years a printer in the employ of the late Mr. Charles Rowe. With the exception of one (who is a gunner in the Royal Garrison Artillery), all are serving in the Royal Navy. Some were on active service previous to the outbreak of war; others were in the Reserve, and have been called up, and the remaining brothers have joined since. It will be interesting to hear if this record can be beaten, or how nearly approached.
Mackrell Brothers © Dorking Advertiser findmypast.co.uk
In 1901 Percy was living with his father and his siblings in Dorking; his mother Lois died in 1895. Seven of the brothers served in the First World War.
Percy joined the Navy at 16 years old on 30th October 1909 as a boy, and then joined as a enlisted member on his 18th birthday. He signed up for 12 years. He was described as being 5' 6" with light blonde hair, blue eyes and a fresh complexion.
Percy was killed on the 9th July 1917, when his ship the H. M. S. Vanguard was sunk due to many explosions on board the ship in their armaments department. 843 of the 845 men were killed. The ship sank in the Scarpa Flow, north of The Orkneys. Percy is commemorated on the Portsmouth Naval Memorial. Panel 25.
His sister, Harriet Hooker was living at 20, Orchard Road, Dorking at the time of his death.
| Born | Brockham, Surrey | |
| --- | --- | --- |
| | | |
| Son of | The late Robert H. and Lois M. Mackrell of Dorking | |
| Brother of | Harriet Hooker of 20 Orchard Road, Dorking | |
| | | |
| Regiment | Royal Navy. H.M.S Vanguard | |
| Number | J.5907 | |
| | | |
| Date of Death | 9th July 1917 | |
| Place of Death | Scapa Flow | |
| Cause of Death | Killed in Action | |
| | | |
| Age | 24 | |
| | | |
| Memorial | Portsmouth Naval Memorial | |