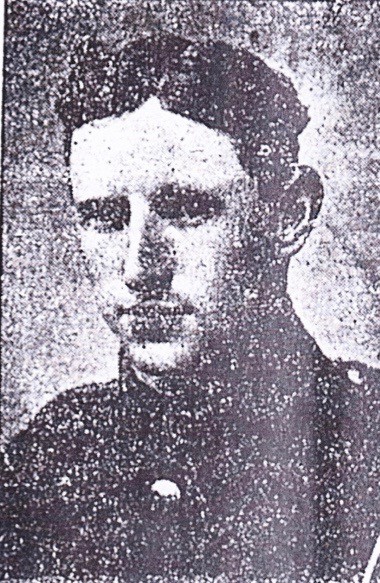 Thank you to Jane Anthony for the following research.
Harry Grantham was the second son of William and Mary-Ann Grantham. There were five children in the family, four boys and one girl. William was a labourer who died young leaving Mary-Ann to bring up her family single-handedly. Both William and Mary Anne were from local families, the register at their wedding was signed by the Ede brothers which ties them firmly into the local community.
By 1911 Harry's father was dead; his mother was supporting the younger children by charring, although he oldest son was unemployed. Harry was working as a porter for the London Brighton and Southern Railway Company; he was promoted to ticket inspector at Holmwood Station. He resigned from the railway in May 1915, presumably to join up.
He enlisted in the Royal Horse and Field Artillery and served in the 18th Battery of the 14th Brigade. The RHA served with many different divisions of the army so it is likely that Harry Grantham was moved around.
At the time of his death Harry Grantham was Acting Bombardier. He was initially in the 86 Howitzer Battery that was formed 32nd Brigade with 128 and 127 Batteries. They were moved to the Somme area after June 1916 where Harry Grantham was killed in action on 16th October 1916. He is commemorated at Thiepval. Unusually there is not reference to next of kin, this is possible because his mother, who was his sole legatee, had remarried and was now Mrs Mary-Ann Goddard. He was unmarried at the time of his death.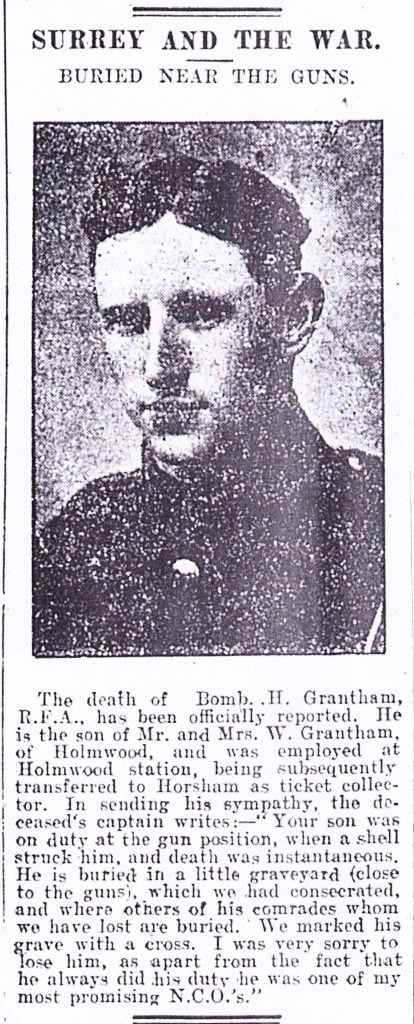 BURIED NEAR THE GUNS
"The death of Bomb. H. Grantham, R. F. A., has been officially reported. He is the son of Mr. and Mrs. W. Grantham of Holmwood, and was employed at Holmwood Station, being subsequently transferred to Horsham as ticket collector. In sending his sympathy, the deceased's captain writes:- "Your sonwas on duty at the gun position, when a shell struck him, and death was instantaneous. He is buried in a little graveyard (close to the guns), which we had consecrated, and where others of his comrades whom we have lost are buried. We marked his grave with a cross. I was very sorry to lose him, as apart from the fact that he always did his duty, he was one of my most promising N.C.O.'s"
Harry Grantham Death Notice © Dorking Advertiser findmypast.co.uk
| | | |
| --- | --- | --- |
| Born | South Holmwood, Surrey | |
| Lived | South Holmwood, Surrey | |
| | | |
| Son of | William and Mary-Ann Grantham of Brook Valley, South Holmwood | |
| | | |
| Regiment | 18th Battery. 14th Brigade. Royal Field and Horse Artillery | |
| Number | 96280 | |
| | | |
| Date of Death | 16th October 1916 | |
| Place of Death | Somme, France | |
| Cause of Death | Killed in Action | |
| | | |
| Memorial | Thiepval Memorial, Somme | |