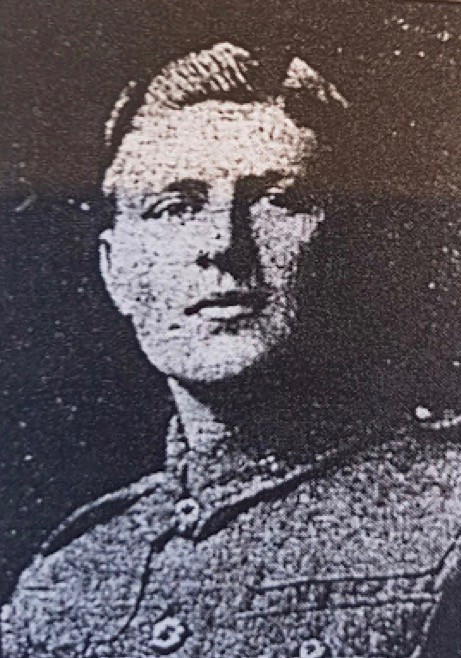 Thank you to Wendy Shuttleworth for the following research.
Frederick was born in Dorking in 1881 and baptised on the 3rd December 1883 in St. Martin's Church, Dorking. His mother was Mary Holmes, there is no father listed on the baptismal records.
In 1891, Frederick was living with his mother at 39, Leslie Road, Dorking. Mary was working as a laundress and Walter was at school.
Frederick joined the Queen's Royal West Surrey Regiment on 28th September 1989 in Guildford as a private with a number of 5791. Prior to this, he was working as a labourer. He served until September 27th 1910, seeing service at home and in South Africa from 1900 to 1904.
In 1911, he returned to live at 66 Dene Street with his mother, and went back to work as a general labourer.
Frederick re-enlisted into the 2nd Battalion of the Queen's Royal West Surrey Regiment, with a new number; S/543.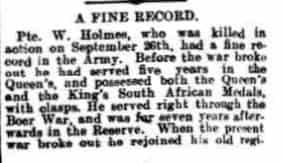 A FINE RECORD
Pte. W. Holmes, who was killed in action on September 26, had a fine record in the Army. Before the war broke out he had served five years in the Queen's, and possessed both the Queen's and the King's South African medals, with clasps. He served right through the Boer War, and was for seven years afterwards in the Reserve. When the present war broke out he rejoined his old regiment.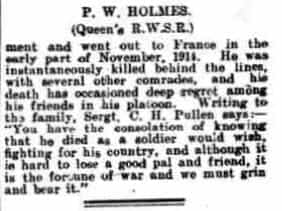 P. W. Holmes (Queen's R.W.S.R.)
and went out to France in the early part of November 1914. He was instantaneously killed behind the lines, with several other comrades, and his death had occasioned deep regret among his friend in his platoon. Writing to the family, Sergt. C. H. Pullen says:- "You have the consolation of knowing that he died as a soldier would wish, fighting for his country, and although it is hard to lose a good pal and friend, it is the fortune of war and we must grin and bear it."
Walter Holmes Death Notice 17th November 1917 © Dorking Advertiser findmypast.co.uk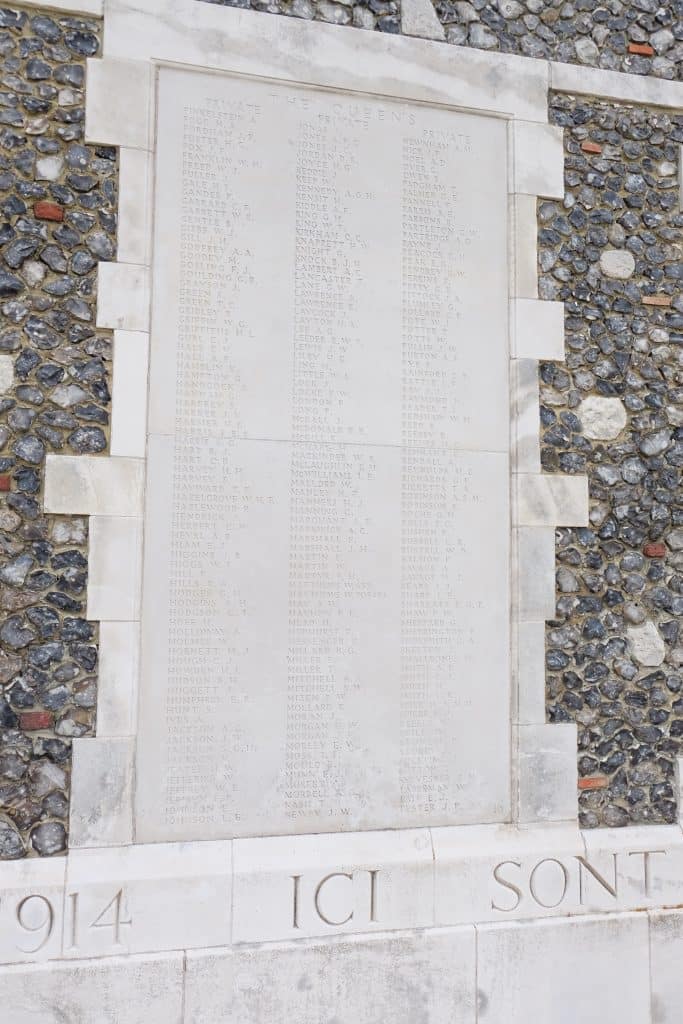 He was killed in action on 26th September 1917 near Ypres, and is commemorated on the Tyne Cot Memorial, Zonnebeke; Panel 14 to 17 and 162 to 162A
| | | |
| --- | --- | --- |
| Born | Dorking, Surrey | |
| Lived | Dorking, Surrey | |
| | | |
| Son of | Mary Holmes of Dene Street, Dorking | |
| | | |
| Enlisted | Guildford | |
| | | |
| Regiment | 2nd Battalion, The Queen's Royal West Surrey Regiment | |
| Number | S/543 | |
| | | |
| Former Regiment | Queen's Royal West Surrey Regiment | |
| Number | 5791 | |
| | | |
| Date of Death | 25th September 1917 | |
| Place of Death | Flanders | |
| Cause of Death | Killed in Action | |
| | | |
| Age | 36 | |
| | | |
| Memorial | Tyne Cot Memorial, Belgium | |