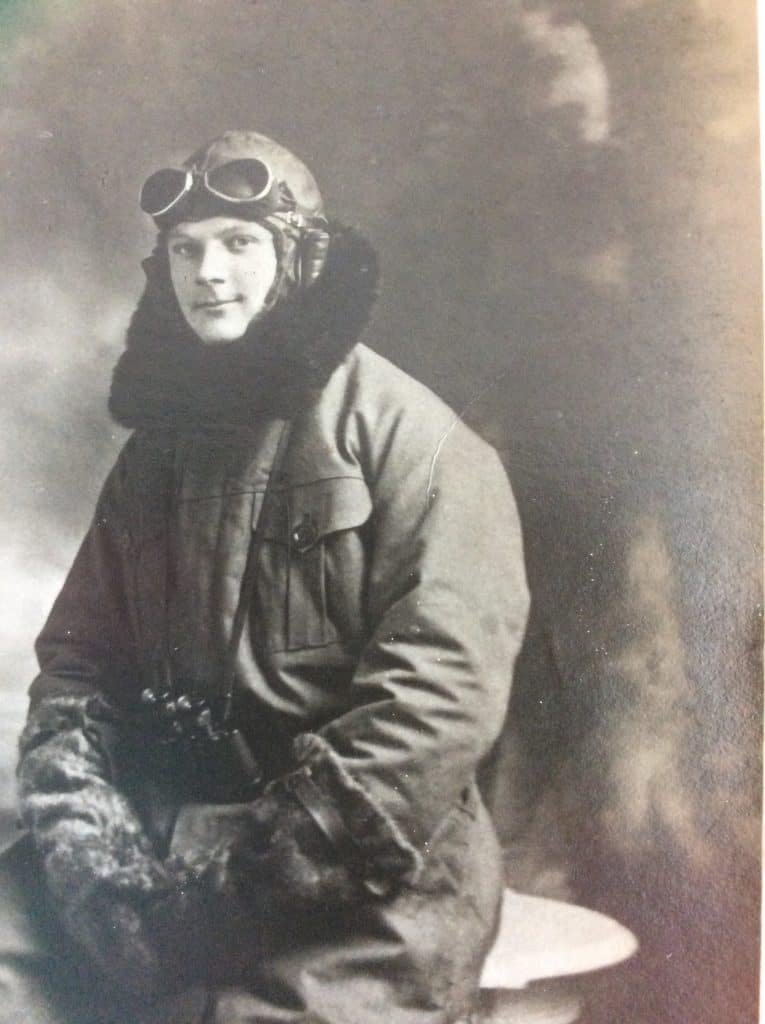 Thank you to Lenka Cathersides for the following research. Thank you to Elaine Davies (great-niece of Richard Portsmouth) for the family photographs.
Richard Stretton Portsmouth was born on the 20th of August 1897 in Dorking, Surrey to livery stable keeper Richard Portsmouth and Helen Portsmouth nee Stretton. He was baptised on the 12th of September 1897 in West Clandon, Surrey.
At the time of the 1901 Census, the family lived at Angel Livery Stables, 23 Friars Street, Sudbury, Suffolk. Richard was working as a livery stable keeper and Helen was looking after her children: Richard Stretton and Helen Marjorie. The household further comprised of Helen's sister Edith Stretton and a servant Alice Fitch.
At the time of the 1911 Census, the family lived at 37 Briscoe Road, Colliers Wood, London. Richard senior was working as a contractor's clerk and Helen was at home. The household further comprised of their children: Richard and Helen and a boarder, engineer John Gregory Ryan. Helen stated that she had given birth to two children. The accommodation had four rooms.
Richard Stretton Portsmouth enlisted on the 20th of August 1915 into the Royal Naval Air Service for the duration of hostilities. His service number was F.7815. At the time of his enlistment he was working as a stone keeper. He was over 5ft tall, had a fresh complexion, brown hair and blue eyes.
Richard served from the 20th of August 1915 until his death on HMS President.
At the time of his death he was an air mechanic 1st Grade.
Richard Stretton Portsmouth was killed during an air raid over enemy territory on the 25th February 1917 in France.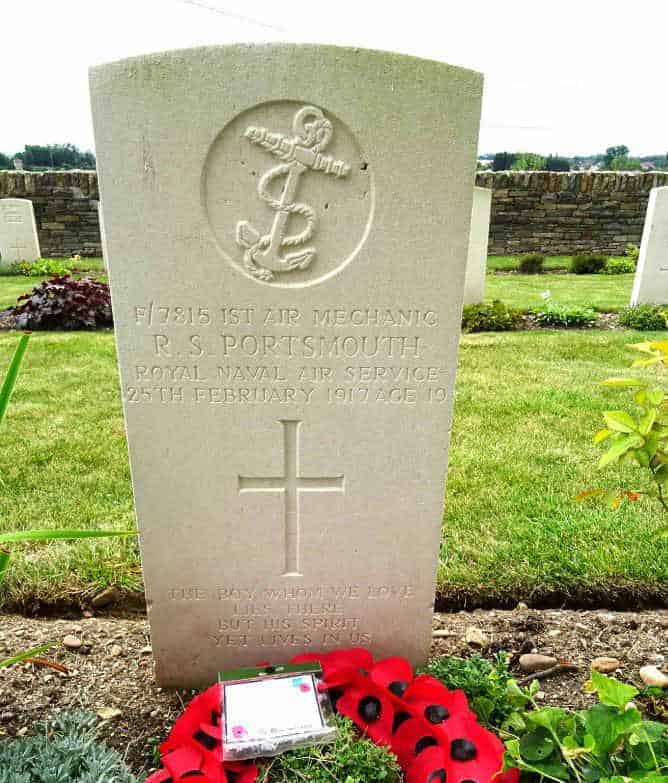 Richard's body was exhumed and reburied at the Sarralbe Military Cemetery in France. His grave reference number is A.8. The body was identified by a cross and records. His headstone bears the inscription: "The Boy Whom We Love Lies There But His Spirit Yet Lives In Us."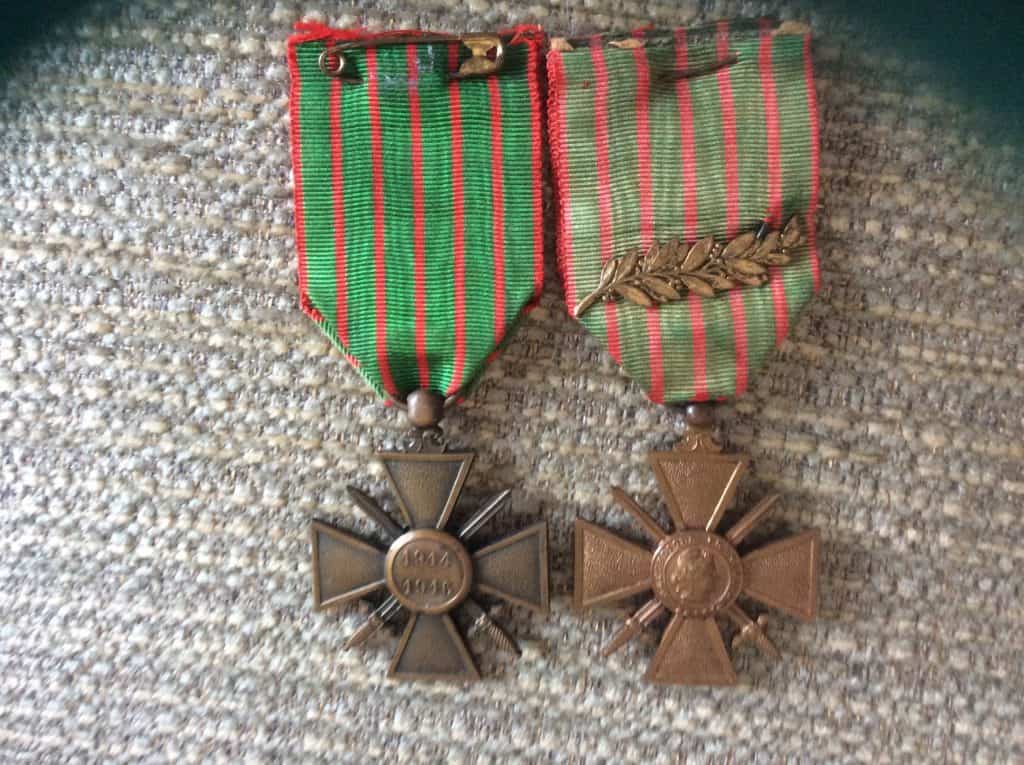 He received the Croix de Guerre with Palm (France). The Croix de Guerre was a French award from WW1. It differs from the Belgian Croix as the Belgian version had a crown and balls on the points of the star. The Palm indicates the award was for a particularly important action. When produced it was not known how long the war was going to last- so  there are Croix with dates 1914-16 like the Croix that Richard was awarded, but also dates such as; 1914-18. There was a song , sung to a popular tune of the time which the soldiers adapted "And if they ask us/ and they are certainly going to ask us/Why we never won the Croix de Guerre/ Oh we'll never tell them…."
Richard's parents lived at 24 Farrant Avenue, Wood Green in London.
Portsmouth Family History
Richard's father Richard Portsmouth was born on the 9th of May 1875 in Chieveley, Berkshire to grocer and draper John Portsmouth, born about 1847 in Basingstoke, Hampshire and Penelope Portsmouth. Richard was baptised on the 11th of February 1891 at St Paul's church in Dorking, Surrey.
Richard's mother Helen Stretton was born in the 2nd quarter of 1878 in St George's Hannover Square in London to butcher Edwin Stretton and Henrietta Stretton, born about 1855 in South Kensington, London.
Richard Portsmouth and Helen Stretton married on the 2nd September 1896 in Dorking, Surrey.
Richard Stretton had a sister: Helen Marjorie was born about 1900 in Sudbury, Suffolk.
| | | |
| --- | --- | --- |
| Born | Dorking | |
| | | |
| Son of | Richard and Helen Portsmouth | |
| | | |
| Regiment | Royal Naval Air Service | |
| Number | F.7815 | |
| | | |
| Date of Death | 25th February 1917 | |
| Place of Death | France | |
| Cause of Death | Killed in action | |
| | | |
| Age | 19 | |
| | | |
| Memorial | Sarralbe Military Cemetery, France | |