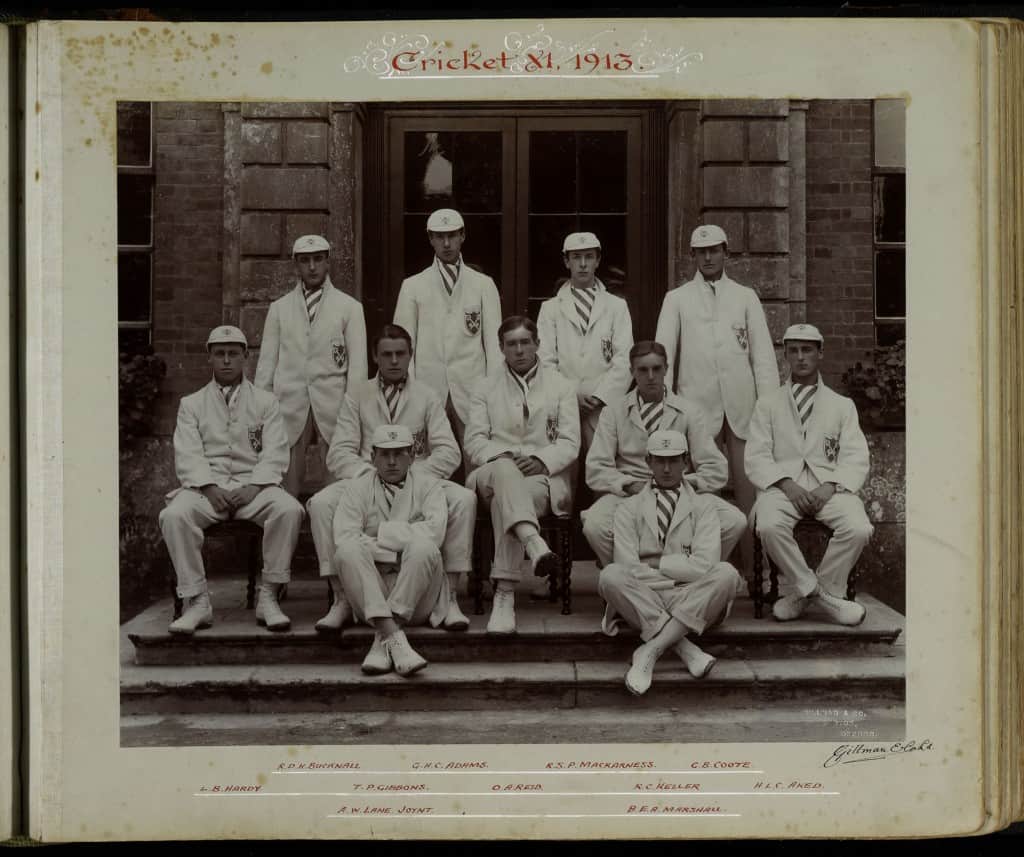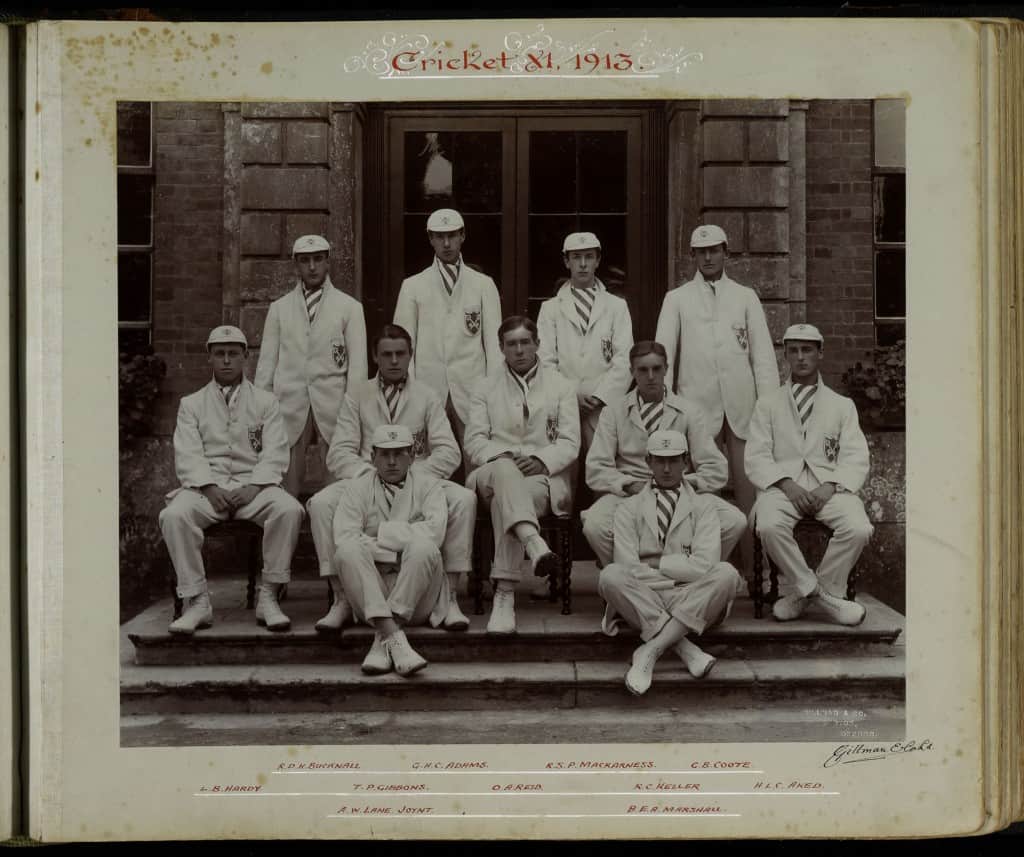 Thank you to Radley College for allowing us to publish Albert's cricketing achievements.
W. Lane-Joynt (1909-1913) was in the Cricket XI and will be chiefly remembered here for his store of information on all matters connected with cricket. He wrote magazine articles, and immediately on leaving here produced his first, and as it unfortunately turns out his last, issue of the Public Schools Cricket Year Book.
When the war began he entered the Motor Machine Gun Service, and became proficient with unusual rapidity. His colonel wrote in very high terms of his work and prospects, when he fell, killed instantly by the bullet of a German sniper.
RADLEY v. CHRIST CHURCH WARRIGALS. May 21.
The Warrigals won the toss and were all out by lunch time. At one period the telegraph looked almost farcical, with 6 wickets down for 3 runs. Lane-Joynt may have started the panic when he jumped high and held Mayer at mid-on.
RADLEY v. FREE FORESTERS. May 31.
The Foresters had ample time to get the runs, but from the moment that Coote held Lodge from a very high hit, and Fox was run out, they never looked dangerous.
Keller kept a goodish length, and claimed four victims. Lane-Joynt again bowled we1l with monstrous luck, and Reid once more showed a partiality for the tail batsmen. The fielding was safe, but not as clean as in the previous match.
Inter-House matches: SENIOR SOCIAL FINAL . BRYANS' v. STONE'S. THIS was a most exciting and memorable contest. We believe that it is the third year that these houses have met in the final.
Bryans' went in first and made 161, towards which Bucknall mi, not unaided by fortune, contributed 70, and Reid 32. Lane-Joynt was the most successful bowler and took 6 wickets for 47. We think that he will be heard of again as a bowler.
Summary of cricket prospects 1913: Lane-Joynt has some pace and a bit of 'swing'- if his tear-away action will permit of increased accuracy:
1913; Characters of the XI: A. W. Lane-Joynt. A hard-working cricketer. Did some good work early on with his medium-paced bowling, which occasionally swings in from the off and comes quick off the pitch. He has rather lost his form latterly. Useful in the field and not to be despised as eleventh batsman.
Review of The Public School Cricket Year Book By MR. A. W. LANE-JOYNT (O.R.) IS. net.
INSTANTANEOUS success has attended the first number of The Pubiic School Cricket Year Book, written by Mr. A. W. Lane-Joynt. This book, as our contemporary The Isis says, should appeal to all followers of the game, but especially to all' who have learnt their cricket at Radley, as the author figured in our last year's XI. Mr. A. C. M. Croome, who for so many years was associated with Radley cricket, contributes an article on "Lord's and the Public School," which illustrates the services which the M.C.C. renders to School Cricket. The Editor has made exhaustive enquiries into the results of last season, and has given us the accounts in a form which proves interesting reading even to the uninitiated.
All through the book especial emphasis is laid on the importance of good fielding, and valuable hints on this point are given in concise form by an "old cricketer." It is gratifying to see that the majority of expert opinions place our XI of last year high among those o f 1913. We must end by congratulating Mr. A. W Lane-Joynt on his very successful publication.
article.   A history of Radley cricket, by AW Lane-Joynt: … Talking a few weeks ago to a very well known student of Public School Cricket History, he remarked to me that the three best cricket Xl's turned out by Radley were those of 1867, 1888, and 1913.
… The 1913 side had the estimable advantage of a really good captain in O. A. Reid.
He was a fine hard-hitting consistent bat and scored 101 (not out) in 80 minutes against Bradfield. His wicket-keeping was better than ever and when he bowled he was certainly the best bowler on the side. Both he and R. C. Keller had averages of 40; with the latter he bore the brunt of the season's work. Keller is a really fine player with a beautiful cut, and should be heard of in the future.
The event of the season was the victory over Westminster in the first match played by the two schools. This is no place to go into the details of that never to be forgotten game, or the dreadful moments while Thompson and Feasey were adding those 55 for their last wicket.
Bradfield were routed with the greatest of ease, their score of 131 being a poor reply to our total of 299 for 5. Reid was asked to play in the Public Schools Trial match at Lords. He was unfortunately disabled by a fast one from Rucker, three or four balls after he had put on the gloves, but despite the necessity for a visit to the hospital, he made some big hits, sending one ball on to the stands, and was eventually chosen as first change bowler for the Public Schools XI.
Expert opinion unanimously placed our team high among the school sides of 1913, and there could be no more fitting place to end this brief resume of Radley Cricket.
[OA Reid won the VC in Mesopotamia in 1917. He died at Johannesburg in 1920. RC Keller served in France 1915-1917, was seconded to the Royal Flying Corps, was shot down ended WW1 as a POW. ]