We received an enquiry from Tim Poole, who was looking for information on Albert Trow, who was a soldier in the First World War. He survived the war. John Calcutt from Newdigate Local History Society was able to supply the following information of Albert's time in Newdigate.
Albert Trow was born on 22 June 1890, son of James Thomas and Kate Trow, and fifth (fourth surviving) of fourteen children. He was baptised at St. Peter's on 10 August.
Although I have been told that they married at St. Peter's, Newdigate, I have no record of this. The marriage probably took place in 1882 or early 1883, as their first son was born in October 1883, although the 1911 census states that they had been married for 27 years, which would put the marriage in 1883-4. If Kate's age in the 1911 census is accurate, she was probably Kate Weller, daughter of George and Mary, of Kingsland, who was baptised on 5 November 1865.
The family first appear in the electoral register in 1886, when James Trow was an occupier at 'Newdigate', which probably means somewhere in the village. In the 1887 register they lived on Broad Lane, but were again in the village by April 1888, when the school admissions register gives their address as Kingsland. Unfortunately the admissions registers for the period when Albert would have attended school are missing.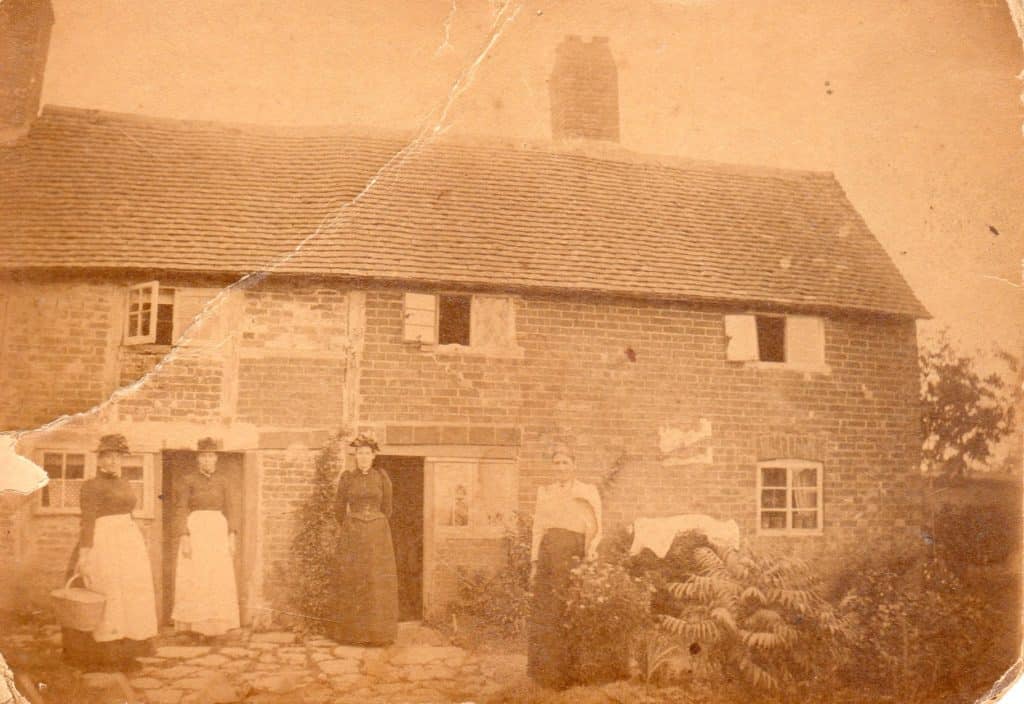 In the censuses, the family are not in the parish in 1881, and were not married here, though Kate Trow is said to have been born in Newdigate. In 1891 they were living in three rooms on Kingsland, tentatively identified as part of the present Kingsland Farm. The family then consisted of James, aged 31 and a groom and gardener, born in Ash, Surrey; Kate aged 25, born in Newdigate, and children George aged 7, William aged 6, Ernest aged 4 and Albert aged 9 months; all were born in Newdigate, and George and William were scholars.
They lived at Kingsland until 1895, and then moved to Workhouse Green (electoral register 1896-1914, school admissions April 1897 to Sept. 1912); the 1911 census shows them living in no. 3 Brook Cottages, Parkgate Road, which had six habitable rooms. The family then consisted of James Trow aged 53 and his wife Kate aged 45; James's occupation was described as 'general labour on farm' for a Land Agent. They had been married for 27 years, and had had fourteen children, of whom three had died. With them lived Ernest, a farm labourer aged 24; Albert, a gardener aged 20; Walter, a farm labourer aged 18; Arthur, aged 16 and described as 'feeble minded through fits age 13'; Percy aged 13 and at school; Reginald and Martin were twins aged 9; Margaret was aged 7 and the only daughter; and Gilbert aged 5. James had been born in Ash, Surrey, but his wife and all their children were born in Newdigate.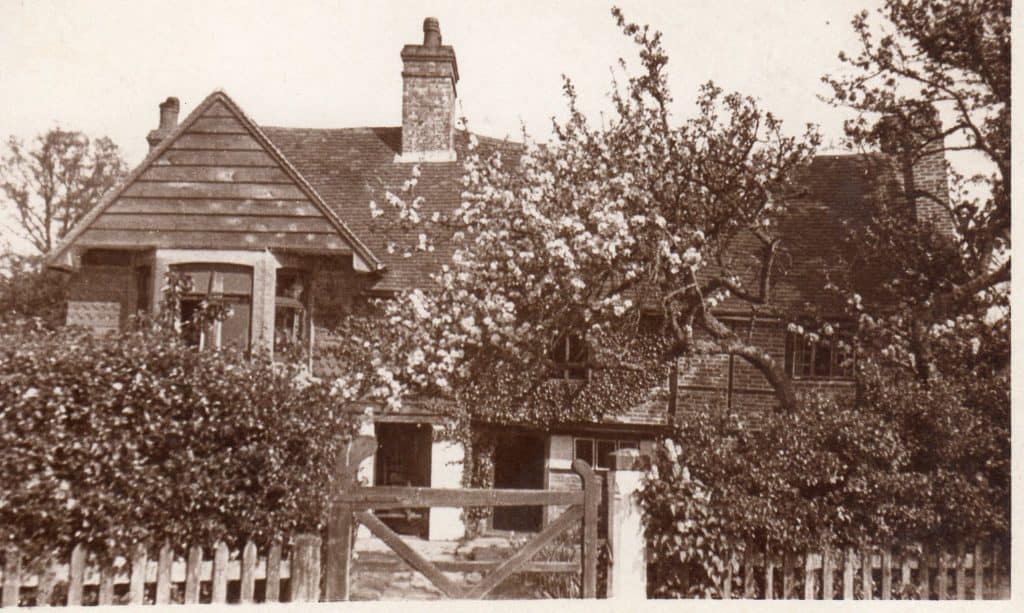 The oldest son, George Frederick Trow, was married and living at Reffolds Cottage, further up Parkgate Road, with his wife and baby daughter, his brother William aged 26, and a nephew, Roy Goldsack. George was working as a brickmaker in a brickyard, presumably the one at Beare Green, and William was a stonemason's labourer. The electoral register records him there from 1911 to 1915.
The parish magazine records Albert Trow as a member of the church choir, where he was a prize-winner in January 1905, and of the Sunday School, where he came first in the boys' senior class at the same time. In 1906 he was a prize-winner for long attendance as a choir-boy, awarded at the Sunday School treat.
The 1911 census records his occupation as a gardener; this was not typical of his family, as two of his brothers were farm labourers, one a brickmaker, and one a stonemason's labourer.
He was a keen member of the woodcarving class; at the end of the 1910-11 winter season, he was one of the students who had attended every session, a total of 52 hours.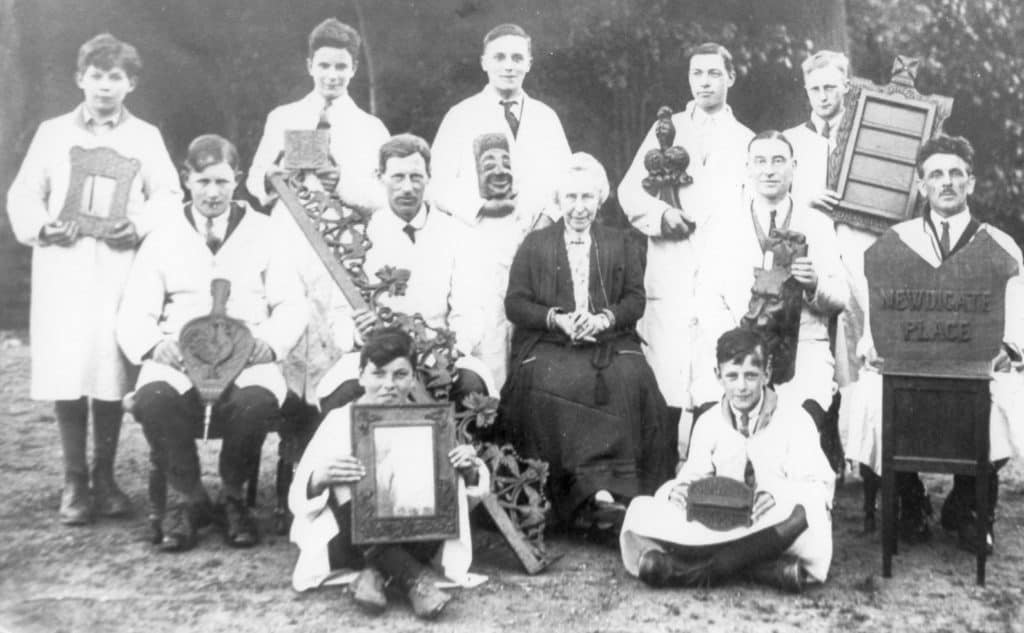 When the woodcarving class carved roundels in the ends of the new oak pews for St. Peter's Church in 1912, he carved three roundels (the numbers identify the pews): 18L, inverted cross and palm (symbol of St. Peter); 37L, broke wheel (symbol of St. Catherine); 38L, pot of ointment and tears (St. Mary Magdalene). In 1914, when the carving class exhibited at the Albert Hall, a picture frame he had carved was bought by Queen Alexandra. Either he or his brother Percy carved a lily panel for the Lady Chapel altar which was made in memory of the schoolmaster Henry Hackwood in the summer of 1915.
He played cricket for the village club in 1911, and was apparently a useful bowler. The season's figures show that he had bowled 44 overs, and taken 16 wickets for a total of 121 runs, an average of 7.5.
Kate Trow, James's wife and mother of Albert, died unexpectedly after a short illness just after Christmas 1914, and was buried on 31st December, aged 49. She was then living at Rose Villa, on Parkgate Road on the outskirts of the village, to which the family had apparently just moved. A number of the family clearly moved there, as in the 1918 electoral register James (and, presumably, the younger members of the family) was living there with George and his family, and from 1919 also Albert, Percy, and Ernest. Albert later moved to Whitelands, Cudworth, from 1922-24, but then apparently left the parish.