Thank you to Patricia Brazier for the following research.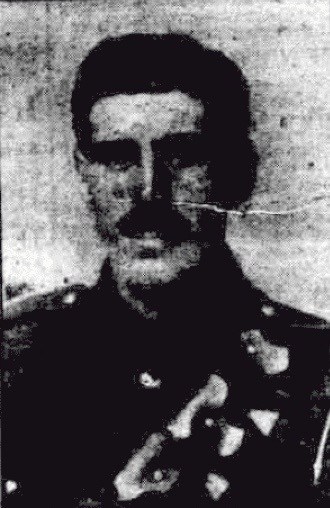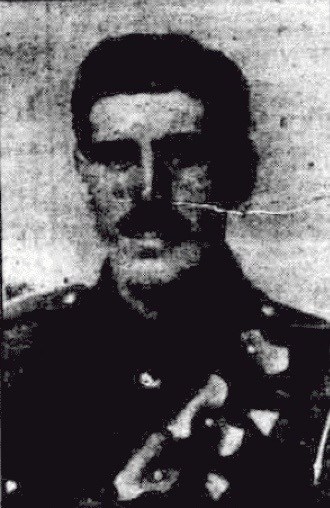 Arthur was born in the December quarter of 1891 and baptised at St Nicholas Church, Cranleigh on 7th February 1892. His parents are Albert, a labourer and Emma (Nee Miles). His parents married in Hartley Witney, Hampshire in 1889.
In the 1901 census, the family are living at Busbridge near Godalming. Arthur has two sisters Jessie aged 11 and Kate aged 2 months and three brothers, Ernest aged 6, Frederick aged 3 and Edwin aged 1. His father Albert is a milkman on a farm.
On February 6th 1900 Jessie, Ernest and Arthur were admitted to Ash School.
In 1911, Arthur has left home and is working as a cowman on Wyatt's Farm in Reigate. His parents are living at Sutton Corner, Abinger. Albert is now a carter on the farm. Ernest, Frederick, Edwin and Kate are still at home. There are three more children; Mildred aged 8, Maurice aged 5 and Leslie aged 1. His elder sister Jessie is a servant in the household of Mr Lyne in Dorking.
Arthur volunteered in 1914, and arrived in France on 26th September 1915.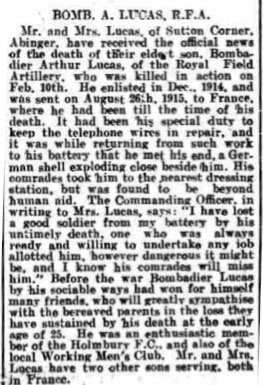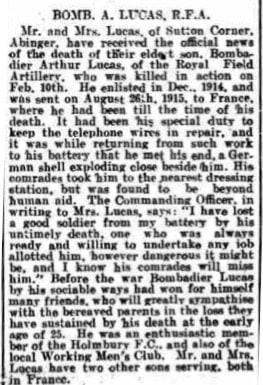 "Mr. and Mrs. Lucas, of Sutton Corner, Abinger, have received the official news of the death of their eldest son, Bombadier Arthur Lucas, of the Royal Field Artillery, who was killed in action on Feb. 10th. He enlisted in Dec. 1914, and was sent on August 26th, 1915 to France, where he had been till the time of his death. It had been his special duty to keep the telephone wires in repair, and it was while returning from such work to his battery that he met his end, a German shell exploding close behind him. His comrades took him to the nearest dressing station, but was found to be beyond human aid. The Commanding Officer, in writing to Mrs. Lucas says: " I have lost a good soldier from my battery by his untimely death, one who was always ready and willing to undertake any job allotted him, however dangerous it might be, and I know his comrades will miss him." Before the war Bombadier Lucas by his sociable ways had won for himself many friends who will greatly sympathise with the bereaved parents in the loss they have sustained at the early age of 25. He was an enthusiastic member of the Holmbury F.C. and also of the Working Men's Club. Mr. and Mrs. Lucas have two other sons serving, both in France."
Arthur's brothers; Ernest, Frederick and Edwin were old enough to be fighting in France at the time of the article. Frederick married Elizabeth Port in Shere in November 1925 and Edwin married Kate Gorman in Ockley in 1931. Arthur's older sister Jessie married George Amos Frost in Holmwood in 1919.
Arthur is buried in the Railway Dugouts Burial Ground (Transport Farm) West-Vlaanderen Belgium. Plot 7 Row G Grave No 22.
| | | |
| --- | --- | --- |
| Born | Cranleigh, Surrey | |
| Lived | Godalming, then Abinger | |
| | | |
| Son of | Albert and Emma (nee Miles) Lucas | |
| | | |
| Regiment | "B" Battery, 103rd Brigade. Royal Field Artillery | |
| Number | 55323 | |
| | | |
| Date of Death | 10th February 1917 | |
| Place of Death | France | |
| Cause of Death | Killed in Action | |
| | | |
| Age | 25 | |
| | | |
| Cemetery | Railway Dugouts Burial Ground (Transport Farm) West-Vlaanderen Belgium | |