Thank you to Jane Anthony for the following research.
Walter Harris was one of nine children born to Richard, a farm labourer, and Elizabeth Harris. At the time of the 1911 census the family were living at Bushenbery Farm in Brockham. Walter had been born on 23rd July 1899 at Pyrford near Woking, seven of the children were still living. There were two older brothers and a younger sister still living at the family address.
Walter enlisted in the navy on 15th April 1915, at the time he was 15 years old and 5ft 1 1/2 inches tall with brown hair and eyes and a clear complexion. After serving on HMS Ganges, a training ship, as a 2nd Class boy he was promoted to 1st Class boy in July 1915 and briefly served on 2 ships before transferring to HMS Invincible in January 1916. HMS Invincible was a battle cruiser built in 1917, in war time she had a complement of up to 1,00 officers and men in war time. Invincible was sunk at the battle of Jutland when two German ships fired three salvoes each and sank her in 90 seconds. At least one 305 mm (12-inch) shell from the third salvo struck her midships 'Q' turret. The shell penetrated the front of 'Q' turret, blew off the roof and detonated the midships magazines, which blew the ship in half. The explosion possibly ignited 'A' and 'X' magazines. Of her complement, 1026 officers and men were killed, including Rear-Admiral Hood her commanding officer There were only six survivors.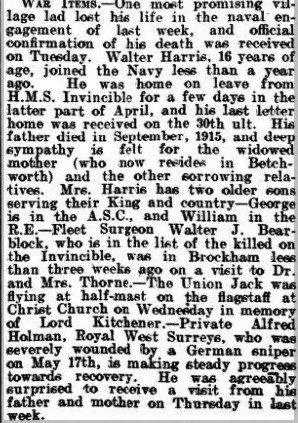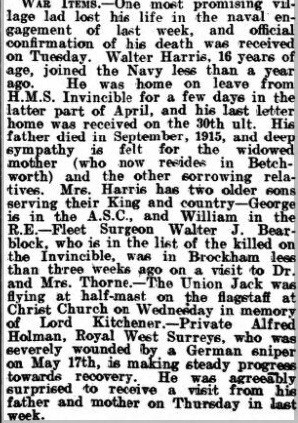 Walter Harris was among those killed, he was only 16 at the time. He is commemorated on the Naval Memorial at Portsmouth as well at Brockham. The wreck of HMS Invincible is a protected site under the 1986 Protection of Military Remains Act.
| | | |
| --- | --- | --- |
| Born | Pyrford, Surrey | |
| | | |
| Son of | Richard and Elizabeth Harris | |
| | | |
| Regiment | Royal Navy. H.M.S. Invincible | |
| Number | J/39938 | |
| | | |
| Date of Death | 31st May 1916 | |
| Place of Death | Jutland | |
| Cause of Death | Killed in Action | |
| | | |
| Age | 16 | |
| | | |
| Memorial | Portsmouth Naval Memorial | |