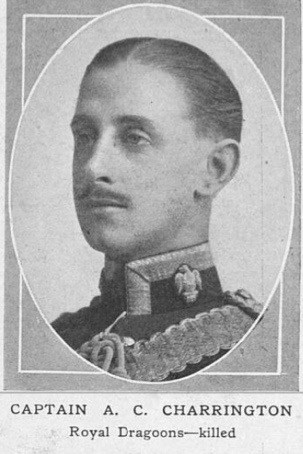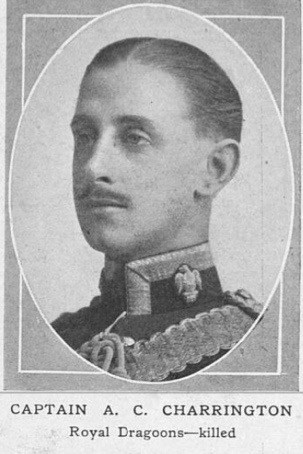 Thank you to Molly Worsfold and Tim Dumas from St. Bartholomew Church in Leigh for allowing Dorking Museum to reproduce their research.
Arthur Craven Charrington was born on the 17th May 1882 at Bures Manor, the son of Nicholas Edward and Isabella Charrington. He went in 1896 to Eton College, Mr. Ainger's House, two years after his father died. He was prominent neither at his studies nor at sport but probably spent a great deal of his holidays on horseback. He left Eton in 1900 joined the Militia and from then in 1902 he was commissioned in the Royal Dragoons. To his many friends from Eton days till his death he was known as "The Kid". He became a wonderful horseman winning thirteen out of fifteen races on one occasion in Simla, and was for a time ADC to Lord Minot while Viceroy of India, became a close friend of the Crown Prince of Germany.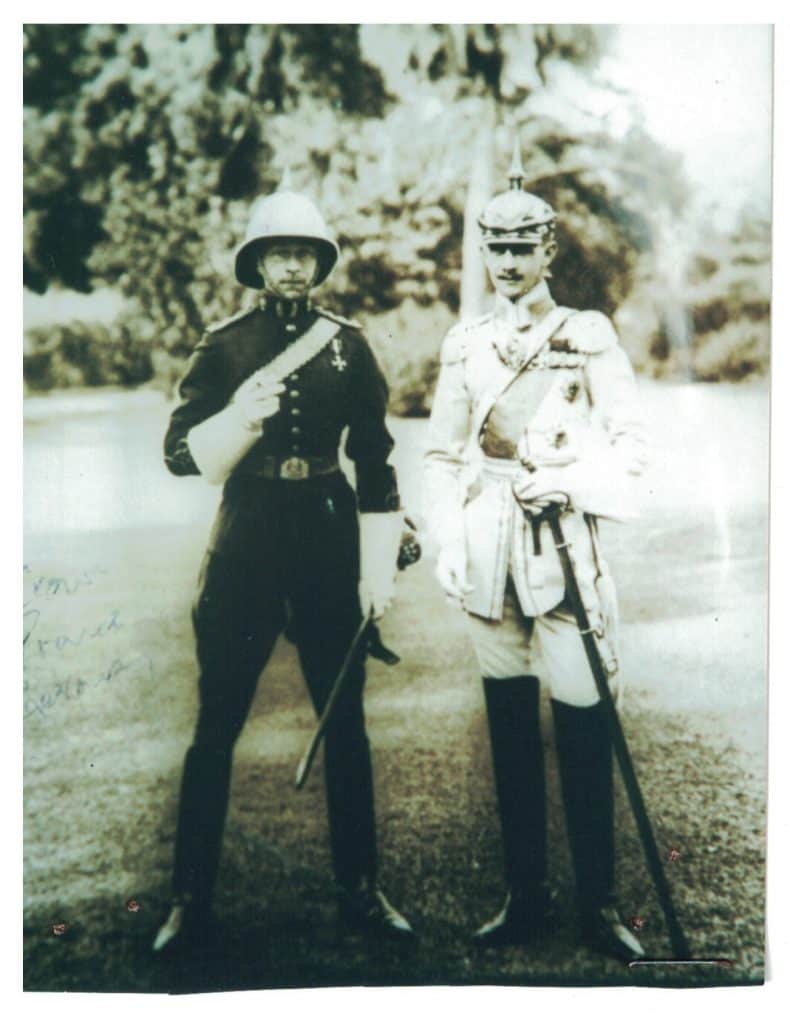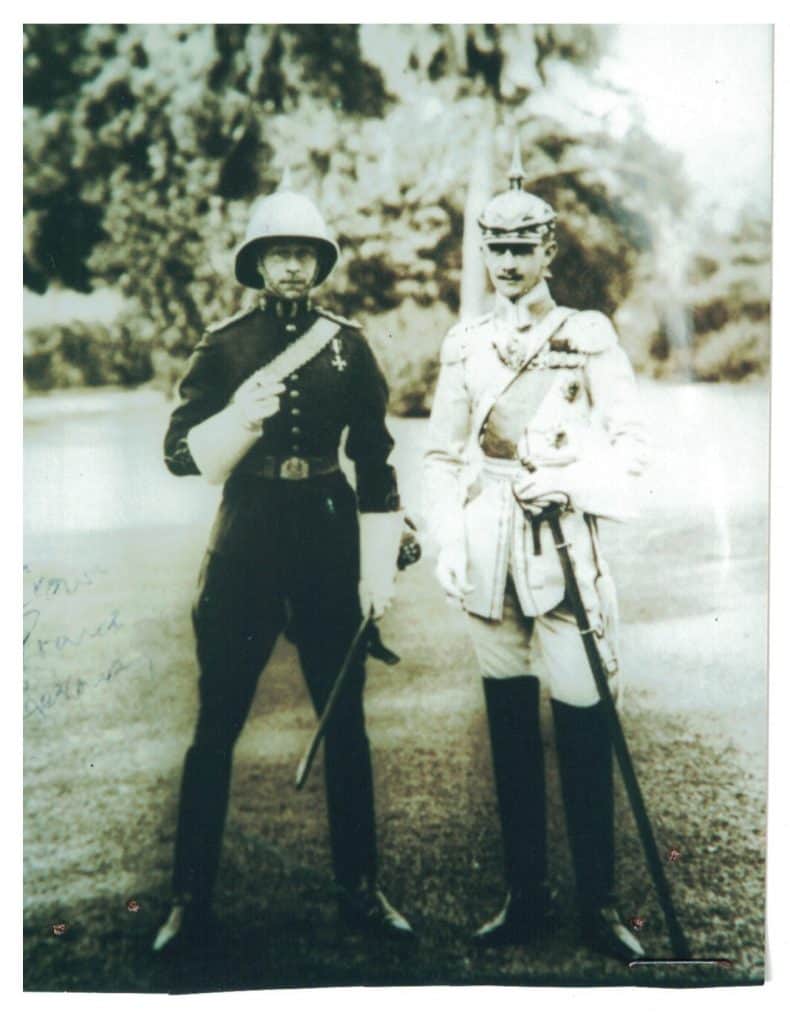 The photograph above shows in c. 1910 where they had exchanged their uniforms. Craven on the right and "Little Willie" on the left dressed as Dragoon Captain.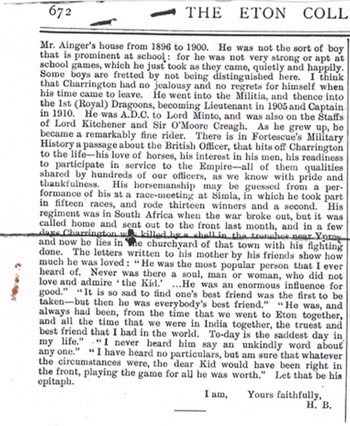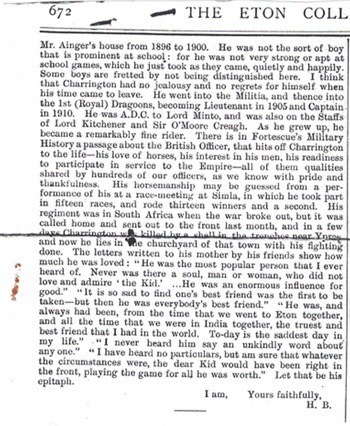 He was killed by shell splinters on 20th October 1914 near Ypres only nine weeks after the outbreak of war. He is buried in Ypres Town Cemetery, grave reference E. 2. 4.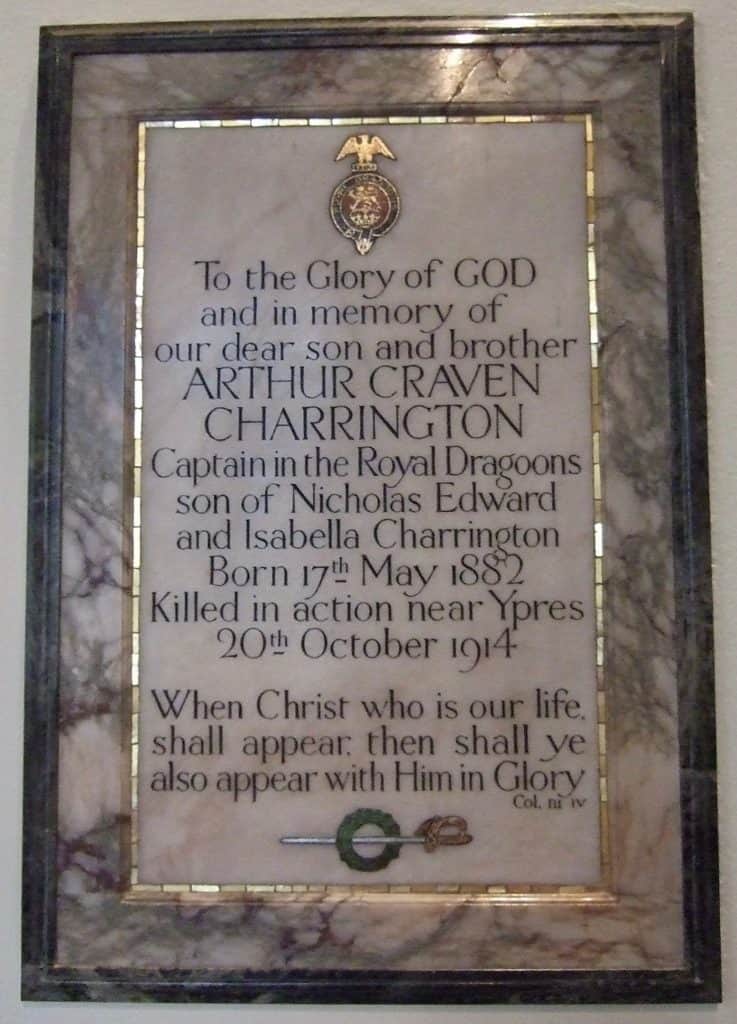 There is a plaque in Leigh Church to his memory near the font.


| | | |
| --- | --- | --- |
| Born | Leigh, Surrey | |
| | | |
| Son of | Nicholas Edward and Isabella Charrington of Bures Manor, Leigh | |
| | | |
| Regiment | 1st Royal Dragoons | |
| | | |
| Date of Death | 20th October 1914 | |
| Place of Death | Ypres, Belgium | |
| Cause of Death | Killed in Action | |
| | | |
| Age | 32 | |
| | | |
| Cemetery | Ypres Town Cemetery, Ypres, Belgium | |