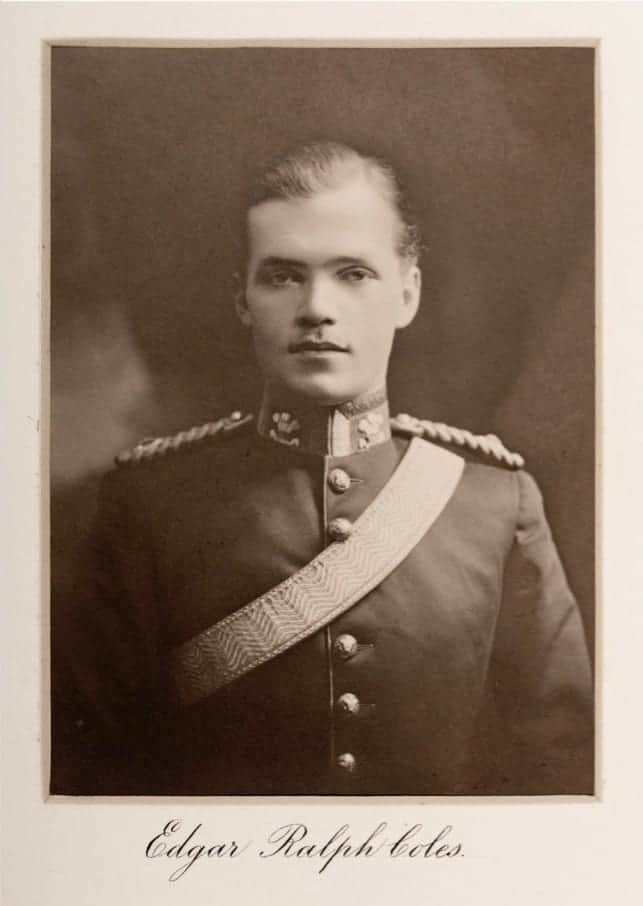 Thank you to Bernice Forsyth and Mary Day from Capel Local History Group for allowing Dorking Museum to publish their research. Thank you to Jane Anthony for additional research.
Edgar Ralph Coles was born on 13th May 1889 at Burntwood, Caterham, second son of Ernest Henry Coles and Adela Caroline Powell, They had five children. Ernest was an Indian Rubber manufacturer and employer, his eldest son another Ernest was also worked in the business. In 1901 the family was living in Caterham, moving to Clapham Park by 1911. At sometime thereafter they moved to Arnolds in Holmwood, where the family were living at the time of his death in May 1915
Edgar was educated at Marlborough College, and from 1907 to 1910 at Magdalene College Cambridge, where he gained a BA. He does not appear to have made a big impact at either institution; he was not in any school or college sport teams. He had an interest in flying and held certificate number 858 of the Royal Aviation Club
He entered the 3rd Dragoon Guards as a university candidate in August 1910, his commission as a 2nd Lieutenant being antedated to February 1910. He was promoted to Lieutenant in March 1911 and Captain in November 1914.
In August 1914 his regiment was serving in Cairo but shortly after war was declared it was ordered to France. He was mentioned in Sir John French's despatches of 14 January, 1915 for exceedingly good work in carrying messages and maintaining communication under heavy fire at Zillebke in November 1914.
Edgar Coles was killed in the trenches near Hooge on the eve of his 26th birthday. This was during the battle of Frezenburg Ridge, the report stated. "At about 11PM Captain Coles reported killed by a rifle bullet in the abdomen while going around his squadron trenches." Frezenburg Ridge was part of the second battle of Ypres, when the German bombarded the ridge when the allies retreated
His commanding officer Major Burt said that his splendid example and comradeship would be greatly missed by all ranks in the regiment. Another office Lt Holt the acting Adjutant said that his gallantry was and inspiration to his men and that he was one of the coolest officers that was ever under fire.
He is commemorated at the Menin Gate, however details given on De Ruvignys' Roll of honour said he had been buried at Witt Poort Farm, although the cemetery does not seem to exist now.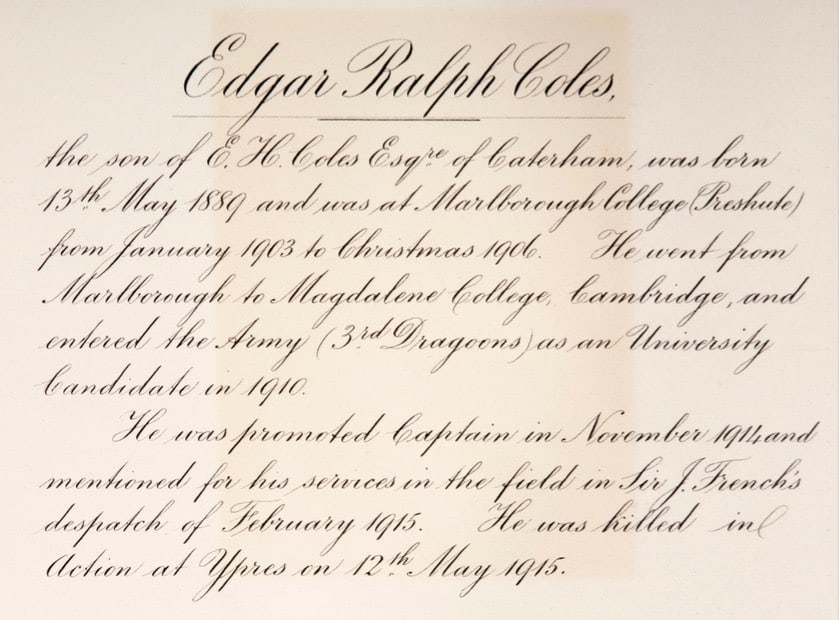 | | | |
| --- | --- | --- |
| Born | Caterham, Surrey | |
| Lived | Holmwood, Dorking | |
| | | |
| Son of | Ernest Harry and Adela Caroline Coles | |
| | | |
| Regiment | 3rd (Prince of Wales') Dragoon Guards | |
| | | |
| Date of Death | 12th May 1915 | |
| Place of Death | Pales Frezenburg, near Ypres, Belgium | |
| Cause of Death | Killed in Action | |
| | | |
| Age | 26 | |
| | | |
| Memorial | Menin Gate Memorial, Ypres, Belgium | |