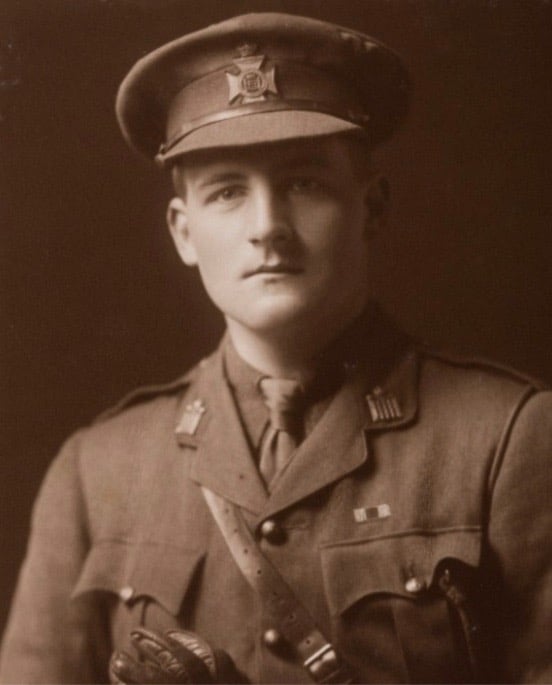 Thank you to Karen Wilson for allowing us to publish her research.
Thank you to Tom Bliss, great-nephew of Hugh Mott and Toppy Wharton great-niece of Hugh Mott, for research and family photographs.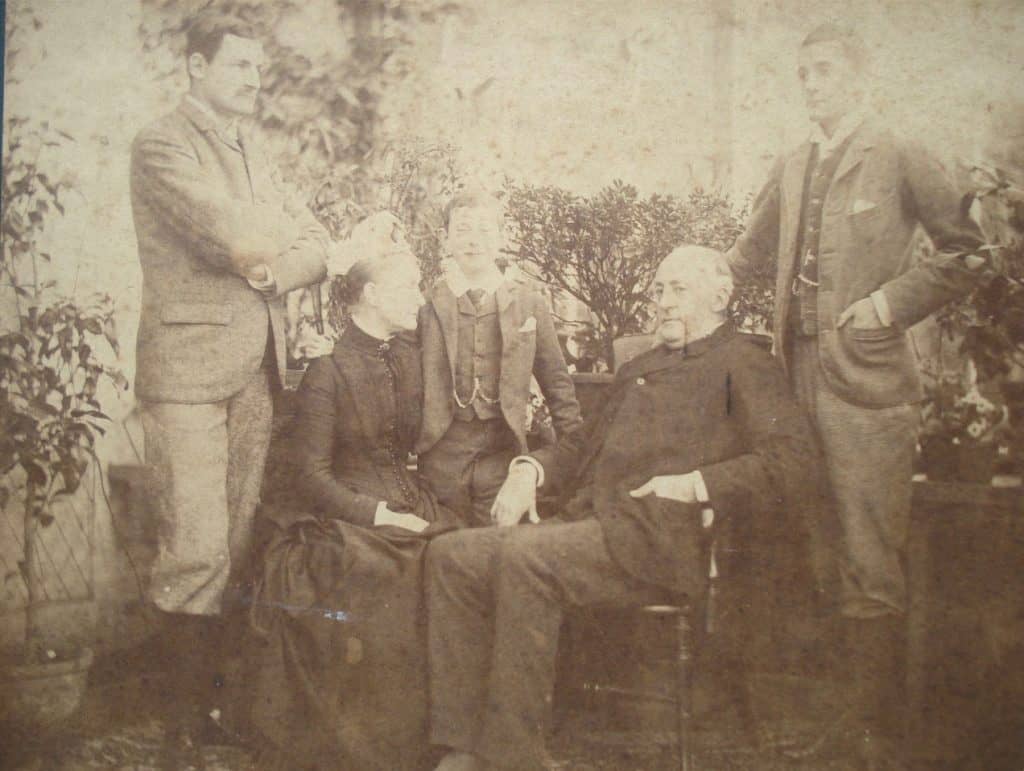 Hugh Fenwick Mott was the eldest child and son of Alfred and Katherine Mott; he was also Alan Mott's elder brother by three years.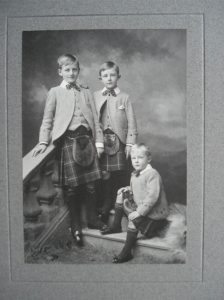 The family were living in Alma Road, Reigate when Hugh was born on February 14th 1894 but Hugh and his siblings were frequent visitors to Morden Grange where their grandmother Phoebe Mott still lived, their grandfather Henry having died in 1905. Hugh was educated at Hillside School in Reigate and then at Marlborough College; he entered Oxford in 1913 but when war broke out in 1914 Hugh enlisted and received a commission in the Queen's Westminster Rifles.
Hugh was sent to France in January 1915 and was slightly wounded but went on to take part in many battles including a successful attack at Hooge when he was in command of an ammunition party. He was a courageous officer and in June 1916 he was awarded the Military Cross; by this time he had been promoted to Captain. Toppy Wharton, Hugh's Great Niece writes "My Great Grandmother's diary records that 'Hugh Boy' was awarded his Military Cross in June 2015 for 'Gallantry and Devotion to the duty in the field'."
In the early hours of July 1st 1916, the men of the Queen's Westminster Rifles had moved into position for the attack at Gommecourt. This attack was one part of the offensive which became known as the battle of the Somme. Hugh Fenwick was in command of 'C' Company and at 7.30am after a final barrage from British guns, the men advanced.
However, the wire in front of the enemy lines had not been sufficiently damaged and the men had to file through gaps in the wire under a barrage of machine gun fire. As a consequence, once the first German trenches had been reached, the men had to jump in and then out again the other side as the trench ladders, designed to bridge the trenches, were not in place.
The exact circumstances of Hugh's death are unclear. Paul Reed's book "Walking The Somme" includes a transcript from Aubrey Rose who was fighting alongside Hugh, which states that Hugh Mott was killed as he reached the German 3rd line of trenches. Hugh's niece, Elizabeth Mary Bliss (nee Howard), writes in her memoir "But No Kings"
"He [Hugh] and a fellow officer flouted command by taking their men into no man's land under cover of darkness, so that when the German guns, which were directed at the British trenches, went off at 7.28 am – they all popped up in front of the Germans and took three trenches and the village in under 10 minutes. If they had done as ordered and advanced in daylight they would have been mowed down by machine gun fire. The average life expectancy of an officer that day was just 20 seconds but Hugh survived for two hours. If support had come, he would undoubtedly have saved many many men by his actions, but tragically, events overtook them, and he was obliterated by a shell as he tried to lead his men back. No medal could be awarded as he had defied orders but the accounts show that Hugh was trusted, respected and indeed loved by his men. We are indebted to Private Rose who survived. He visited Alfred and Katherine at Waverley to tell them what had really happened."
Other reports state that he was killed while leading his men across the first German line.
He was 22 years old.
Search parties were sent out that night to recover the dead and wounded, but Hugh Mott's body was never found. His name was put on the Thiepval Memorial which commemorates the Missing of the Somme; it has over 72,000 names inscribed on it.
Toppy Wharton writes "He was clearly a very very brave man and commanded the respect and love of his men, so one cannot ask for more. And of course so many that day. I do not underestimate how very lucky we are to have a first hand account of what happened to Hugh as so many do not have that comfort – he is therefore not just a name on Thiepval but there is a place to go and know where he fell."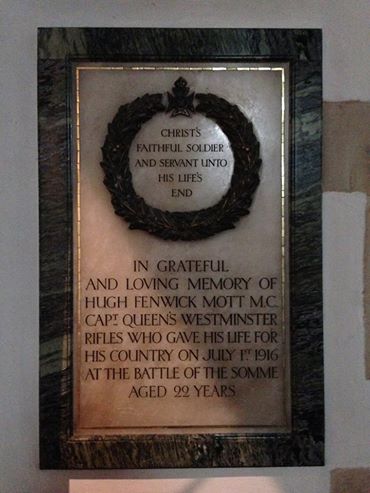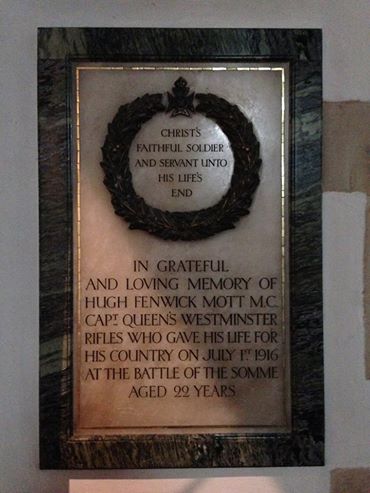 In April 1918 Phoebe Mott, Hugh's grandmother, asked permission to put a memorial to Hugh in St. Michael's church. Permission was granted and the memorial plaque can be seen inside the church on the south wall by the font. Hugh's name is also on the Reigate memorial outside St. Mark's church, a memorial which was erected by public subscription; the honorary treasurer to the fundraising committee was Hugh's father, Alfred Mott.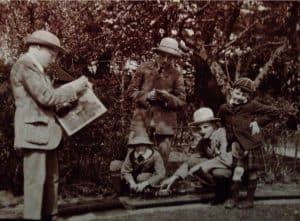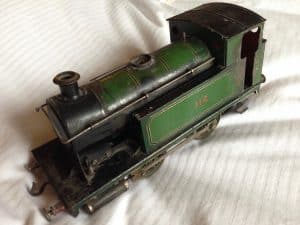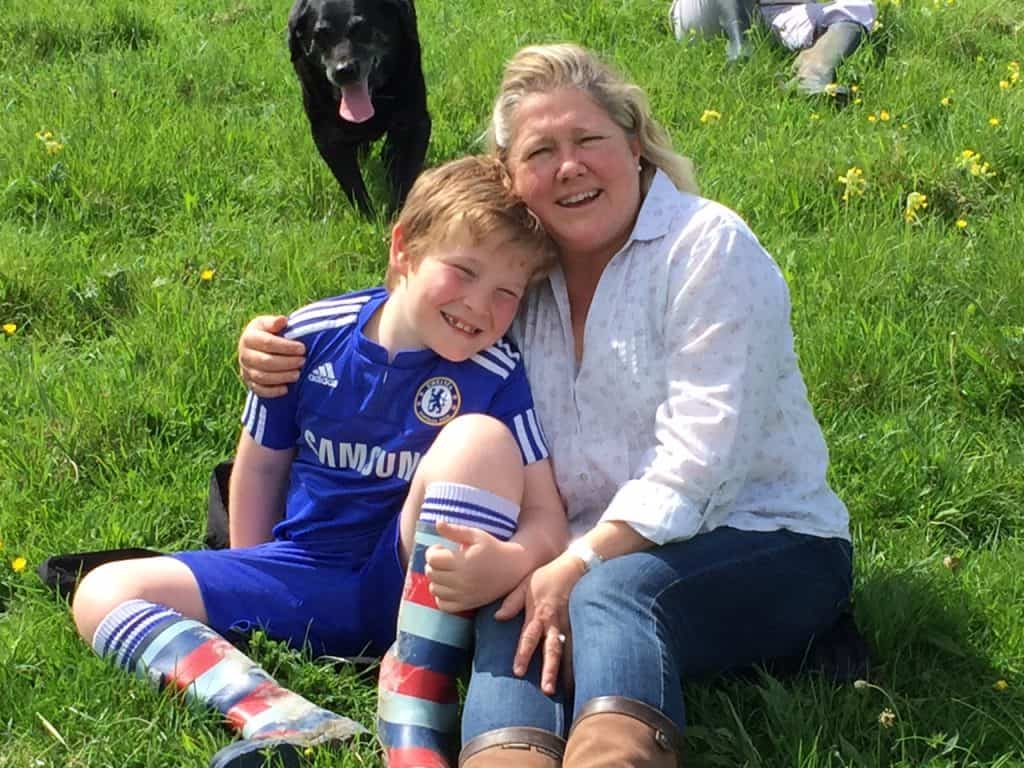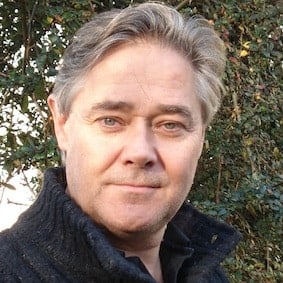 | | | |
| --- | --- | --- |
| Born | Reigate, Surrey | |
| | | |
| Son of | Alfred Fenwick and Katherine Mott of the Holt, Reigate | |
| Brother of | Alan Birkbeck Mott | |
| | | |
| School | Hillside School, Reigate and Marlborough College | |
| | | |
| Regiment | 1st/16th Battalion, London Regiment, Queen's Westminster Rifles | |
| | | |
| Date of Death | 1st July 1916 | |
| Place of Death | Somme, France | |
| Cause of Death | Killed in action | |
| | | |
| Age | 22 | |
| | | |
| Memorial | Thiepval Memorial, Somme, France | |