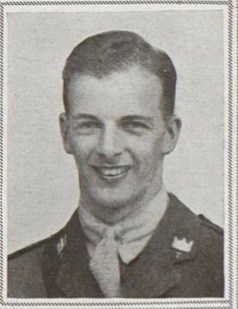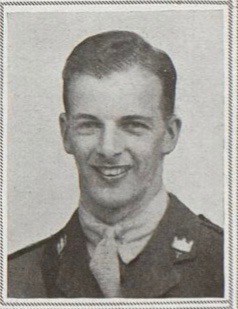 Thank you to Lenka Cathersides for the following research.
Kenneth Carlyle Gill was born on the 3rd of August 1893 in Brighton, Sussex to clergyman Arthur Tidman and Cicily Rose (nee King).
Kenneth's father Arthur was born about 1849 in Mangaia, Cook Islands to missionary George, born about 1820 in Tiverton, Devon and Sarah, born about 1818 in Whitechapel, London. Arthur married Cicily Rose King on the 3rd of January 1880 at All Saints' church in Edmonton. Kenneth's mother Cicily was born about 1856 in Rotherhithe,to clerk Gaspar Robert, born about 1830 in Marylebone and Rose, born about 1834 in Deptford. Cicily was baptised on the 27th of November 1856 at All Saints' church, Rotherhithe. After their marriage the family lived in Preston and Brighton.
Kenneth Carlyle had thirteen siblings of whom ten are known: Enid Rose born about 1881 in Preston, Sussex; Madeleine B. born about 1889 and Gladys M. born about 1891, all in Preston, Sussex. Cicely E. born about 1883; Leslie M born about 1885; Stephen R. M. born about 1886, Evan R. born about 1893; Vernon K. born about 1893; Margaret Evangeline born about 1895 and Cecil E. G, born about 1898; all in Brighton, Sussex.
At the time of the 1901 Census, the family lived at High Street, Strathmore, Bognor, Sussex. Arthur was a clergyman of Church of England and Cicily was at home looking after their children.
At the time of the 1911 Census, the family lived at 2 Denmark Terrace, Bognor. Arthur was a clergyman and Cicily was at home. The household further comprised of their daughter Margaret and a visitor Evelyn Ruth Rooke. Cicily stated that she had given birth to thirteen children of whom eleven were still alive. The house had eight rooms.
Kenneth was educated first at Pennington House School in Bognor. At the time of the 1911 Census, Kenneth was a pupil at St John's School, Epsom Road in Leatherhead. He left the school in 1913 for St Catherine's College in Cambridge.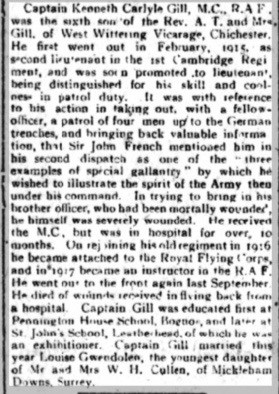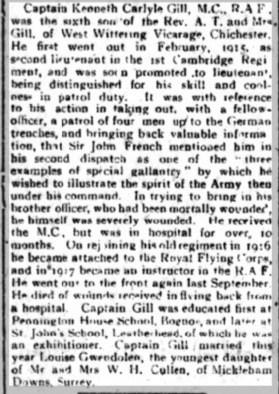 "He first went out in February, 1915, as Second Lieutenant in the 1st Cambridgeshire Regiment, and was soon promoted to Lieutenant, being distinguished for his skills and coolness in patrol duty. It was with reference to his action in taking out, with fellow officer, a patrol of four men to the German trenches, and bringing back valuable information, that Sir John French mentioned him in his second dispatch as one of the 'three examples of special gallantry' by which he wished to illustrated the spirit of the Army then under his command.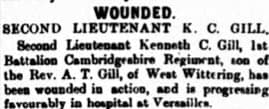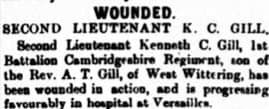 In trying to bring in his brother officer, who had been mortally wounded, he himself was severely wounded. He received the M.C., but was in hospital for over 10 months". (9 Nov 1918 West Sussex County Times)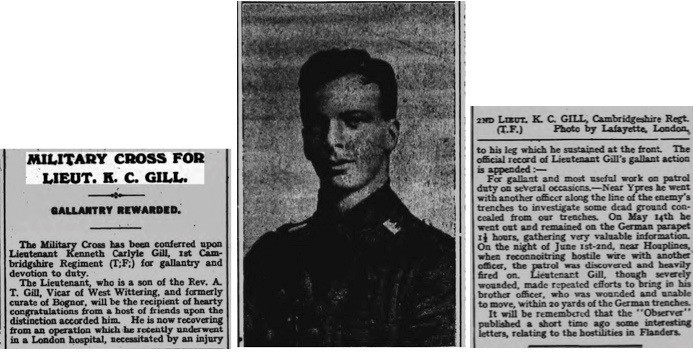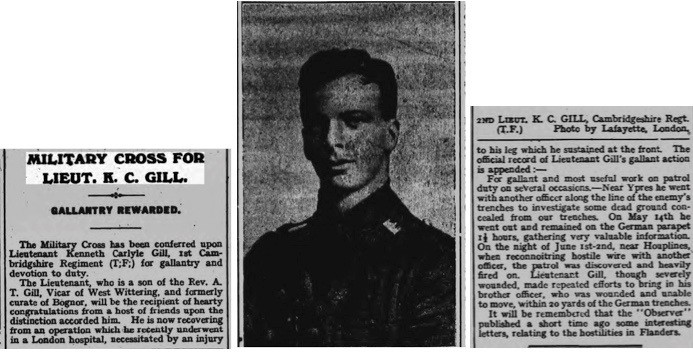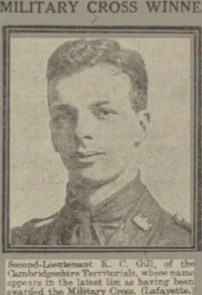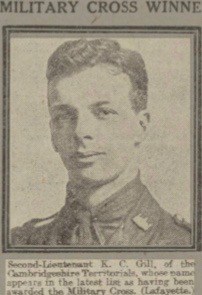 The official record of Lieutenant Gill's actions reads: "For gallant and most useful work on patrol duty on several occasions. Near Ypres he went with another officer along the line of the enemy's trenches to investigate some dead ground concealed from our trenches. On May 14th 1915, he went out and remained on the German parapet 1 and half hours, gathering very valuable information. On the night of June 1st – 2nd, near Houplines, when reconnoitring hostile wire with another officer, the patrol was discovered and heavily fired on. Lieutenant Gill, though severely wounded, made repeated efforts to bring in his brother officer, who was wounded and unable to move, within 20 yards of the German trenches". (22 Sept 1915 Chichester Observer)
On re-joining his old regiment in 1916, he became attached to the Royal Flying Corps. (9th Nov 1918 West Sussex County Times)
In August 1917 Lieutenant Gill was promoted to the rank of the Captain.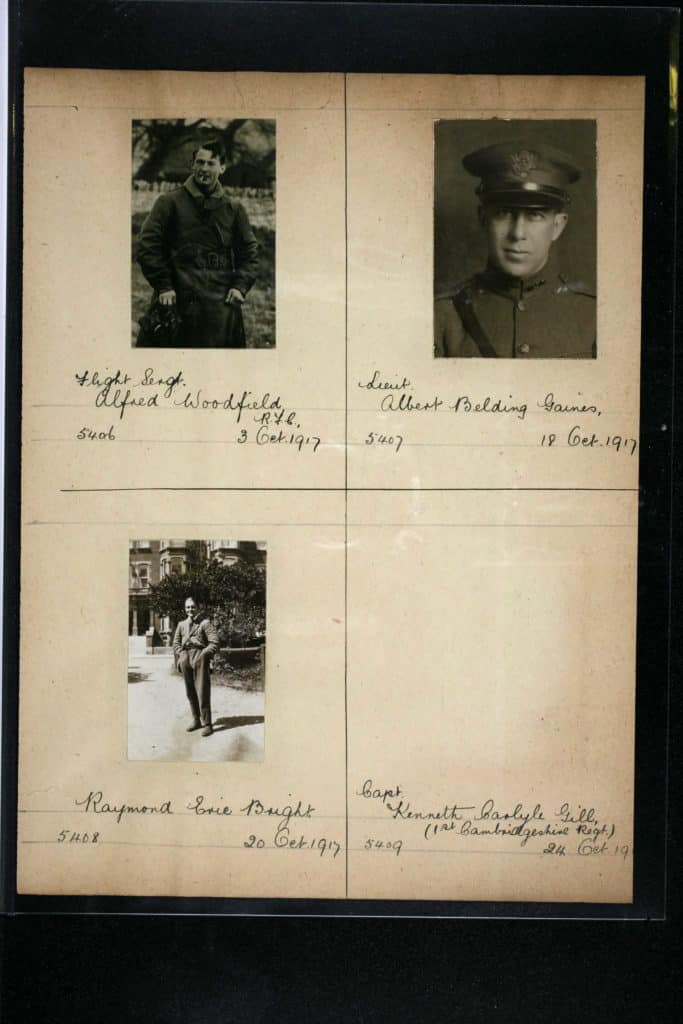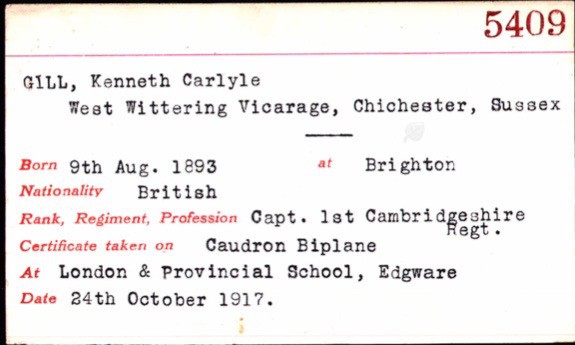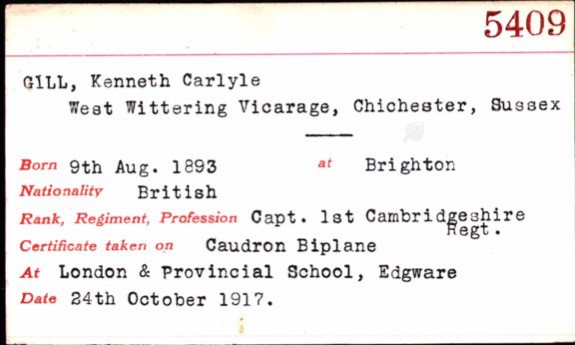 In 1917, he became an instructor in the RAF. Kenneth received his Royal Aero Club Aviation's Certificate on the 24th of October 1917 at London & Provisional School, Edgware.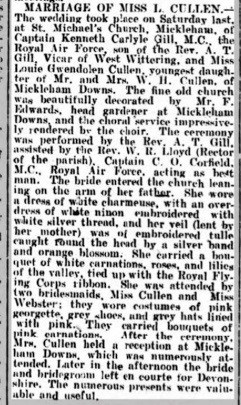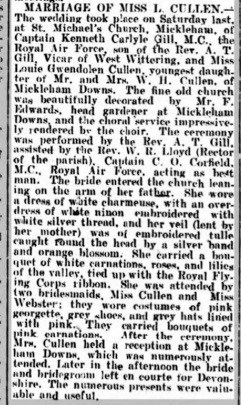 Kenneth married Louie Gwendolen Cullen on the 3rd of April 1918 at St Michael's church in Mickleham, Surrey. Kenneth lived at the time at West Wittering, Chichester. His father, Arthur was Vicar of West Wittering (formerly curate of Bognor). The bride lived at Mickleham. "The bride wore a dress of white charmeuse, with an overdress of white ninon embroidered with white silver thread and her veil was of embroidered tulle caught round the head by a silver band and orange blossoms. She carried a bouquet of white carnations, roses and lilies of the valley, tied up with the Royal Flying Corps ribbon". (13th April 1918 Dorking and Leatherhead Advertiser) Louie was the daughter of merchant William Henry Cullen of Mickleham Downs.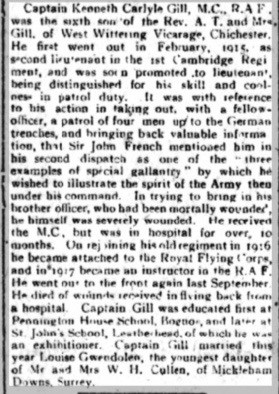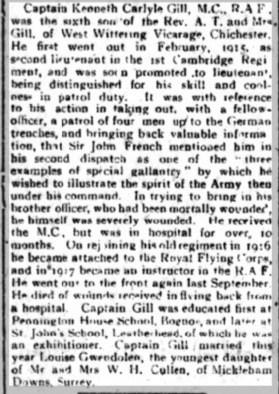 Captain Kenneth Carlyle Gill, M.C., of the 22nd squadron, RAF went out to the front again and was accidently killed while flying back from a hospital on the 22nd October of 1918 in France.


Kenneth Carlyle Gill Graves Registration Report © CWGC.org

Kenneth Carlyle Gill Headstone Inscription Report © CWGC.org

Kenneth Carlyle Gill Grave Text Report © CWGC.org

Kenneth Carlyle Gill Personal Headstone Inscription Report © CWGC.org
He was buried at the Fillievres British Cemetery, France. His grave reference number is: A.32. The headstone bears the inscription: "And If We Fall We Fall For The Thee Glad To Die If Thou Art Free England".
His wife Louie Gwendolen Gill received £329, 14s and 8d in the Probate. She lived at Mickleham Downs, Dorking, Surrey.
| | | |
| --- | --- | --- |
| Born | | Brighton, Sussex |
| | | |
| Son of | | Arthur Tidman and Cicily Rose (nee King) Gill |
| Husband of | | Louie Gwendolen Cullen of Mickleham Downs House, Dorking |
| | | |
| Regiment | | 22nd Squadron. Royal Air Force |
| | | |
| Date of Death | | 22nd October 1918 |
| Place of Death | | France |
| Cause of Death | | Accidentally Killed |
| | | |
| Age | | 28 |
| | | |
| Cemetery | | Fillievres British Cemetery, France |