Thank you to Margaret Dennis for the following research.
Maurice was born in Paddington, London in March 1889, the 3rd child of James Woodgate (a banker) and Annie Susan Charlotte (nee Jackson) Arbuthnot. The Arbuthnot family lived at Elderslie in Ockley; a large house as described in the 1911 census as having 28 rooms. A cook/housekeeper and four housemaids lived there in addition to the family.
By the time he was 12 years old, Maurice was away at Farnborough School in Hampshire, before moving to Eton School. He studied Natural Sciences at Cambridge University. After graduating from Cambridge, Maurice went to work at his families bank Arbuthnot, Latham and Co.
He joined 16th (The Queen's) Lancers, Household Cavalry and had a distinguished military career and was awarded the Military Cross on June 4th 1917 and the Croix de Guerre on 18th April 1918.
Maurice was a Lieutenant, when aged 26, he married Edith Madeleine Bosanquet, aged 27, of Kensington, London on 7th August 1915. Her father Sir Frederick Bosanquet was a Kings Counsel barrister.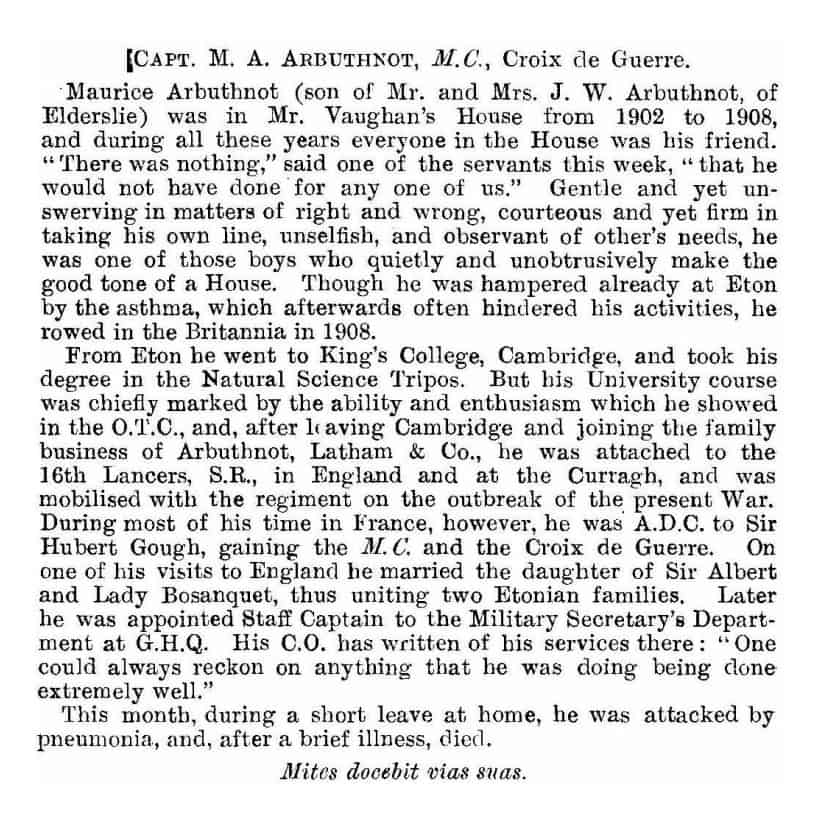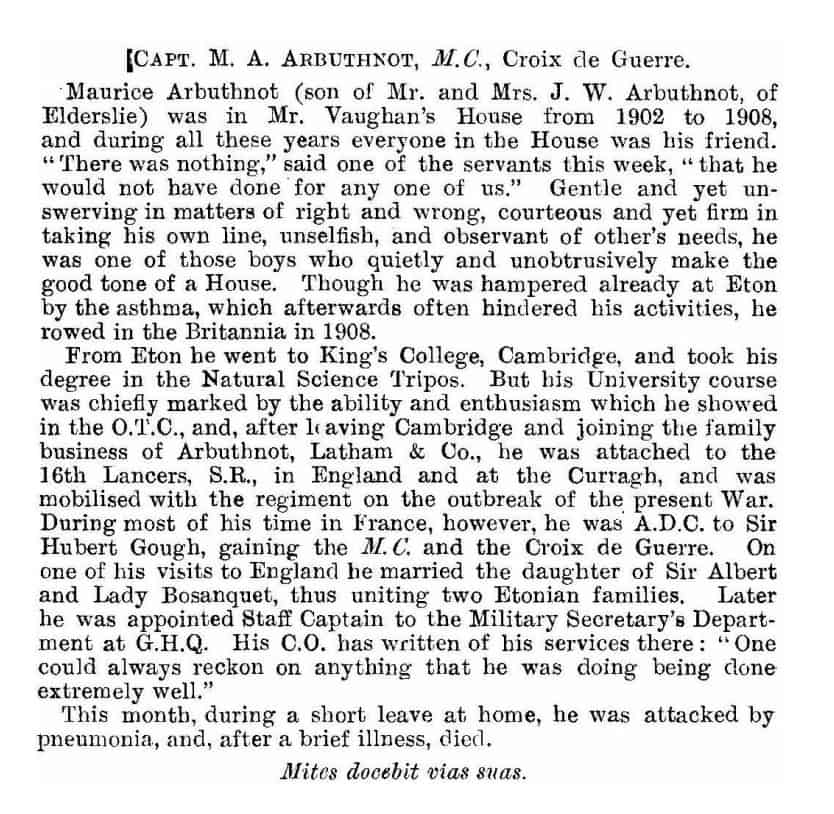 Arriving home on leave in 1918, he contracted Spanish Flu and died on 14th October 1918. He was buried in St. John's Churchyard, Ockley. He was 29.
Edith Madeleine was left £1052 19s 6d by her husband Maurice.
| | | |
| --- | --- | --- |
| Born | | Paddington, London |
| | | |
| Son of | | James and Annie Arbuthnot |
| | | |
| Regiment | | 16th (The Queen's) Lancers. Household Cavalry |
| | | |
| Date of Death | | 14th October 1918 |
| Place of Death | | Ockley, Surrey |
| Cause of Death | | Died of Spanish Flu |
| | | |
| Age | | 29 |
| | | |
| Cemetery | | St. John's Churchyard. Ockley |