Thank you to Janet Mata for this research. Thank you to Bill Guzek for the personal letters and additional military documents.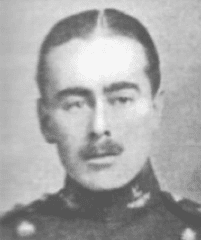 Captain Sheldon Gledstanes' name appears on the Holmbury War Memorial but sadly his connections with the area are currently unknown. His name is recorded incorrectly as "Shetland Gledslanes". His life is also commemorated on the war memorial at St Nicolas' Church in Taplow, Buckinghamshire – where his family lived.
Sheldon Gledstanes was born in 1889 in Ealing, west London. His father, Francis Garner Gledstanes was a stockbroker and his mother, Georgiana Sophia, was the daughter of artist Sheldon Burrows Adams. Sheldon, the eldest child, was evidently named in honour of his grandfather. Sheldon was baptised on 4 July 1889 when the family were living at Colebrooke, Ealing.
According to the census of 1891, the family were living at 3 Hanger Lane in Ealing and were clearly well off. They had four live-in servants: a nurse, a cook and two housemaids. Sheldon's younger sister had arrived in 1891.
It is not clear where the family were living when the 1901 census was conducted – there is no record of them in Ealing and none in Buckinghamshire, where they were living in 1911.
By 1911 the Gledstanes family living at Berry Hill, Taplow consisted of Francis and Georgiana and their daughter Elsie. The census records that Francis Gledstanes was still working as a stock broker and that the three Gledstanes children were still alive – though only Elsie was living at the parental home.
Sheldon Gledstanes was educated at Eton and this is referred to in various commemorative documents. It is recorded that he was a member of the Conservative club and had liked most sports including "cricket, football, rackets, hockey, golf and tennis" Sheldon had been a Special Reservist before joining the Bedfordshire Regiment in May 1910.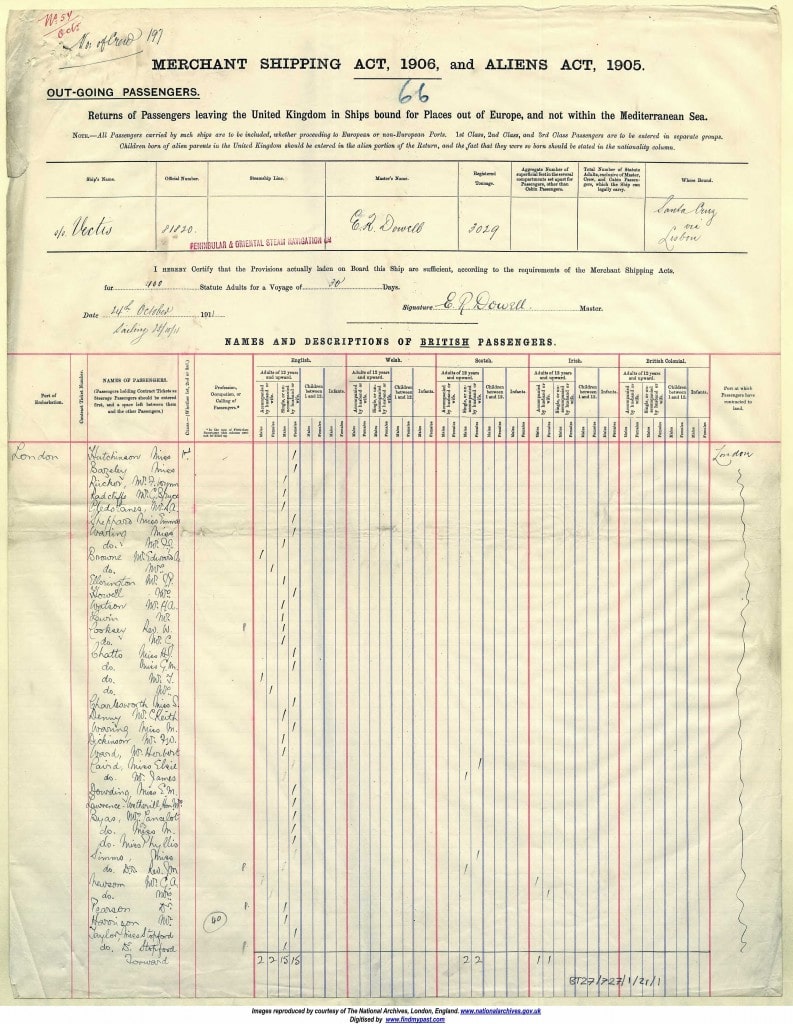 Before joining the Bedfordshire Regiment as a regular officer, Sheldon had done some travelling. Passenger lists for 1911 show that he joined a cruise ship, P&O's "Vectis" for a cruise leaving London and visiting Lisbon, Gibraltar, the Canaries and Madeira.
His parents too were accustomed to travelling – his parents enjoyed a cruise to Barbados in 1905 and his father went to New York in 1912 aboard the White Star Line's "Majestic".
There are several mentions of Sheldon Gledstanes once he assumes an officer role in the 1st Battalion Bedfordshire Regiment. On the eve of the outbreak of war, he was with his battalion in Ireland where the consensus of local opinion, according to the Sheldon in a letter to his father, was that the troops were based in Ireland to keep order there rather than because there was an immediate threat of war in Europe.
The Bedfordshire Regiment went to France in August 1914 and were involved in the early battles of the War, including Mons, Le Cateau and Ypres. An early report records the execution of a deserter a duty Sheldon Gledstanes was reluctant to undertake.
The London Gazette reports on Sheldon Gledstanes' rise through the ranks which was as follows:-
27 November 1908 – Sheldon Arthur Gledstanes of the 3rd Battalion Princess Charlotte of Wales's (Royal Berkshire Regiment) to be Second Lieutenant.
3 December 1909 – 3rd Battalion Princess Charlotte of Wales's (Royal Berkshire Regiment) Second Lieutenant (on probation) Sheldon Arthur Gledstanes is confirmed in his rank.
27 May 1910 – Bedfordshire Regiment Second Lieutenant Sheldon Arthur Gledstanes from 3rd Battalion Princess Charlotte of Wales's (Royal Berkshire Regiment) on augmentation.
23 April 1912 – Bedfordshire Regiment Second Lieutenant Sheldon Arthur Gledstanes to be Lieutenant.
27 April 1915 – Bedfordshire Regiment Lieutenant (temporary Captain) Sheldon Arthur Gledstanes to be Captain.
22 June 1915 – Bedfordshire Regiment Lieutenant (temporary Captain) Sheldon Arthur Gledstanes died of wounds.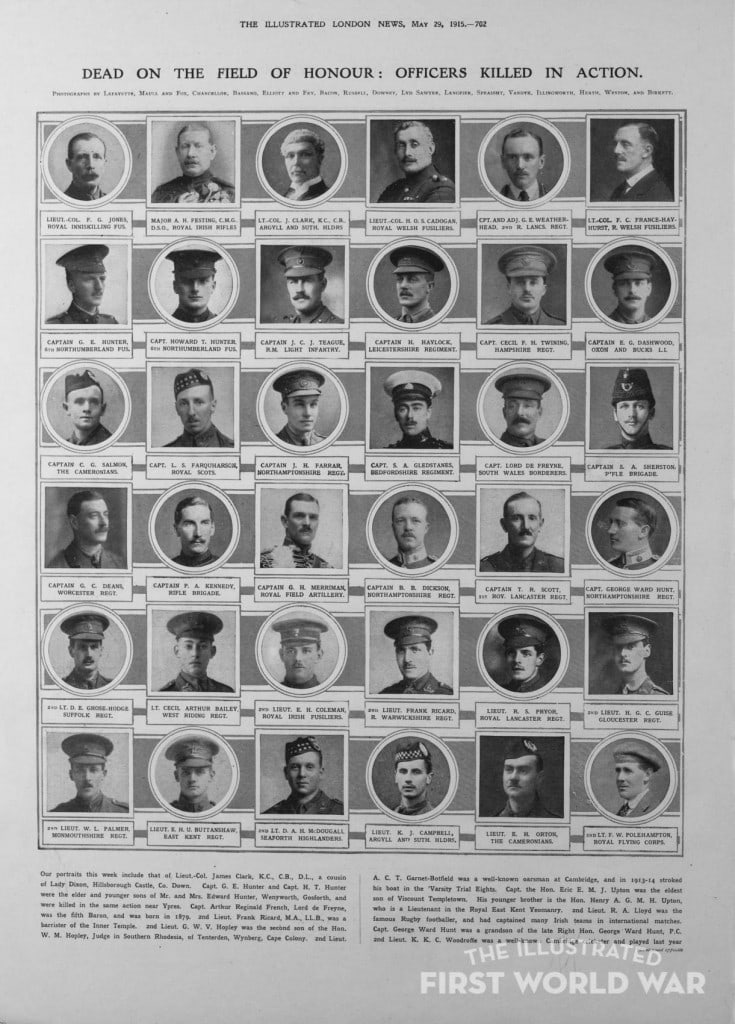 The regimental war diary, describes the final days in the field of Sheldon Gledstanes. He was involved in intense fighting around "Hill 60" which was part of the southern flank of the Ypres salient. He and his comrades came under heavy shellfire and gas attacks. The regiment suffered very heavy casualties. Sheldon himself was wounded on 5th May but still he maintained position directing his troops. Eventually the battalion was relieved, but Sheldon died two days later, on 9th May. For this bravery he was "mentioned in dispatches".
Bill Guzek sent us copies of letters from Audrey Steyne, Sheldon's finance trying to find out information on Sheldon's injuries.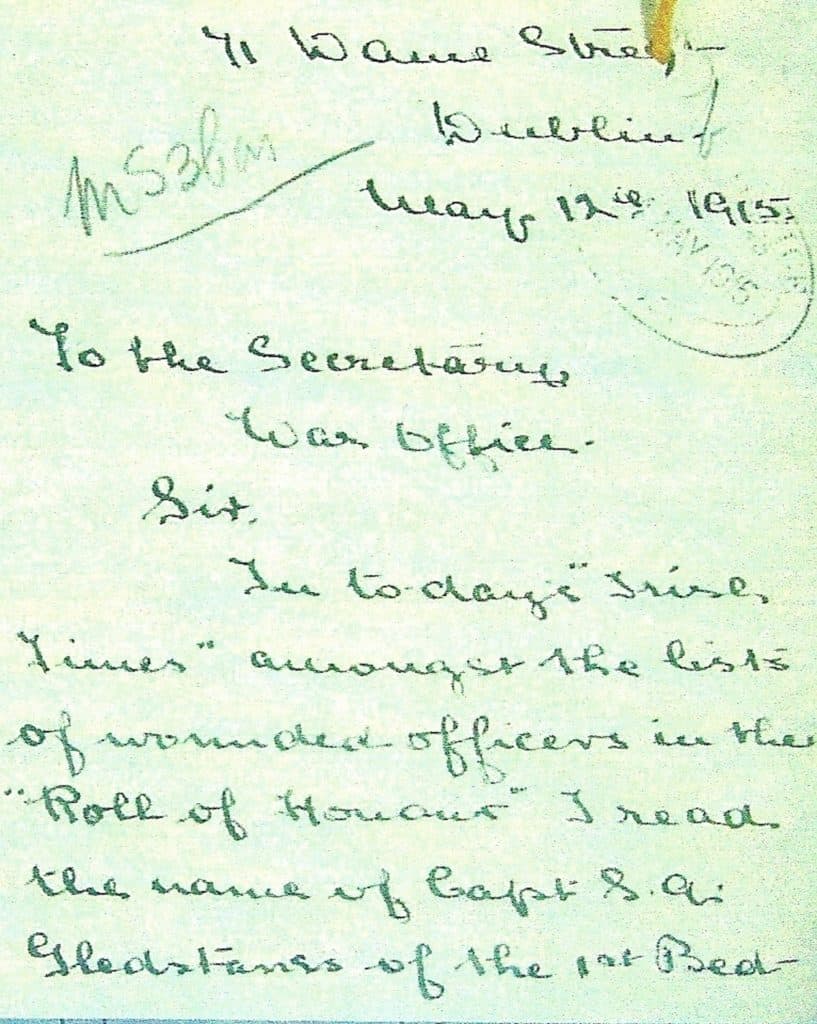 71 Dame Street
Dublin
May 12th 1915
To the Secretary
War Office
Sir In today's "Irish Times" amongst the lists of wounded officers in the "Roll of Honour" I read the name of Capt. S. A. Gledstanes of the 1st Bedfordshire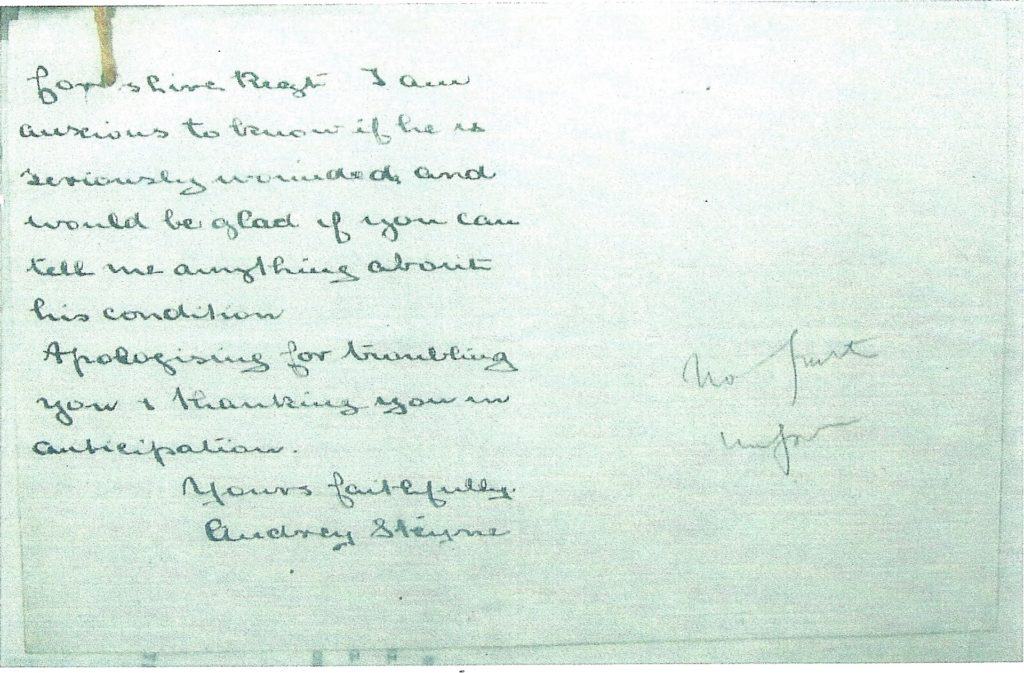 the 1st Bedfordshire Regt. I am anxious to know if he is seriously wounded and would be glad if you can tell me anything about his condition.
Apologising for troubling you & thanking you in anticipation
Yours faithfully
Audrey Steyne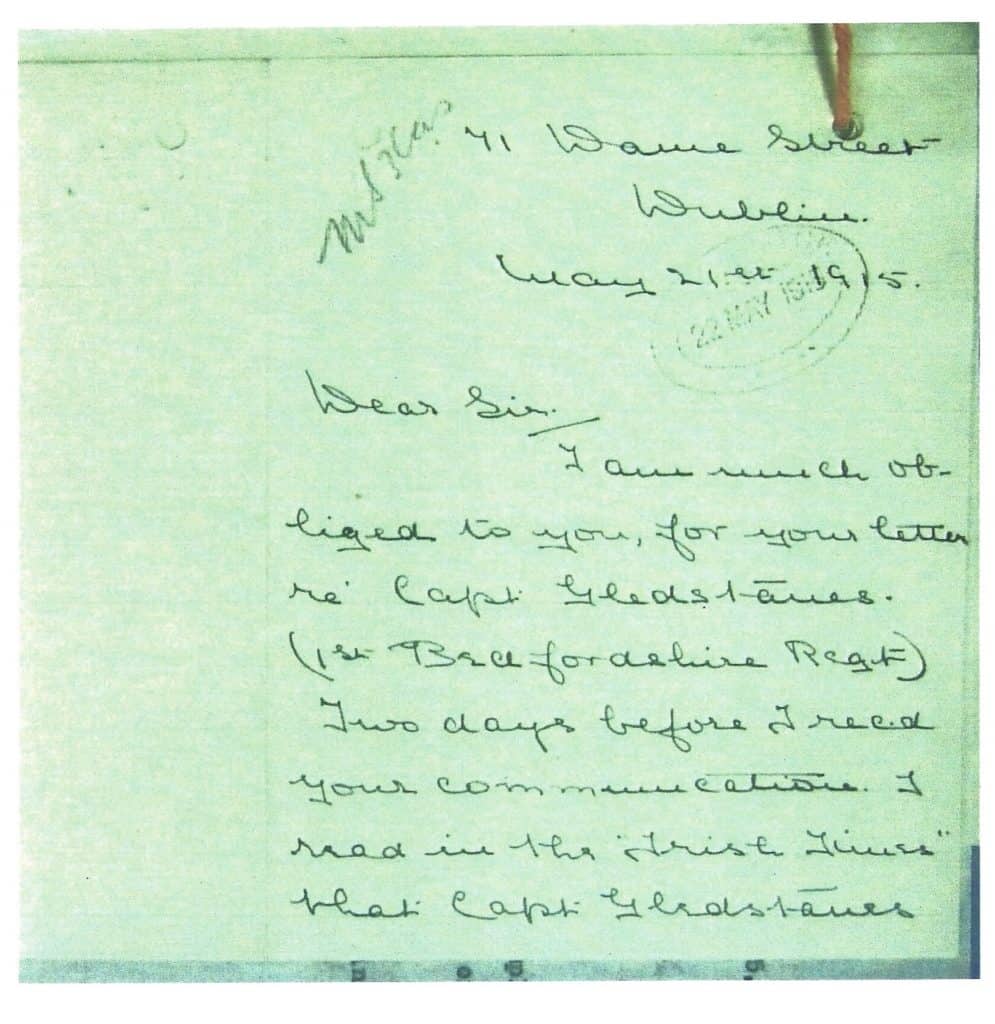 71 Dame Street
Dublin
May 21st 1915
Dear Sir
I am much obliged to you for your letter re Capt. Gledstanes (1st Bedfordshire Regt.) Two days before I read your communication I read in the "Irish Times" that Capt. Gledstanes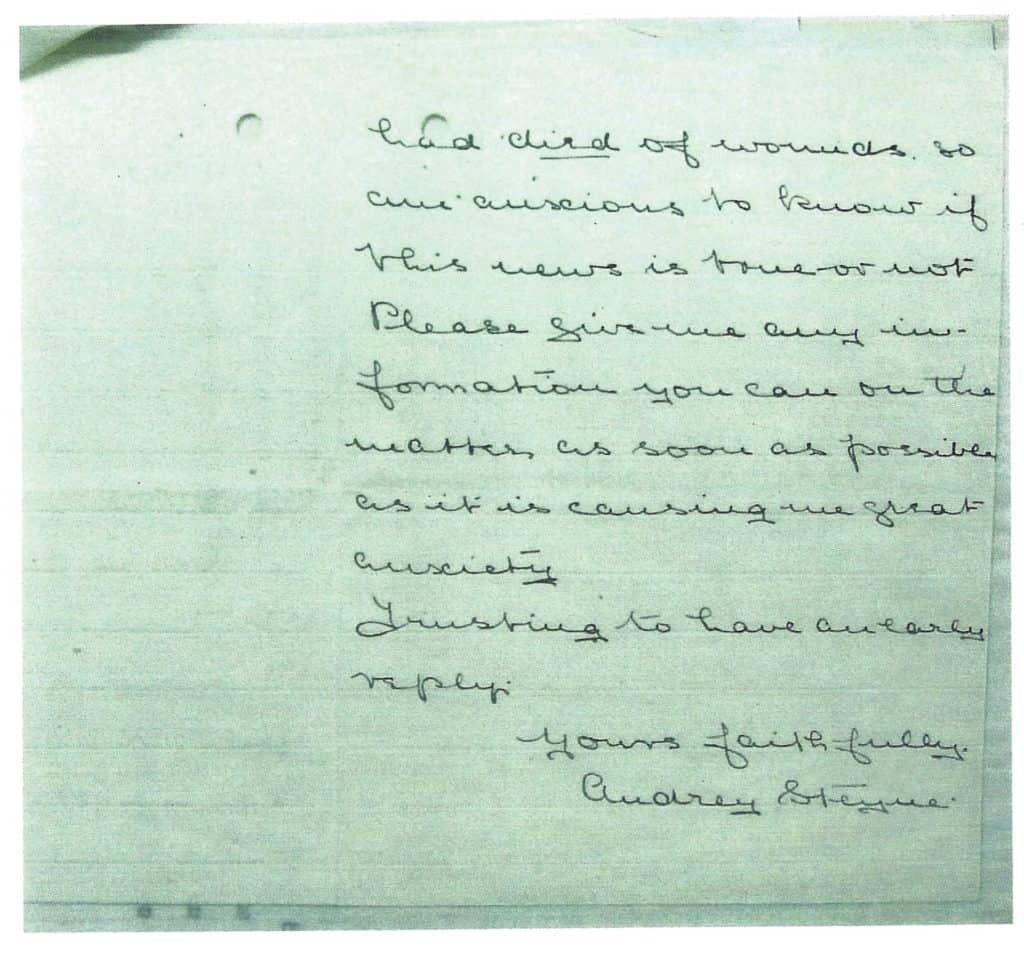 Gledstanes had died of wounds so am anxious to know if this news is true or not. Please give me any information you can on the matter as soon as possible as it is causing me great anxiety.
Trusting to have an early reply
Yours faithfully
Audrey Steyne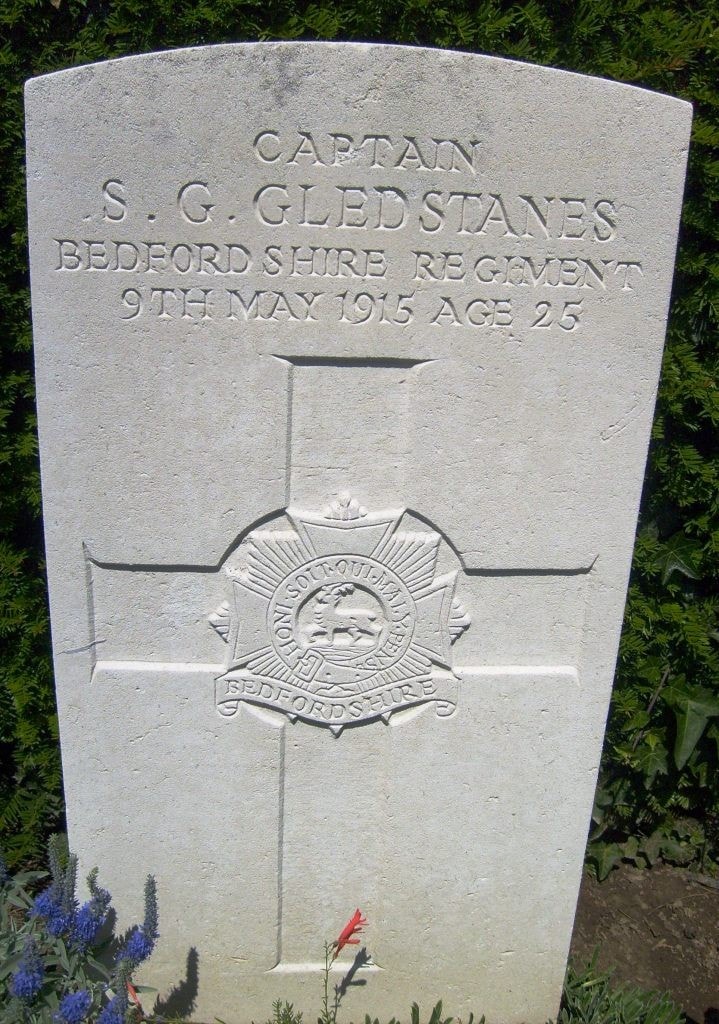 Captain Gledstanes was buried in the Bailleul Communal Cemetery which is near the Belgian border to the south west of Ypres.
In recent years Captain Gledstanes' uniform has been discovered and is now owned by Bill Guzek.
Sheldon's two sisters, Elsie and May did not marry as they each kept their maiden names until they died – Elsie in 1982 and May in 1980. Elsie served as a volunteer driver for the London Auxiliary Ambulance Service and the Women's Legion during the Second World War. She inherited her grandfather's talent as an artist and was a regular exhibitor at the Royal Academy during the 1930s and 1940s.
| | | |
| --- | --- | --- |
| Born | | Ealing, West London |
| Lived | | Taplow, Buckinghamshire |
| | | |
| Son of | | Francis Garner and Georgiana Sophia Gledstanes |
| | | |
| Regiment | | 1st Battalion. Bedfordshire Regiment |
| | | |
| Date of Death | | 25th May 1915 |
| Place of Death | | Bailleul, France |
| Cause of Death | | Died of wounds |
| | | |
| Age | | 25 |
| | | |
| Cemetery | | Bailleul Communal Cemetery, Bailleul, France |