Thank you to Jim Edwards for this research.
William King George was born in Kensington late in 1881, the son of Mr. and Mrs. S. King George, of The Brackens, Ascot, Berks
He was commissioned as a Second Lieutenant in the 3rd Battalion, the Gloucestershire Regiment (a militia unit) in 1905. Militia soldiers underwent a period of full time training followed by weekends and annual camp. The battalion was transferred to the Army Reserve as a unit of Special Reservists, during the reorganization of the reserve forces in 1908. These had a slightly higher training commitment. When this happened William was transferred as a Second Lieutenant and immediately promoted to Lieutenant and then, in 1910, to Captain.
He married Noelle Evelyn Campbell Stewart at Holy Trinity Church, Brompton, London on 18th October 1910. She had been born in 1881 in Bangalore India, where her father was a General. In the 1911 census William and Noelle were recorded as living with his parents at the Brackens, Ascot. Their first child was born in South Holmwood on 7th July 1911 and the second in Cheltenham on 21st June 1913.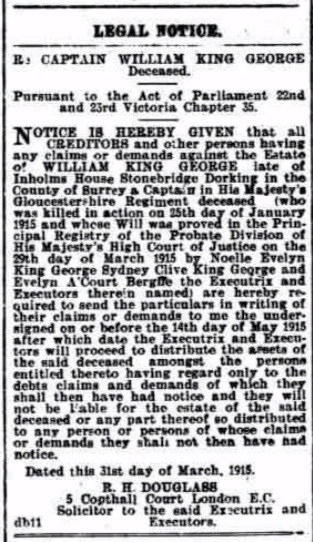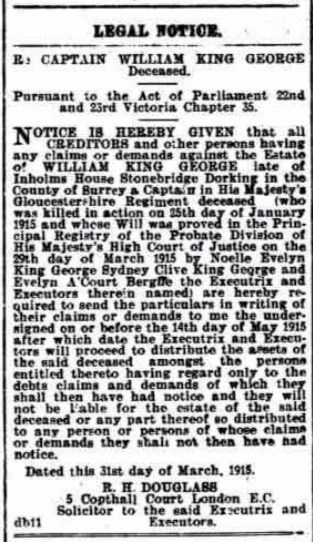 The reserves were called out on permanent service on 4th August at the start of the war and his battalion moved to Woolwich as a training battalion, providing replacements for the other battalions of the Gloucesters. William went to France on 3rd January 1915 and was killed in action 22 days later on 25th January, attached to D Company, 1st Battalion, Gloucestershire Regiment, which had been in France since early in the war. He was buried in the Guards Cemetery, Windy Corner, Cuinchy, Pas de Calais.
Noelle was living in Dorking and on 14th July 1917 married Lt-Col Humfrey Hayes Kennedy.
| | | |
| --- | --- | --- |
| Born | | Kensington, London |
| Lived | | Horsham |
| | | |
| Son of | | Mr. and Mrs. S. King George, of The Brackens, Ascot, Berks |
| Husband of | | Noelle Evelyn Campbell Stewart |
| | | |
| Regiment | | "D" Company. 1st Battalion. Gloucestershire Regiment |
| | | |
| Date of Death | | 25th January 1915 |
| Place of Death | | France |
| Cause of Death | | Killed in action |
| | | |
| Age | | 33 |
| | | |
| Cemetery | | Guards Cemetery, Windy Corner, Cuinchy, Pas de Calais |