William Henry Kay is mistakenly listed on the South Street War Memorial as Tay W.H.
Thanks to Jim Edwards for this research, and thank you to Lenka Cathersides for additional information.
The Reverend William Henry Kay was born in the 1st quarter of 1889 in Charlbury, Oxfordshire to schoolmaster Henry Kay and teacher Emily Kay.
William Henry Kay was educated at a Grammar School in Birmingham and St John's College London, obtaining his degree in 1911. He came to teach at the Dorking High School from Redhill in January 1912, leaving at the end of that year to prepare for ordination.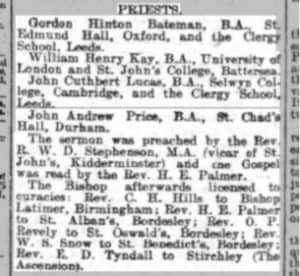 His father, Henry Kay, was headmaster of All Saints School Hockley. His mother, sisters and two brothers were also teachers. He was ordained by the Bishop of Birmingham that year and was curate at All Saints Church, Hockley until he was appointed as Chaplain to the Forces on 1st July 1915. He was attached to 5th Battalion of the Dorsetshire Regiment.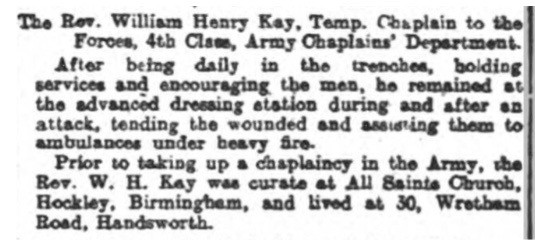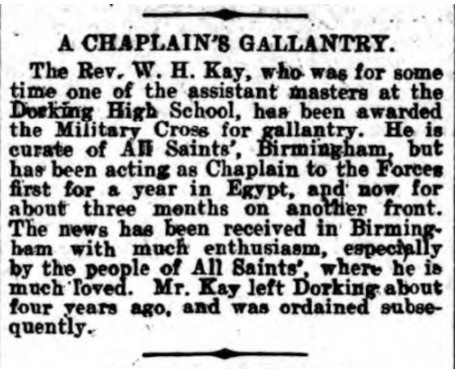 He was awarded the Military Cross and the magazine printed the citation, which appeared in the London Gazette on 14th November 1916: "Rev William Henry Kay, temporary Chaplain to the Forces. After being daily in the trenches, holding services and encouraging the men, he remained at the advanced clearing station during and after an attack, tending the wounded and assisting them to ambulances under heavy fire."
 William's brother, Laurence Herbert Kay (born 1893), had been gazetted as a 2nd Lieutenant in the 12th Royal Warwickshire Regiment in April 1915. He had been killed in action on 18th November 1915 in Gallipoli.
William was wounded once, and then seriously wounded with a gunshot wound to his back at Poelcapelle on 7th October 1917. He visited the High School from a London Hospital while convalescing. He returned to France to his old regiment early in January.
He was killed by a bursting shell whilst taking comforts to the men on 5th April 1918, during the early days of the great enemy offensive.
He was buried in Mazingarbe Communal Cemetery Extension, Pas de Calais.