Thank you to Jane Anthony for this research.
Corporal Charles H Young was born in 1893. Very little could be traced about his background. When he enlisted in the 7th Battalion of the Queen's Royal West Surrey Regiment (G2093) at Guildford he gave his address as being Holmbury St Mary, but no trace of any Young family there or in Wotton.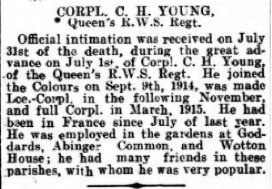 He was killed in action on the 1st 1916 aged 23, and was buried at Dantzig Alley British Cemetery at Memetzt. All his effects were left to his fiancée Florence Jane Longhurst of 2 Feldmore Cottages, Holmbury St Mary, there was a war gratuity and some £18 of back pay.
| | | |
| --- | --- | --- |
| Born | Wotton | |
| Lived | Holmbury St. Mary, Surrey | |
| | | |
| Fiancee of | Florence Jane Longhurst of Holmbury St Mary | |
| | | |
| Regiment | 7th Battalion. The Queen's Royal West Surrey Regiment | |
| Number | G/2093 | |
| | | |
| Date of Death | 1st July 1916 | |
| Place of Death | Somme, France | |
| Cause of Death | Killed in Action | |
| | | |
| Age | 23 | |
| | | |
| Cemetery | Dantzig Alley British Cemetery at Memetzt | |