Thank you to the Friends of St. Margaret for allowing us to reproduce their research.
Born in Blenheim, Oxfordshire, the son of gamekeeper Edward Long and his wife Elizabeth. By 1901 the family had moved to Merrow in Guildford, and then to 'Vann Platt' in Ockley. He worked as a gardener and gamekeeper at Tiphams in Weare Street which was part of the Grenehurst estate in Capel.
Ockley Parish Magazine records: "George was, for a time, a member of our choir and helped with the Choral Society and football team. He was a fine young fellow, respected and popular. Only a short time ago, he was home on leave.


He enlisted at Guildford in February 1915 and was serving at the Front by August that year.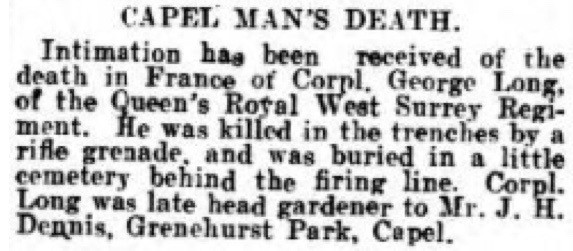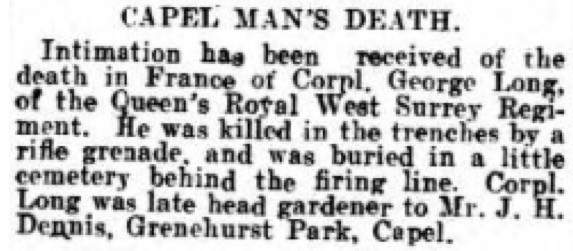 He was killed on 26 May 1916 while on mining fatigue duties behind the lines. His company were on respite from the trenches behind the Somme.
Born                            Oxford
Lived                           Ockley, Dorking
Son of                         Edward and Elizabeth Long
Enlisted                        Guildford
Regiment                     2nd Battalion. The Queen's Royal West Surrey Regiment
Number                       G/4500
Date of Death              26th May 1916
Place of Death             Somme, France
Cause of Death           Killed in Action
Age                              34
Cemetery                    Citadel New Military Cemetery, Fricourt, Grave III.E.3
For more information on George Edward Long, please e mail the secretary@friendsofstmargarets.org.uk