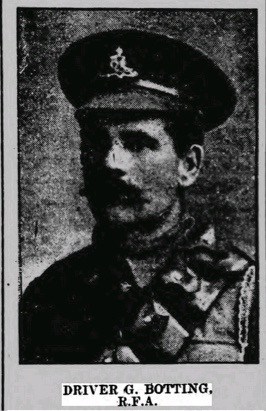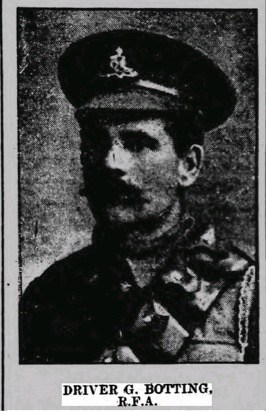 Thank you to Lenka Cathersides and Warren Jackson for the following research.
George Botting was born on the 3rd April 1881 at Gadbrook in Betchworth, Surrey. He was the son of Walter Botting and Harriett Haybittle.
George had nine siblings: Eliza born on 17th August 1877; Harry born on 7th August 1879, both in Brockham;  Elizabeth born on 10th February 1883 ; Walter Thomas born on 3rd September 1884; Annie born on 25th October 1886; Valentine born on 24th February 1889; Frederick born on 29th  January 1891, all in Betchworth; Charles born on 30th December 1892 and Laura born on 1st May 1895, both in Dorking. Six siblings were alive by the time of the 1911 Census. The three youngest had all died of measles at Moleside in January 1896: Charles on the 20th; Laura on the 21st; and Frederick on the 23rd. They were buried on 25th January 1896 in Dorking.
At the time of the 1891 Census the Botting's family lived at The Village in Betchworth. George's father Walter was working as a carman.
At the time of the 1901 Census, the family lived at Moleside in Pixham, Dorking. Walter and his son Harry were working as labourers in chalk pits. Daughter Eliza was working as a housemaid and George with his brother Walter as journeymen bakers. Valentine was a student.
By the time of the 1911 Census, George had moved away from his parents who now lived alone at 12 Spring Gardens. George's father was working as a stoker.
George himself was a boarder of thirty-seven-year-old widow Flora Robertson at 9 Hart Road, Dorking. He was working as a baker.
Later, George was working for Mr Head, a baker of Lincoln Road, Dorking. At the time of his enlistment George was working at the Hyde Park Hotel, London.
Military History
George Botting enlisted at Westminster, London. He became a driver for the 'A' Battery 62nd Brigade of the RFA (Royal Field Artillery). His regimental number was 901822.
On 13th February 1918, George Botting married twenty-four-year-old Elizabeth Alice Lidbitter at St Nicholas Church in Great Bookham. Elizabeth was the daughter of Albert Lidbitter, a labourer. George's occupation is stated to be an RFA bombardier. At the time of the marriage he lived at 10 Church Street, Dorking with his parents.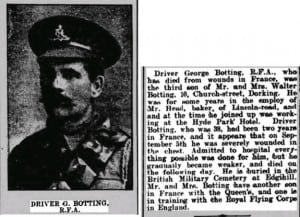 Before George died of wounds in France, he had been serving there for two years. On 5th September 1918 he was severely wounded in the chest and died in hospital on the following day. At this time, one of George's younger brothers, Walter, was in France with the Queen's Royal West Surrey Regiment and another, Valentine, was in training with the Royal Flying Corps in England.  Within days their cousin, John Botting, was killed in action at the Battle of Épehy on the 18th of September 1918.
George is buried at Dernancourt Communal Cemetery Extension in France, Somme. His grave reference number is: VIII.B.17. The headstone reads: "Peace Perfect Peace – With Loved Ones Far Away".
George's mother Harriett received £5 of Soldiers Effects and George's wife Elizabeth received 19s and 1d on 28th January 1919. At this time Elizabeth lived at Phoenice Cottage, Great Bookham, Surrey. On 8th December 1919 Elizabeth received a further £10 and 10s.
George received the British War and Victory medals.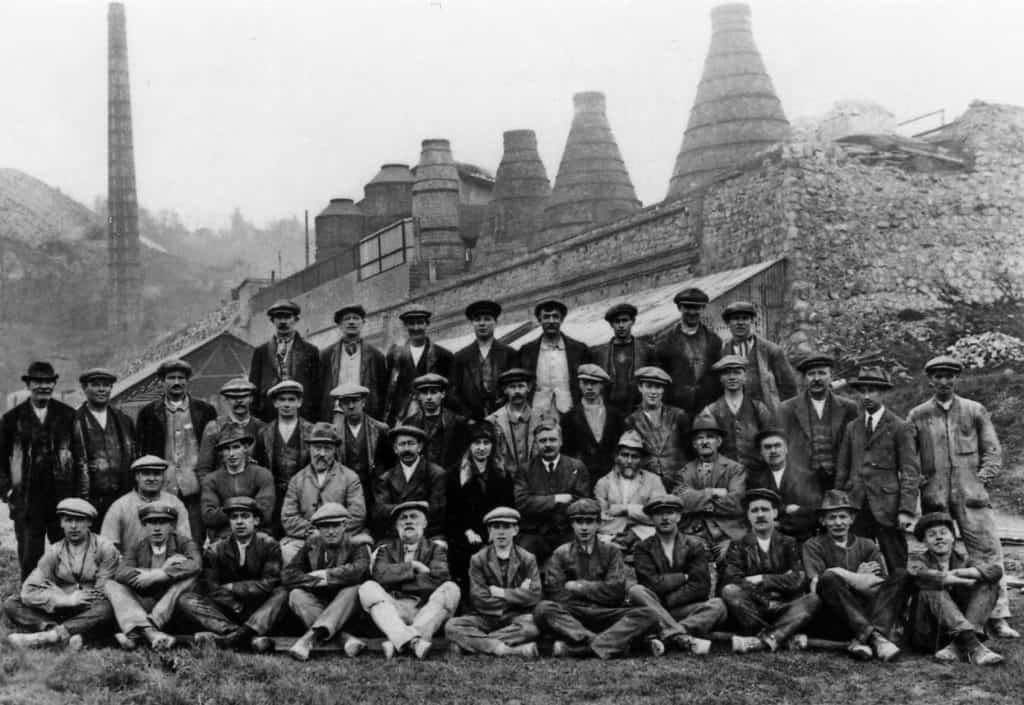 The photo above shows in the front row fourth from right Valentine Botting (George's brother), on the far right, Valentine's son John Botting. In the third row, fifth from left is Walter T. Botting (George's brother).
Family History
George's paternal great-grandparents were called John Botting (a labourer) and Elizabeth Botting nee Sadler.
John was born about 1791 in Effingham, Surrey and Elizabeth about 1795 in Leigh. They were married at St. Michael's, Betchworth on 10th October 1815.
At the time of the 1841 Census, John was working as an agricultural labourer and lived at Gadbrook, Betchworth with his wife Elizabeth and seven children of their eight children: George's grandfather John, Martha, Mary, George, Rebecca, Henry and Jane. Their eldest child Hannah, baptised at St Michael's, Betchworth, on 24th March 1816 had moved away by this time.
The family used the surname Botten on this census.
Twenty years later in 1861 the family lived in Gadbrook and the seventy-year-old John was still working as a labourer. The children had moved away apart from twenty-six-year old Henry (a labourer); twenty-one-year-old Jane and a granddaughter Elizabeth Childs whose mother was Rebecca Childs nee Botting. On this census, the family surname is recorded as Botting.
By the time of the 1871 Census, John was widowed and lived with his son Henry (an agricultural farm servant) and granddaughter Elizabeth (domestic general servant) at Gadbrook Cottage in Betchworth. The family is named in the Census as Botton.
George's paternal grandparents were called John (a labourer) and Ann Botting nee Ives.
John Botting was born about 1818 and was baptised under the surname Botten on 15th November 1818 at St Michael's Church in Betchworth. Ann was baptised there on 2nd June 1822.
John married Ann Ives on 21st September 1846 at St James' Church in Shere. John's surname on the certificate is Botting.
At the time of the 1851 Census John and Ann had two children Edwin and George and were living in Betchworth. John was working as an agricultural labourer. The family used the surname Botten.
George's father was called Walter Botting and was born to John and Ann on 22nd January 1856 in Betchworth. Walter was baptised on 24th February 1856 in St Michael's Church in Betchworth under the surname of Botten.
During the 1861 Census, five-year-old Walter lived with his parents and siblings Edwin, George, Ann, Jane and Valentine at Sheepwash Cottages in Betchworth under the name of Botten.
By the time of the 1871 Census, fifteen-year-old Walter became a boarder on a farm in Wonham, Reigate Foreign. The farm belonged to seventy-five-year-old Ann Edwards, who owned 175 acres of land. John was her indoor farm servant. Walter used the surname Botting.
George's mother was called Harriett Haybittle and was born on 19th February 1854 in Betchworth to Thomas (a coachman) born about 1832 and baptised on 15th January 1832 in Betchworth and Lucy Haybittle nee Lucas born on 7th April 1826 and baptised on 30th April 1826 in Merstham.
At the time of the 1871 Census, Harriett was still living with her parents at Wheelers Lane, Betchworth, but was working as a general servant.
Harriet and Walter married on 2nd April 1877 in Brockham. Walter married under the surname of Botton.
The young couple, during the 1881 Census, lived with Harriett's mother Lucy Haybittle and their children Eliza, Harry and baby George Botting (at the time unnamed) at Gadbrook Chapel, Betchworth. From then on they used the surname Botting.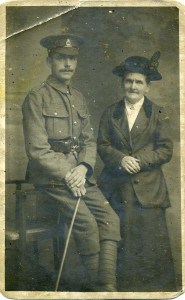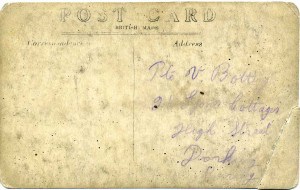 | | | |
| --- | --- | --- |
| Born | | Betchworth, Surrey |
| | | |
| Son of | | Walter and Harriett Botting of 10 Church Street, Dorking |
| Husband of | | Elizabeth Alice Lidbitter of Phoenice Cottage, Great Bookham |
| | | |
| Regiment | | "A" Battery. 62nd Brigade. Royal Field Artillery |
| Number | | 901822 |
| | | |
| Date of Death | | 6th September 1918 |
| Place of Death | | France |
| Cause of Death | | Died of wounds |
| | | |
| Age | | 36 |
| | | |
| Cemetery | | Dernacourt Communal Cemetery Extension, Somme, France |