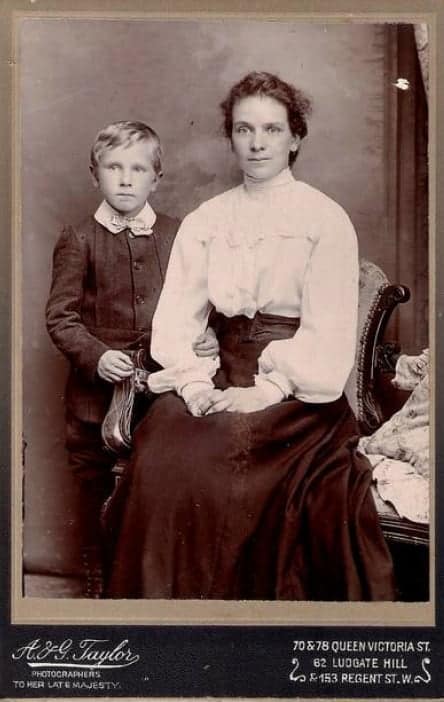 Thank you to Patrica Brazier for the following research. Thank you to James and Mary Frazer, from the Oakley family for the photograph of Emily and Cyril.
Cyril Thomas was born on 19th March 1898 in Islington, London and was baptised at St. John the Evangelist Church. His parents were William James Oakley and Emily Amelia (nee Fraser). They were living at 31 Goodings Road in Islington.
In the 1901 census Cyril is living in Chatterton Road in Islington. William James, Cyril's father is a confectioner's assistant. He was born in Aylesbury, Buckinghamshire. Emily, his mother was born in Westminster. Emily gave birth to two more children, Alfred in 1901 and William Frederick in 1902. Sadly both babies died soon after birth.
Cyril's parents then separated. Emily attained a position as a "Live in cook" at Vigo Farm in Holmwood, and answered this advertisement in the Advertiser and County Post of Saturday 17 May 1902 to find accommodation for Cyril.


Mrs. Murden's home must have been ideal as Cyril is still boarding with Frederick and Rosina Murden at Rose Cottage, Buckland Road in Holmwood in the 1911 census, whilst his mother is still employed as a Cook at Vigo Farm. He attended South Holmwood Church of England School from November 1903 until March 1912. He then moved to Tooting and was living at 83 Gatton Road, in 1914. George and Hannah Barrett and their daughter Florence were living at the same address. His service papers have not survived. Therefore we do not know exactly when he joined the Royal Field Artillery. He would have been 18 in March 1916 so perhaps he joined soon after.
The Royal Field Artillery was responsible for the medium calibre guns and howitzers which were deployed close to the front line in battle. The 155th Battery served in France and Belgium throughout the war.
Cyril was wounded and returned home to England. He married Florence May Barrett in the September quarter of 1919. He died in Bedford Hospital on 25th September 1919. Bedford Hospital was involved in the treatment and recuperation of wounded Soldiers of the First World War. He was buried in St Nicholas Churchyard in Tooting on 30th September. The Commonwealth War Graves Commission has provided a plaque in the Churchyard listing the names of 6 soldiers and sailors, buried there who served in the First World War.
After his death, Florence, his wife moved to Conway Place in Hove. Emily, his mother moved back to London and in the 1939 register she is living at 6 Lawrence Buildings in Millbank. She then spent five years working as a housekeeper in a household in Cookham, Berkshire. After the Second World War she moved back to London. She died on 8th January 1960 at the hostel of God in Clapham, now the Royal Trinity Hospice.
| | | |
| --- | --- | --- |
| Born | | Islington, London |
| Lived | | Holmwood, Surrey |
| | | |
| Son of | | William James and Emily Ameila (nee Fraser) |
| Husband of | | Florence May Barrett |
| | | |
| Regiment | | 155th Battery. Royal Field Artillery |
| Number | | 139172 |
| | | |
| Date of Death | | 25th September 1919 |
| Place of Death | | Bedford Hospital, United Kingdom |
| Cause of Death | | Died of wounds |
| | | |
| Age | | 21 |
| | | |
| Cemetery | | St. Nicholas Churchyard, Tooting, London |