Thank you to Patricia Brazier for the following research, and thank you to Jude Rogerson, granddaughter in law to Frank.
Frank was born on 24th July 1891, and baptised at St Martins Church in Dorking on 10th September 1893. His parents are Alfred and Eliza. Alfred, his father, is a baker and they are living at 42 Dene Street, Dorking. He was the youngest of six brothers.
Alfred and Eliza Downham married on 19th October 1872 in Shepperton. They moved to Dorking around 1876. Here, their son Robert William Henry died at the age of one year, in 1877. They then had a daughter, Sarah Ellen in 1878, but sadly she died in the same year.
In 1881, the family is living in Falkland Road in Dorking. Alfred and Eliza have four sons, Alfred aged 7, James aged 6, Albert aged 1 and Charles aged 3 months. The family then moved to 41 and 42 Dene Street where Alfred Snr had his Bakers Shop. They are still in Dene Street when the 1891 census was taken. They now have three more sons, Albert aged 12, Algernon aged 8 and Wallace aged 2.
In the 1901 census the family are still in Dene Street. Frank's brother, James is a pork butcher, his brothers Albert and Charles are house painters, Algernon is a dentist apprentice; Wallace and Frank are at school.
When Frank left school, he served an apprenticeship at Messrs Cheeseman and Bromley, a large clothing and boot store on the High Street in Dorking. He was a keen footballer and a member of the Congregational Football Club who won the Redhill League in 1909. He then became captain of the Redhill Wednesday team. Frank was also a member of Dorking Swimming Club.
In the 1911 census, Frank is lodging with the O'Donnell family in Linkfield Street, Redhill, his occupation is draper's assistant.
Frank married Minnie Smith in the Providence Chapel in Staplehurst, Kent, on the 27th November 1915. His address was given as 96 Crescent Road in Woolwich and his occupation was a munitions worker. Frank's brother Albert witnessed the marriage with Minnie's father Charles Edward.
Frank joined the Royal Garrison Artillery in early 1917 and, after training arrived in France in February 1918, where he served as a Gunner on Anti-Aircraft Lewis Guns.  Frank died of influenza on 13th November 1918 at No. 23 Clearing Station in the village of Brebieres. A small cemetery with 87 casualties was created in the village in October and November of 1918. It lies 5 kilometres from Douai. Frank is buried here in Brebieres British Cemetery, F. 4. On enlistment Frank made a will which left all his possessions to his wife Minnie, who was living at Rosslyn, High Street, Headcorn, in Kent.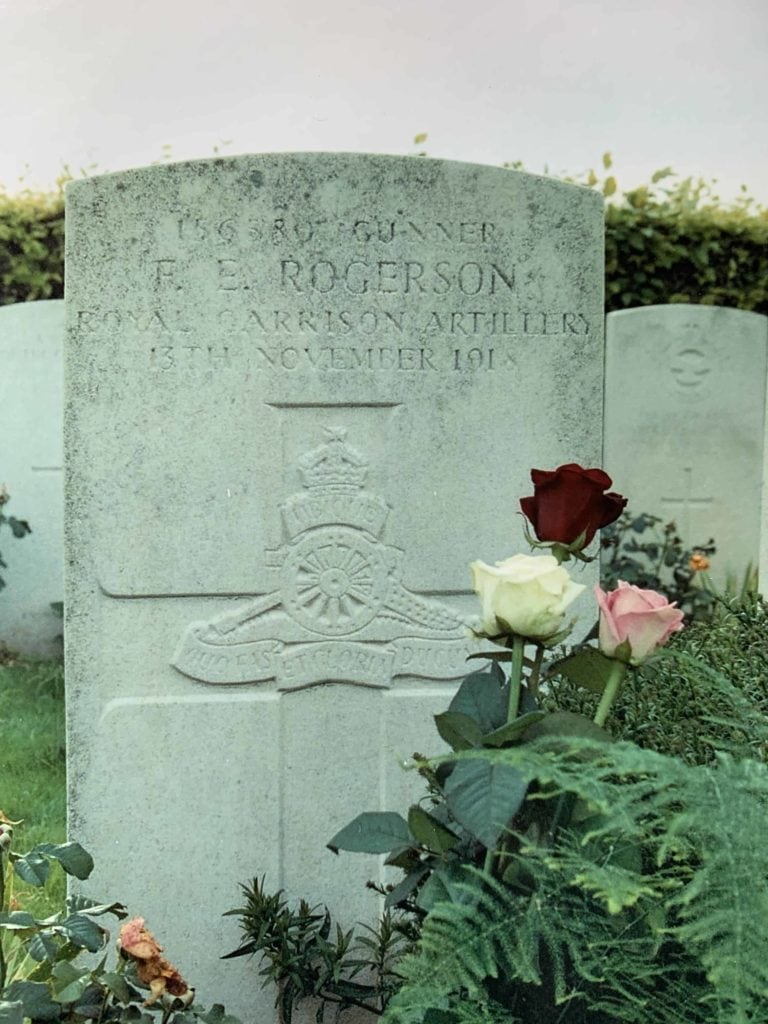 On 24th November, just 11 days after Frank died, his wife Minnie gave birth to their son Frank Anthony.
After Frank snr's death Minnie had no contact with his family. She moved up to Stockport and married Ernest Sainsbury in 1926. Frank Anthony (known as Tony) married in Stockport in 1949 and had one son, he knew nothing about his father until his daughter-in-law, researched their family history. The family have visited Frank Snr's grave and laid flowers. He passed away in 2014.
Frank Edmund died at the age of 27, but there is one Grandson, four Great Grandchildren and four; soon to be six; Great-Great Children, who will remember him.
| Born | | Dorking, Surrey |
| --- | --- | --- |
| Lived | | Dorking, Surrey |
| | | |
| Son of | | Alfred and Eliza Rogerson of Dene Street, Dorking |
| Husband of | | Minnie Smith |
| Father of | | Frank Anthony Rogerson |
| | | |
| Regiment | | 149th Siege Battery. Royal Garrison Artillery |
| Number | | 156580 |
| | | |
| Date of Death | | 13th November 1918 |
| Place of Death | | Brebieres, France |
| Cause of Death | | Died of influenza |
| | | |
| Age | | 27 |
| | | |
| Cemetery | | Brebieres British Cemetery, France |