Thank you to Lenka Cathersides for the following research.
George Frederick Brickwell was born in 1880 in Dorking, Surrey to plumber and decorator Thomas Brickwell and his wife Mary Ann, née Sanders.
The couple had six children, all born in Dorking: Flora Louisa in 1873, Agnes Marian in 1874, James Richard in 1876, John Thomas in 1878, George Frederick born in 1880, and Helen Welsh in 1882.
At the time of the 1881 Census, the family lived at West Street in Dorking. Thomas was working as a decorator and Mary Ann was looking after their children. Thomas's mother Lucy, and his brother James were living at the same address.
George Frederick's parents, Thomas and Mary Ann died within just nine days of each other in May 1882. In June the contents of the family home, 39 West Street, were put up for sale.
At the time of the 1891 Census, George was living with his adoptive father, grocer William Jeal, at 6 Orchard Road, Dorking. The household further comprised of William's daughters, Sara and Ann, both in their twenties.
By the time of the 1901 Census, George was living at 25/30 New Street in Birmingham, Warwickshire and working as an ironmonger's assistant.
By 1911, George – now a shop assistant at a drapery – was a boarder at 173 Stanhope Street, St Pancras, London. His landlord, Karl B. Forster was a cabinet maker of German origin and the household also comprised Karl's daughter Margaret, German piano tuner Richard Peters, John Thorley and widowed barmaid Elizabeth Wassmund.
In 1915 George Frederick Brickwell married Elsie Frida Josephine Sweet in Hampstead, London.
Elsie was born around 1880 in Ely, Cambridgeshire. Her father Frederick, originally from Frome in Somerset, was working for Ely gas works. Her mother, Lilly Emma was originally from Islington, Middlesex. By 1901 Lilly was widowed, and living in Hampstead with her children – Elsie, Winifred and Frederick.
By 1911, Elsie, like George, was working as a shop assistant in a drapery.
George enlisted in Hampstead, Middlesex into the 138th Heavy Battery of the Royal Garrison Artillery as a gunner. At the time of his enlistment George was living in West Hampstead.
The 138th Royal Garrison Artillery departed to France on 14th April 1916.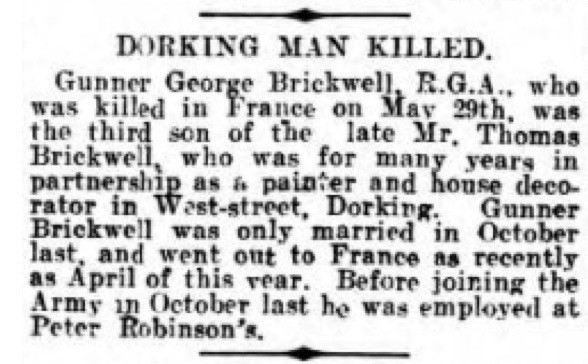 George Frederick Brickwell died in an action on 29th May 1916 in France.
He is buried at the Bully-Grenay Communal Cemetery – British Extension, in France. His grave reference number is I.A.14.
He was awarded the British War and Victory medals.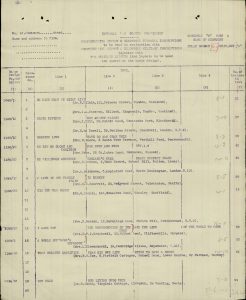 George Frederick's headstone bears the inscription: "I Look for the Resurrection of the Dead and the Life of the World to Come" from his wife Elsie.
The couple had no children.
Elsie Frida Josephine Brickwell died in 1968. She was buried in the Parish of St Anne, Wandsworth, London. She was 88 years old.
Family History
George's father Thomas was born in 1847 in Dorking to blacksmith James and his wife Lucy, (née Skilton). James's father, also Thomas Brickwell, was a chair maker. Lucy was born in 1813 in Dorking to labourer Peter Skilton and his wife Rebecca. She was baptised in October of the same year in Dorking. At the time of the baptism, the family lived in Holmwood.
James and Lucy had married on 26th January 1840 in the Parish of Horley, where the couple were living. James was working as a blacksmith and Lucy as a servant.
By 1851, James Brickwell was dead, and his widow Lucy was a servant in South Street, Dorking.
Lucy Brickwell remarried in 1856 to William Lucas, born around 1811 in Leigh, Surrey.
At the time of the 1861 Census, the family lived in Holmwood. William was working as an agricultural labourer and Lucy looking after her children from her first marriage to James Brickwell: hoop shaver Thomas and agricultural labourer James.
By the time of the 1871 Census, the family lived at Falkland Road, Dorking. William was working as a gardener and Lucy was at home. By this time her son Thomas was a plumber, and his brother James a painter.
George Frederick's mother, Mary Ann Sanders was born in 1850 in Dorking to farmer Richard Sanders, born in Horley around 1817, and Mary Ann Sanders, born in Leigh around 1819.
Mary Ann Sanders Jnr was baptised in June 1850 in the Parish of Dorking. At the time of the baptism the family lived at Mile House in Coldharbour.
By the time of the 1871 Census, the family were living at Collick Moor, Coldharbour. Richard Sanders was a farmer of 253 acres and Mary Ann Sanders Snr was looking after their eight children, including Mary Ann Jnr.
Thomas Brickwell married Mary Ann Sanders in 1872 in Dorking.
| | | |
| --- | --- | --- |
| Born | | Dorking, Surrey |
| Lived | | West Hampstead |
| | | |
| Son of | | Thomas and Mary Ann (nee Sanders) of West Street, Dorking |
| Husband of | | Elsie Frida Josephine Brickwell of 10 Talbot Road, Cliftonville, Margate |
| | | |
| Regiment | | Royal Garrison Artilery |
| Number | | 1842 |
| | | |
| Former Regiment | | 38th Hampstead Heavy Battery |
| | | |
| Date of Death | | 29th May 1916 |
| Place of Death | | France |
| Cause of Death | | Killed in action |
| | | |
| Age | | 36 |
| | | |
| Memorial | | Bully Grenay Communal Cemetery Extension, Pas de Calais |