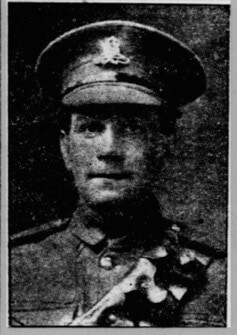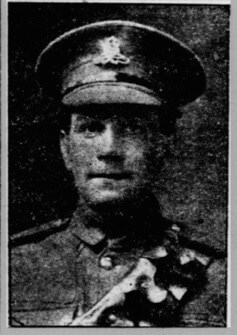 Thank you to Lenka Cathersides from Dorking Museum for the following research and thank you to John Callcut from Newdigate Local History Society for additional information
Norman Frank Andrews was born in the 3rd quarter of 1898 in Newport, Isle of Wight to farmer Leonard Frank and Annie Andrews (nee Chitty).
Norman's father Leonard was born in the 2nd quarter of 1875 in Winchester, Hampshire, to farmer and dairyman Jacob,born about 1842 in Leckford, Hampshire, and Emily, born about 1842 in Hazeley Heath, Hamphire. Norman's mother Annie, was born about 1870 in Harting, Sussex to general carrier George, born about 1840 in Harting and Ruth, born about 1845 in East Meom, Hampshire. Leonard and Annie married in the 4th quarter of 1897 on the Isle of Wight.
At the time of the 1901 Census, the family lived at Cottage, Russ Hill Road, Charlwood. Leonard was working as a farm bailiff and Annie was looking after their son Norman.
At the time of the 1911 Census, the family were still living in Russ Hill Farm. Leonard was a farmer and Annie was at home. The household further comprised of their son Norman and visitors Clara Chitty and her three children. Annie stated that she had given birth to one child. The accommodation had four rooms.
Norman was a member of Mrs. Janson's woodcarving class, who met at Newdigate Church. He is named as one of the carvers who worked on the altar in the Cudworth Chapel
Norman enlisted in February 1917 in Horsham into the Royal Field Artillery. He was a Gunner with regimental number: 218646.
In September 1917 Norman was drafted out to France.
At the time of his death he was part of the 'D' Battery, the 52nd Brigade of the Royal Field Artillery.
Norman Andrews was killed in action on the 5th of September 1918, during the advance in France, during the great allied push, in what is now known as the Second Battles of Arras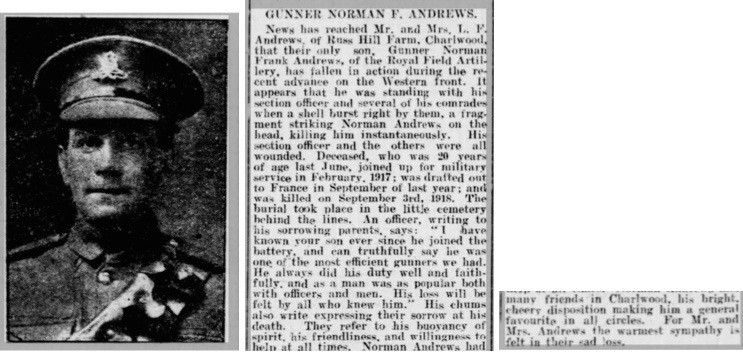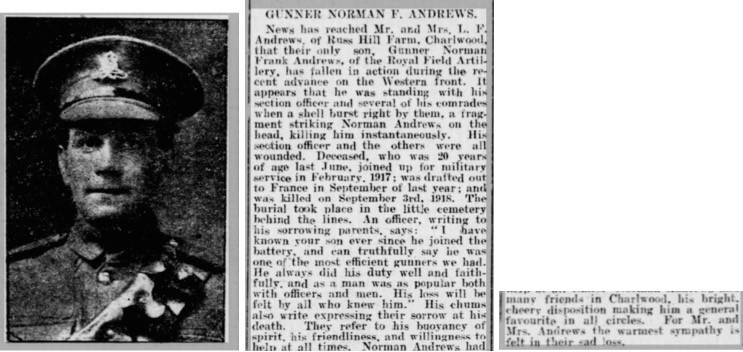 "It appears that he was standing with his section officer and several of his comrades when a shell burst right by them, a fragment striking Norman Andrews on the head killing him instantaneously. His section officer and the others were all wounded." (1918 Dorking and Leatherhead Advertiser)
"The burial took place in the little cemetery behind the lines. An officer, writing to his sorrowing parents, says: 'I have known your son ever since he joined the battery, and can truthfully say he was one of the most efficient gunners we had. He always did his duty well and faithfully, and as a man was as popular both with officers and men. His loss will be felt by all who knew him.' His chums also write expressing their sorrow at his death. They refer to his buoyancy of spirit, his friendliness, and willingness to help at all times. Norman Andrews had many friends in Charlwood, his bright, cheery disposition making him a general favourite in all circles."(1918 Dorking and Leatherhead Advertiser)


His body was later identified by a disc and reburied at the Vis-En-Artois British Cemetery, Haucourt in France. His grave reference number is: VI.E.12.
He received the British War and Victory medals.
Norman's mother Annie received £15, 2s and 6d on the 20th of May 1919 and a further £6, 10s on the 19th of December 1919 in Soldier's Effects.
| | | |
| --- | --- | --- |
| Born | | Newport, Isle of Wight |
| Lived | | Charlwood, Surrey |
| | | |
| Son of | | Leonard Frank and Annie (nee Chitty) Andrews of Charlwood |
| | | |
| Regiment | | 'D' Battery. 52nd Brigade. Royal Field Artillery |
| Number | | 218646 |
| | | |
| Date of Death | | 5th September 1918 |
| Place of Death | | Arras,France |
| Cause of Death | | Killed in action |
| | | |
| Age | | 20 |
| | | |
| Cemetery | | Vis-En-Artois British Cemetery, Haucourt, France |