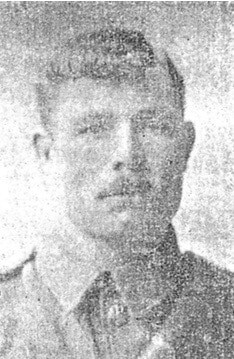 Thank you to Karen Wilson from Betchworth Village Archives for allowing us to publish her research.
Percy Hawkins was born in 1885 and baptised at St. Mark's church, Reigate, in June. By the time he was five, he was living with his parents and his siblings Albert, Emily and Walter at 8, Limeworks Cottages. His father, Joseph, was a labourer and Percy and Albert went to Betchworth School. Joseph and his wife Mary would go on to have eight children altogether.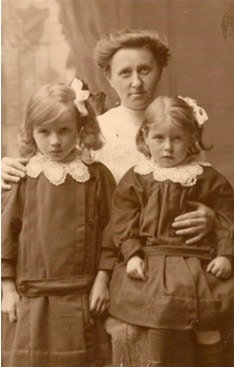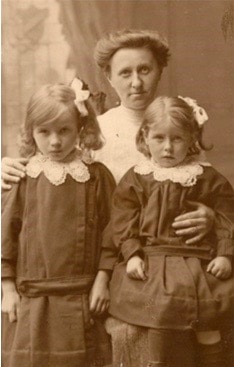 By the time Percy was 16 he was working as a carter for the builder George Cummins who had a yard and a flourishing business on Pebblehill Road. In April 1909 Percy married Elizabeth Kimber and by 1911 they were living in 3, Coombe Cottages with their first child Ada who had been born in 1910. Percy and Elizabeth's second child Elsie was born on September 15th 1912.
Percy Hawkins enlisted in the Royal Field Artillery in May 1916 and was sent to France as a Gunner in November of the same year.
On August 15th 1917 during the third battle of Ypres, Percy Hawkins was killed by shell fire.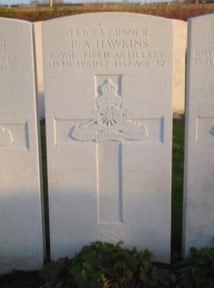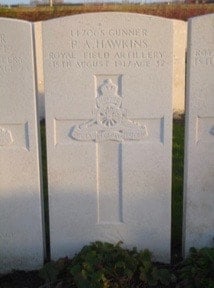 He was buried in the Vlamertinghe New Military Cemetery, near Ieper (Ypres) which had been created in June 1917 in anticipation of large numbers of casualties when the Allied offensive began in July.
His death was reported in the Dorking and Leatherhead Advertiser in September and a letter from Major K.O. Seidle was quoted as follows:
'I am exceedingly sorry to inform you that your husband, Gunner P. Hawkins was killed in action. He is a great loss to us all as a man who has done his duty all through. My officers join me in asking you to accept our sincerest sympathy in your great loss.'
A longer letter from the Chaplain Rev. Wm C. Stainsby was also quoted:
'Your son and two others were killed by shell fire on August 16th. Death was instantaneous. I know the Battery Commander thought very highly of them all, and from the evident tokens of respect and sorrow at the funeral it was obvious that they were deeply mourned and will be very much missed. It was my sad duty to officiate at the service which took place in Vlamerbruighe[sic] New Military Cemetery on August 17th, and was accompanied by military honours in the presence of many officers and men. The cross bears his name, number, rank, unit and date of death, and the grave may be easily found by anyone who wishes to visit it when the war is over.'
The newspaper account of September 22nd finishes with: 'He was of a most sunny disposition and universally liked.'
Born                            Reigate, Surrey
Lived                           Betchworth, Surrey
Son of                          Joseph and Mary Hawkins
Husband of                  Elizabeth Hawkins (Kimber) of 3, Coombe Cottages, Betchworth
Regiment                     "B" Battery. 174th Brigade. Royal Field Artillery
Number                        147065
Date of Death               15th August 1917
Place of Death              Ypres, Belgium
Cause of Death             Killed in action by shellfire
Age                               32
Cemetery                     Vlamertinghe New Military Cemetery, Ypres, Belgium