Thank you to Bernice Forsyth and Mary Day from Capel Local History Group for allowing Dorking Museum to publish their research, and thank you to Jane Anthony for additional information.
Born in Capel, Surrey on 2nd of July 1884 to William and Jane Ede of 123 The Street, Capel. William's occupation is given on the 1891 census as a general labourer. Reuben became a stable boy, by the 1901 census he was serving on HSM Lion which was a training establishment at Plymouth for boys. At the time of his entry he measured 5ft 3. ¾ inches.
On 2 July, 1902, aged 18 years, he joined the Navy signing up for 12 years' service. His height had increased to 5ft 7 ½ inches.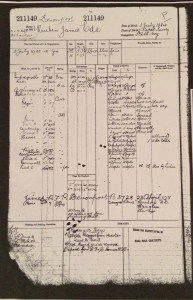 He went on to serve on many ships including Impregnable, Agincourt, Vivid, Resolution, and HMS Cornwall. During his time in the navy he was graded either 1st or 2nd class for conduct, this did not stop him from serving various spells in the cells of the ships. He bought himself out of the Navy in 1911 and married Kezia who lived in Weymouth.
Reuben rejoined the navy at the beginning of World War I and served on HMS Doris, an Eclipse class masted cruiser launched on 1st of March, 1896.
Reuben died on the 26th of December, 1916. The cause of death is given as a fractured skull. He is buried in the Lancashire Landing Cemetery, Gallipoli, Turkey.
Born                            Capel, Surrey
Lived                           Capel, Surrey
Son of                          William and Jane Ede
Husband of                  Kezia Ede, Weymouth
Regiment                      H.M.S. Doris. Royal Navy
Number                        211149
Date of Death              26th December 1916
Place of Death             Gallipoli, Turkey
Cause of Death            Killed in Action
Age                              31
Cemetery                     Lancashire Landing Cemetery, Turkey