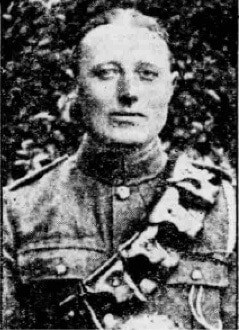 Thank you to Patricia Brazier for the following research.
William was born in Dorking and baptised at the Parish Church on 21st October 1883. His parents are William and Amelia, living in South Street, Dorking. William, his father, is a china and glass Merchant. Willian Jr had one sister, Florence, who was born in 1886.
In the 1891 census, William and his family are living at the Bats and Bells Public House, in London Road, Reigate. William and his sister Florence are at school; their father is the Licenced Victualler. The family then spent a short time in Brighton running the Holly Branch Public House.
In the 1911 census, the family have moved to The Prince of Wales Public House in Holmsdale Road, Reigate, where they stayed for about 15 years. They then moved to the Royal Oak Public House in High Street, Reigate. William helped with the running of the public house. He was also a member of a popular singing and musical group that entertained at functions around Reigate.
A notice in the Surrey Mirror reporting William's death says the following:-
"He was a kind hearted and good natured friend and was ever ready to do a good turn for anyone. He was one of those few men who never had a bad word to say of another, his manners were charming and no one could wish for a more genuine companion. He will be long remembered and his name in years to come will be honourably associated with those of Balard, Streeter and Sargent, who frequently gave their services at Charity concerts."
William or Billy, as he was known to his friends, married Lillian May Chapman in Dorking in early 1916 before enlisting into the signalling company of the Royal Field Artillery in March 1916. He was wounded when the 236 Bde of the Royal Field Artillery were fighting in the Ypres area of Belgium and died on 10th July 1917 in a nearby hospital. He is buried in La Clytte Military Cemetery in Belgium. Grave Reference 11. F. 21.
His widow, Lilian later married Mr Orlando Hoyle, an Army Pensioner, and moved to Crawley. She died in 1962.
His father William died in 1925, his mother in 1941; they are both buried in the family grave in Reigate Cemetery.
| | | |
| --- | --- | --- |
| Born | Dorking, Surrey | |
| Lived | Reigate, Surrey | |
| | | |
| Son of | William and Amelia Chalwin of Redhill, Surrey | |
| Husband of | Lilian May Hoyle of 8, Post Office Road, Crawley, Sussex | |
| | | |
| Regiment | "A" Battery. 236th Brigade. Royal Field Artillery | |
| Number | 956442 | |
| | | |
| Date of Death | 10th July 1917 | |
| Place of Death | Near Ypres, Belgium | |
| Cause of Death | Killed in action | |
| | | |
| Age | 34 | |
| | | |
| Cemetery | La Clytte Military Cemetery, Belgium | |