The letters and photographs are a snapshot of two young people doing extraordinary things.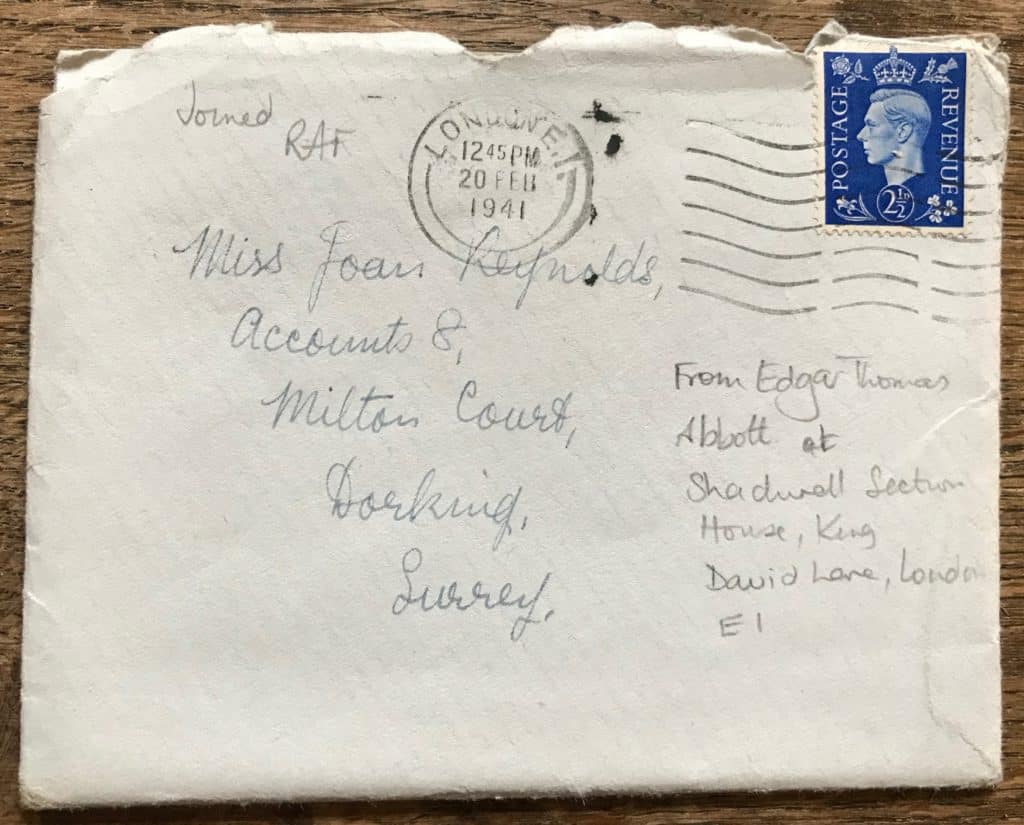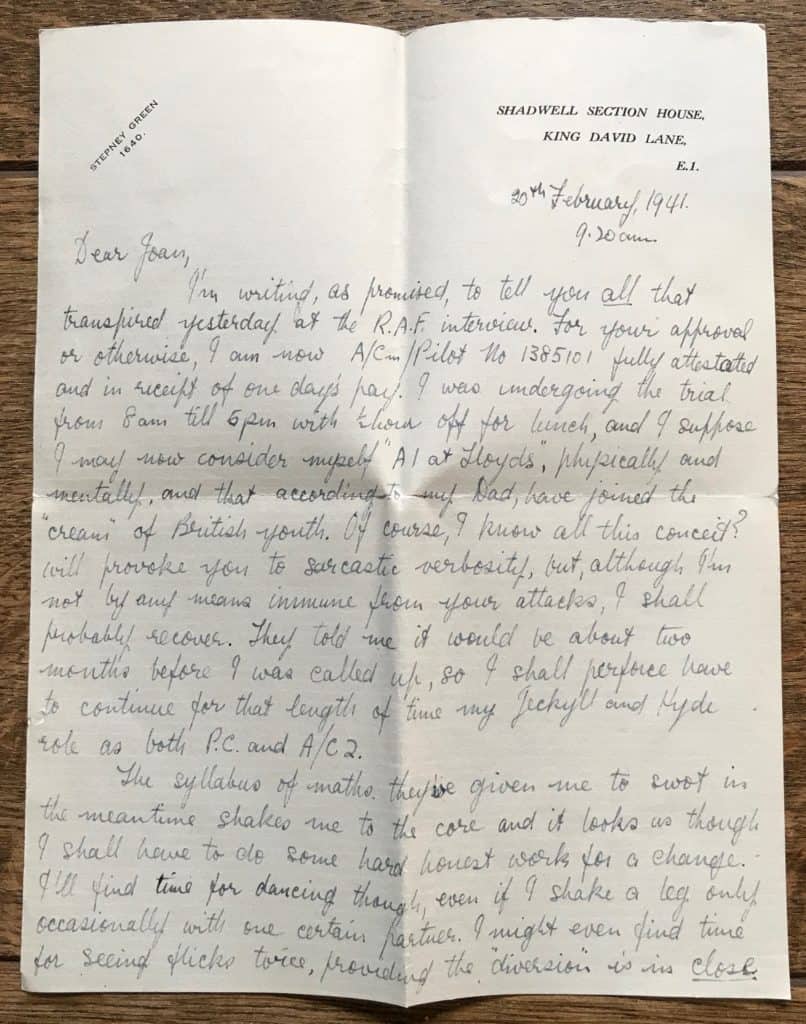 20th February, '41
9:20 am
Dear Joan
I'm writing, as promised, to tell you all that transpired yesterday at the R.A.F. interview. For your approval or otherwise, I am now A/Cm/Pilot No 1385101 fully attested and in receipt of one day's pay. I was undergoing the trial from 8am till 5pm with ½ hour off for lunch, and I suppose I may now consider myself "A1 at Lloyds", physically and mentally, and that according to my Dad, have joined the "cream" of British youth. Of course I know all this conceit? I will provoke you to sarcastic verbosity, but, although I'm not by any means immune from your attacks, I shall probably recover. They told me it would be about two months before I was called up, so I shall perforce have to continue for that length of time my Jekyll and Hyde roll as both P.C. and A/C2.
The syllabus of maths they've given me to swot in the meantime shakes me to the core and it looks as though I shall have to do some hard honest work for a change. I'll find time for dancing though, even if I shake a leg only occasionally with one certain partner. I might even find time for seeing flicks twice, providing the "diversion" is in close proximity.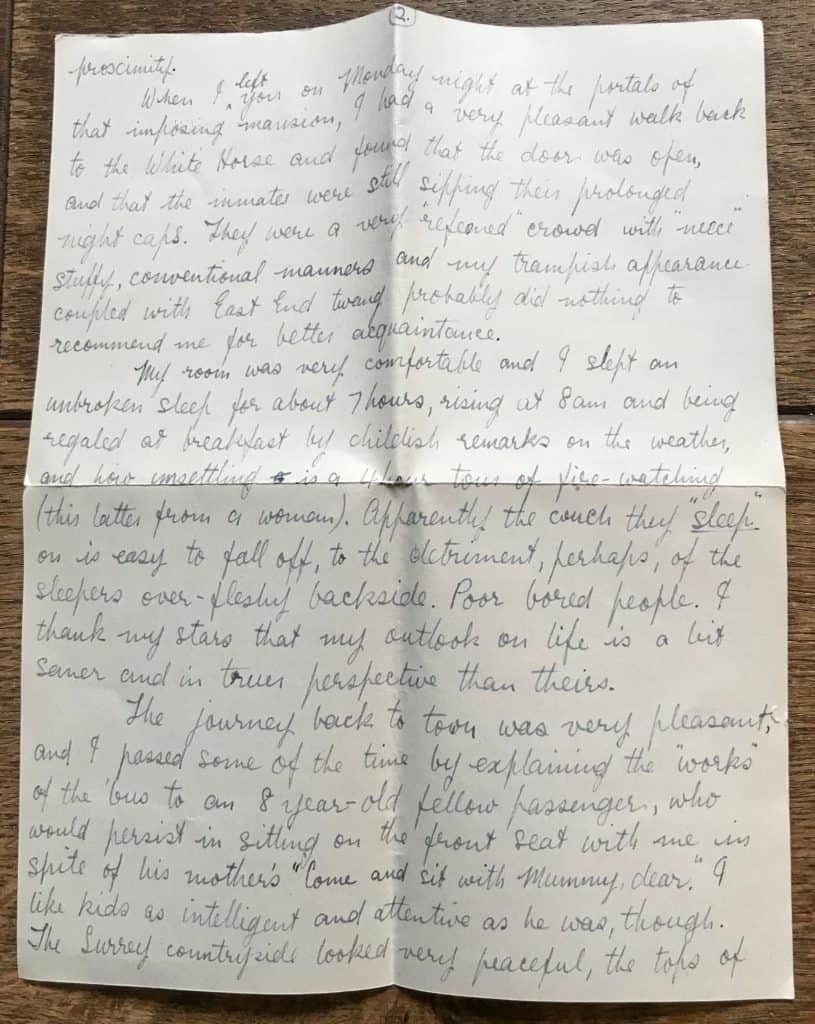 When I left you on Monday night at the portals of that imposing mansion, I had a very pleasant walk back to the White Horse and found that the door was open, and that inmates were still sipping their prolonged night caps. They were a very "refeined" crowd with "neece" stuffy, conventional manners and my trampish appearance coupled with that East End twang probably did nothing to recommend me for better acquaintance.
My room was very comfortable and I slept an unbroken sleep for about 7 hours, rising at 8am and being regaled at breakfast by childish remarks on the weather, and how unsettling is a 4 hour tour of fire-watching (this latter was from a woman). Apparently the couch they "sleep" on is easy to fall off, to the detriment, perhaps, of the sleepers over-fleshy backside. Poor bored people. I thank my stars that my outlook on life is a bit saner and in true perspective than theirs.
The journey back to town was very pleasant, and I passed some of the time by explaining the "works" of the 'bus to an 8 year-old fellow passenger, who would persist in sitting in the front seat with me in spite of his mother's "Come and sit with Mummy, dear". I like kids as intelligent and attentive as he was, though. The Surrey countryside looked very peaceful, the tops of….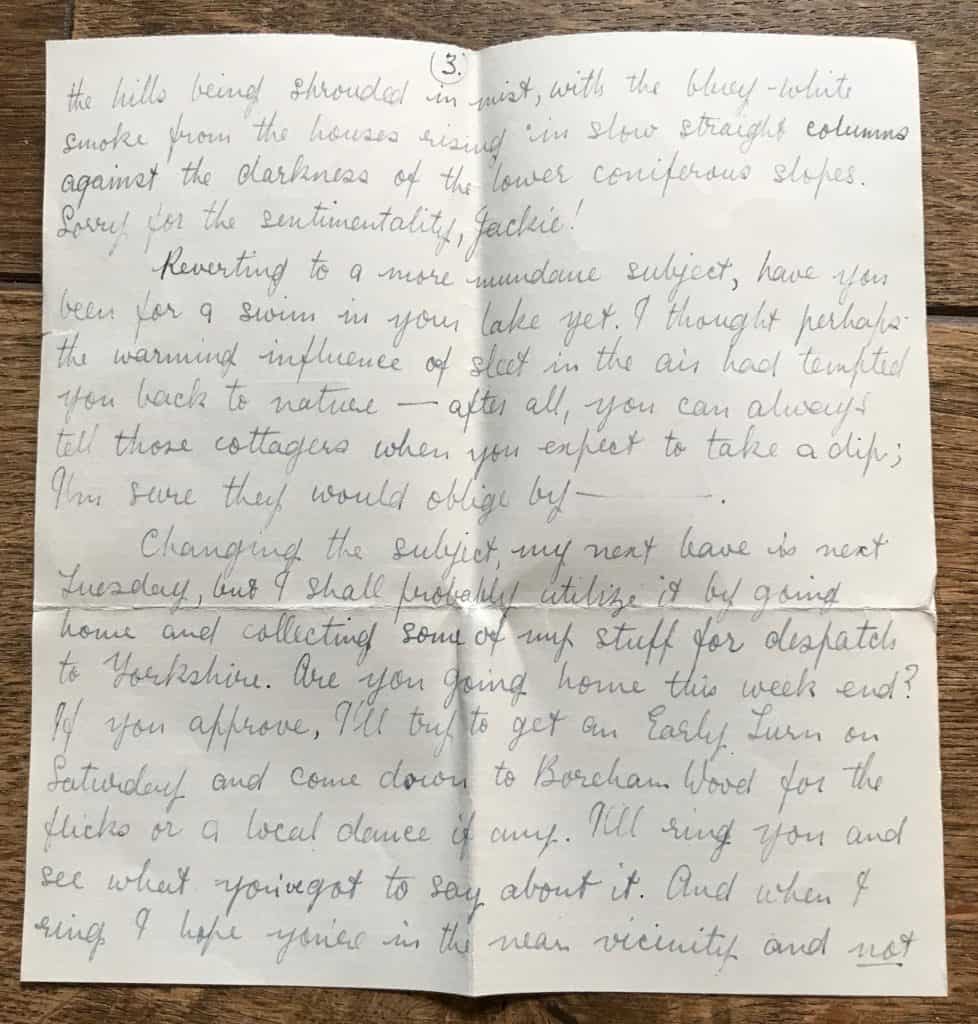 …. the hills being shrouded in mist, with the bluey-white smoke from the houses rising in slow straight columns against the darkness of the lower coniferous slopes. Sorry for the sentimentality, Jackie!
Reverting to a more mundane subject, have you been for a swim in your lake yet. I thought perhaps the warming influence of sleet in the air had tempted you back to nature – after all, you can always tell those cottagers when you expect to take a dip; I'm sure they would oblige by ——.
Changing the subject, my next leave is next Tuesday, but I shall probably utilize it by going home and collecting some of my stuff for despatch to Yorkshire. Are you going home this weekend? If you approve, I'll try to get an Early Turn on Saturday and come down to Boreham Wood for the flicks or a local dance if any. I'll ring you and see what you've got to say about it. And when I ring I hope you are in the vicinity and not…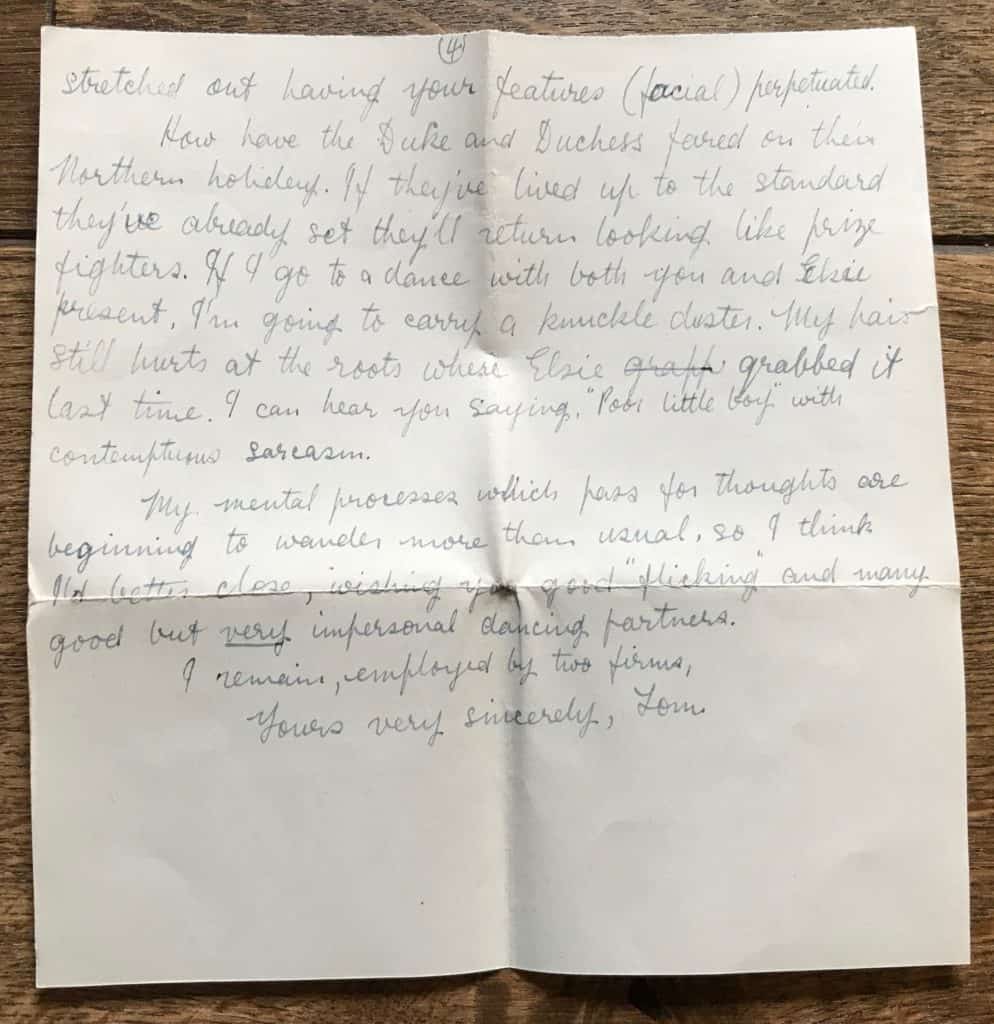 …stretched out having your features (facial) perpetuated.
How have the Duke and Duchess fared on their Northern holiday. If they lived up to the standard they've already set they'll return looking like prize fighters. If I go to dance with both you and Elsie present, I'm going to carry a knuckle duster. My hair still hurts at the roots where Elsie grabbed it last time. I can hear you saying "Poor little boy" with contemptuous sarcasm.
My mental processes which pass for thoughts are beginning to wander more than usual, so I think I'd better close, wishing you good "flicking" and many good but very impersonal dancing partners.
I remain, employed by two firms,
Yours very sincerely,
Tom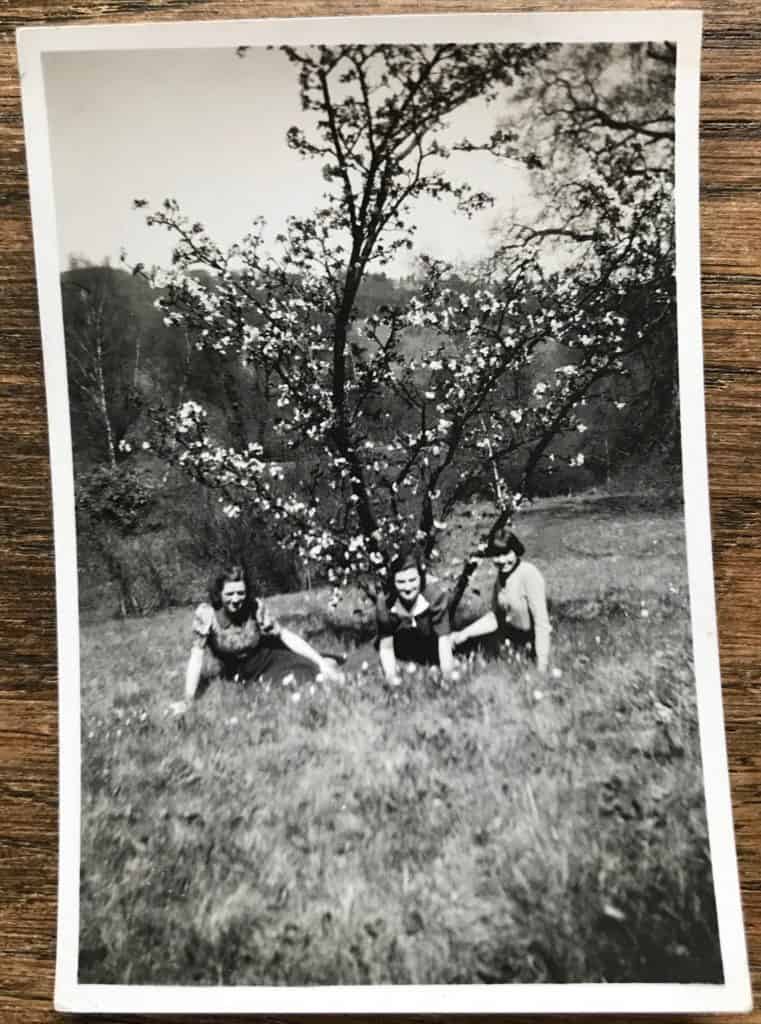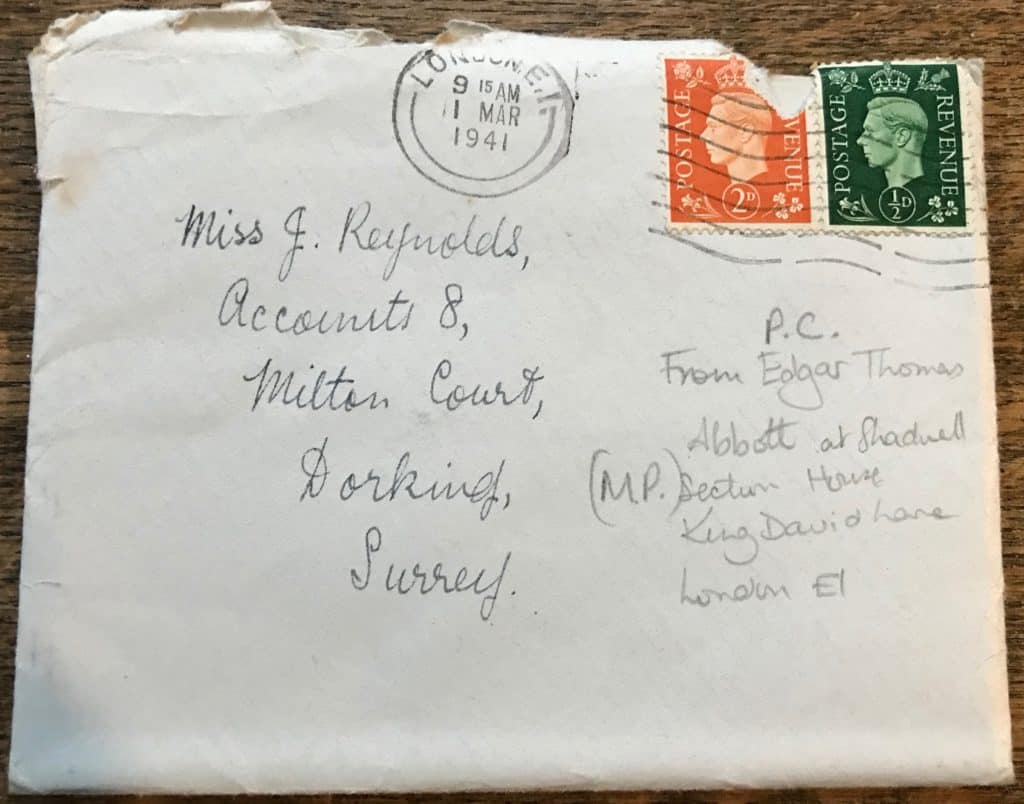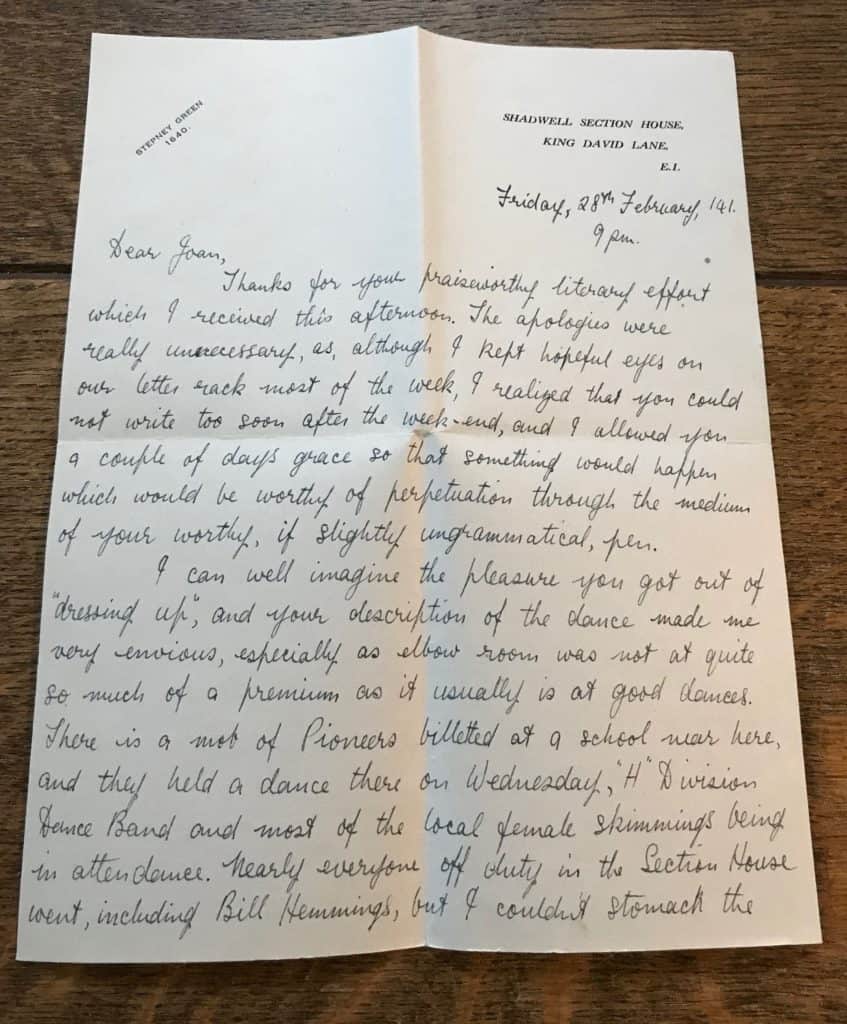 Friday, 28th February, '41
9 pm
Dear Joan
Thanks for your praiseworthy literary effort which I received this afternoon. The apologies were really unnecessary as, although I kept hopeful eyes on our letter rack most of the week, I realised that you could not write too soon after the week-end, and I allowed you a couple of days grace so that something would happen which would be worthy of perpetuation through the medium of your worthy, if slightly ungrammatical, pen. I can well imagine the pleasure you got out of "dressing up", and your description of the dance made me very envious, especially as elbow room was not at quite so much of a premium as it usually is at good dances. There is a mob of Pioneers billeted at a school near here, and they held a dance there on Wednesday, "H" Division Dance Band and most of the local female skimmings being in attendance. Nearly everyone off duty in the section house went, including Bill Hemmings, but I couldn't stomach the…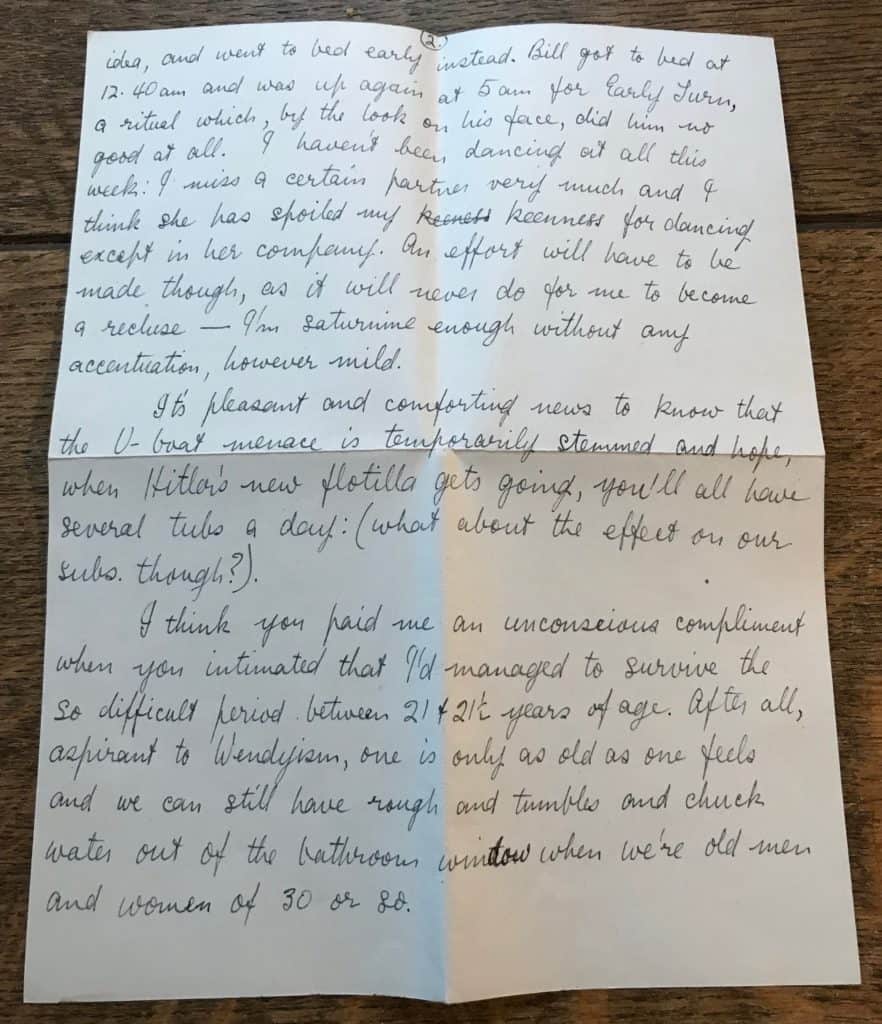 …idea, and went to bed early instead. Bill got to bed at 12:40am and was up again at 5 am for Early Turn, a ritual which, by the look on his face, did him no good at all. I haven't been dancing at all this week: I miss a certain partner very much and I think she has spoiled my keenness for dancing except in her company. An effort will have to made though, as it will never do for to become a recluse – I'm saturnine enough without any accentuation, however mild.
Its pleasant and comforting news to know that the U-boat menace is temporarily stemmed and hope, when Hitler's new flotilla gets going, you'll all have several tubs a day: (what about the effect on our subs. though?).
I think you paid me an unconscious compliment when you intimated that I'd manage to survive the so difficult period between 21 & 21nd years of age. After all, aspirant to Wendyism, one is only as old as one feels and we can still have a rough and tumbles and chuck water out of the bathroom window when we're old men and women of 30 or so.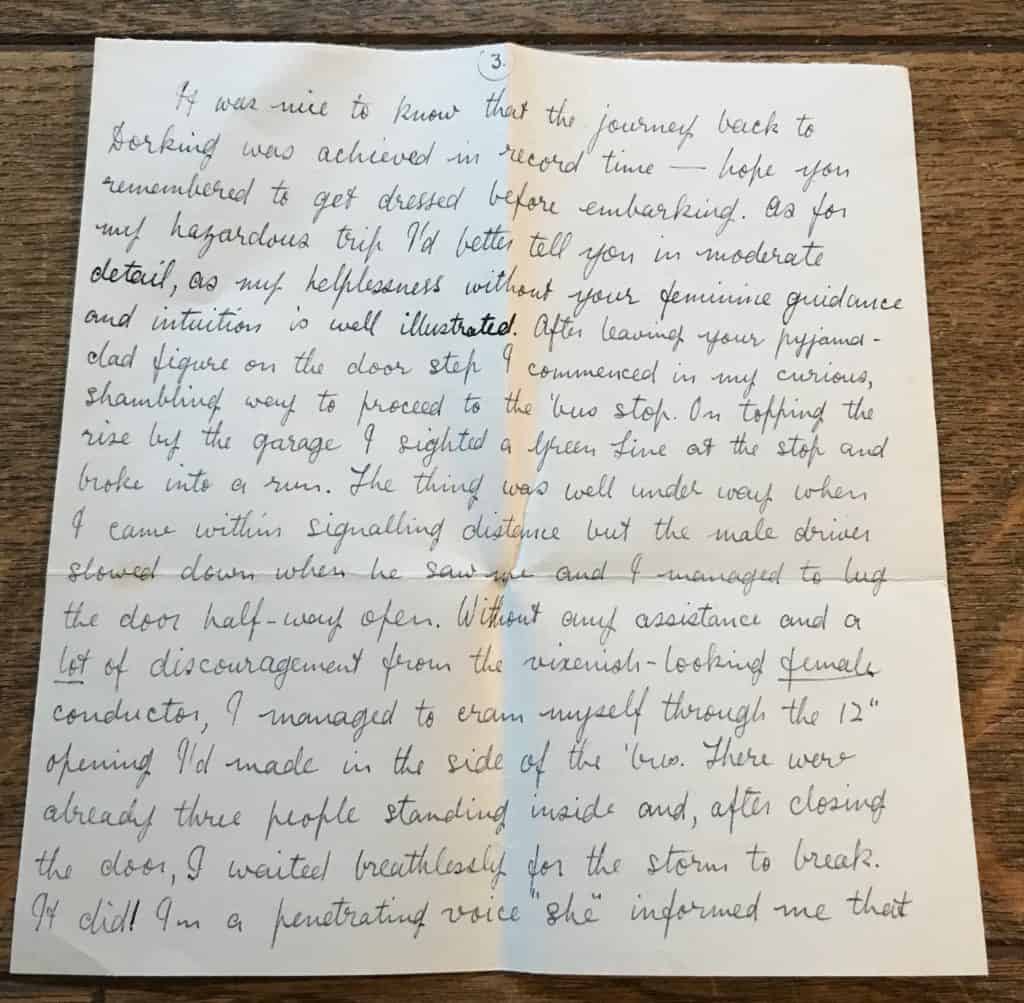 It was nice to know that the journey back to Dorking was achieved in record time – hope you remembered to get dressed before embarking. As for my hazardous trip I'll better tell in moderate detail, as my helplessness without your feminine guidance and intuition is well illustrated. After leaving your pyjama – clad figure on the door step I commenced in my curious, shambling way to proceed to the 'bus stop. On topping the rise by the garage I sighted a Green Line at the stop and broke into a run. The thing was well under way when I came within signalling distance but the male driver slowed down when he saw me and I managed to lug the door half-way open. Without any assistance and a lot of discouragement from the vixenish-looking female conductor, I managed to cram myself trough the 12" opening I'd made in the side of the 'bus. There were already three people standing inside and, after closing the door, I waited breathlessly for a storm to break. It did! In a penetrating voice "she" informed me that….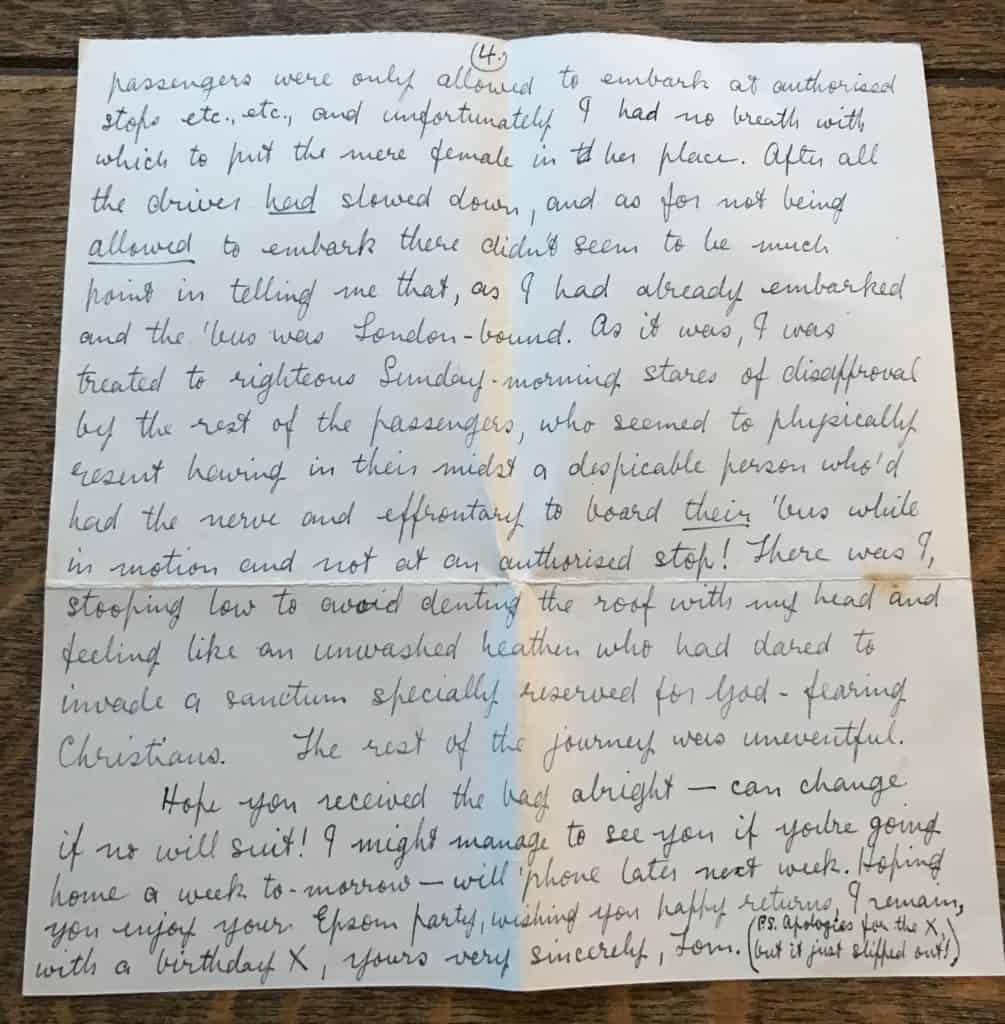 …. passengers were only allowed to embark at authorised stops etc. etc. and unfortunately, I had no breath with which to put that mere female in her place. After all the driver had slowed down, and as for not being allowed to embark there didn't seem to be much point in telling that, as I had already embarked and the 'bus was London-bound. As it was I was treated to righteous Sunday-morning stares of disapproval by the rest of the passengers, who seemed to physically resent having in their midst a despicable person who'd had the nerve and effrontery to board their 'bus while in motion, and not at an authorised stop! There was I, stooping low to avoid denting the roof with my head and feeling like an unwashed heathen who had dared to invade a sanctum specially reserved for God-fearing Christians. The rest of the journey was uneventful.
Hope you received the bag alright – can change if no will suit. I might manage to see you if you're going home a week to-morrow – will phone later next week. Hoping you enjoy your Epsom party, wishing you happy returns, I remain, with a birthday X,
yours very sincerely, Tom
(P.S. Apologies for the X, it just slipped out!)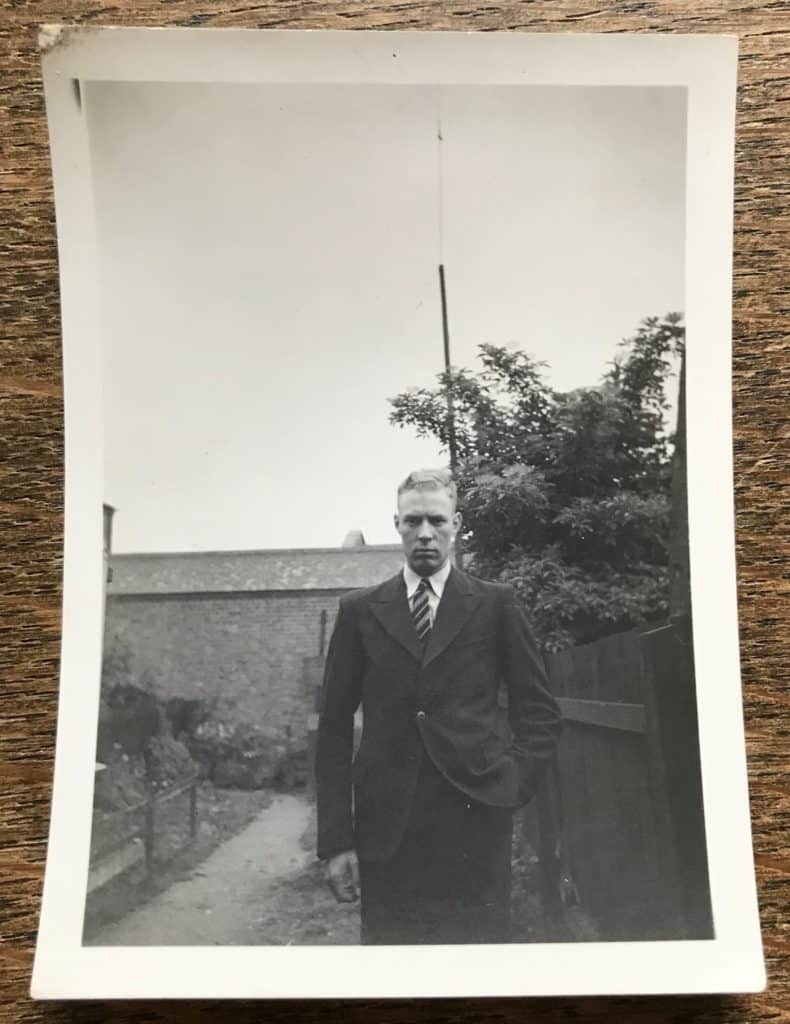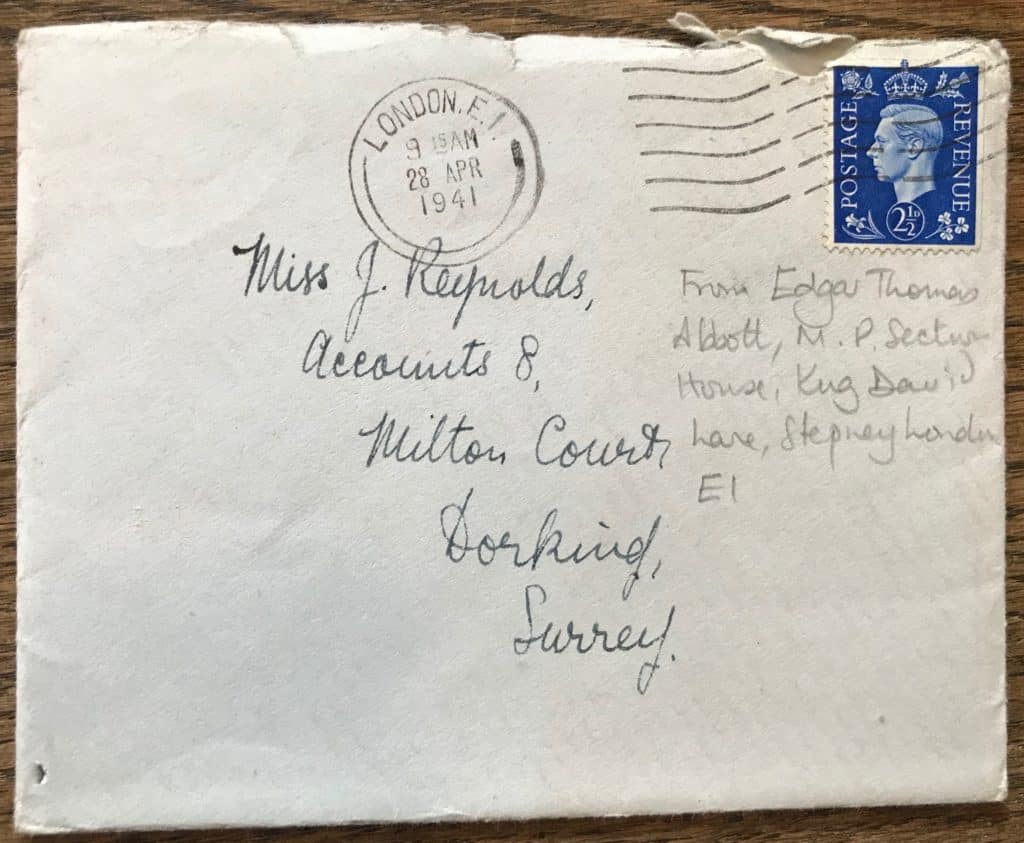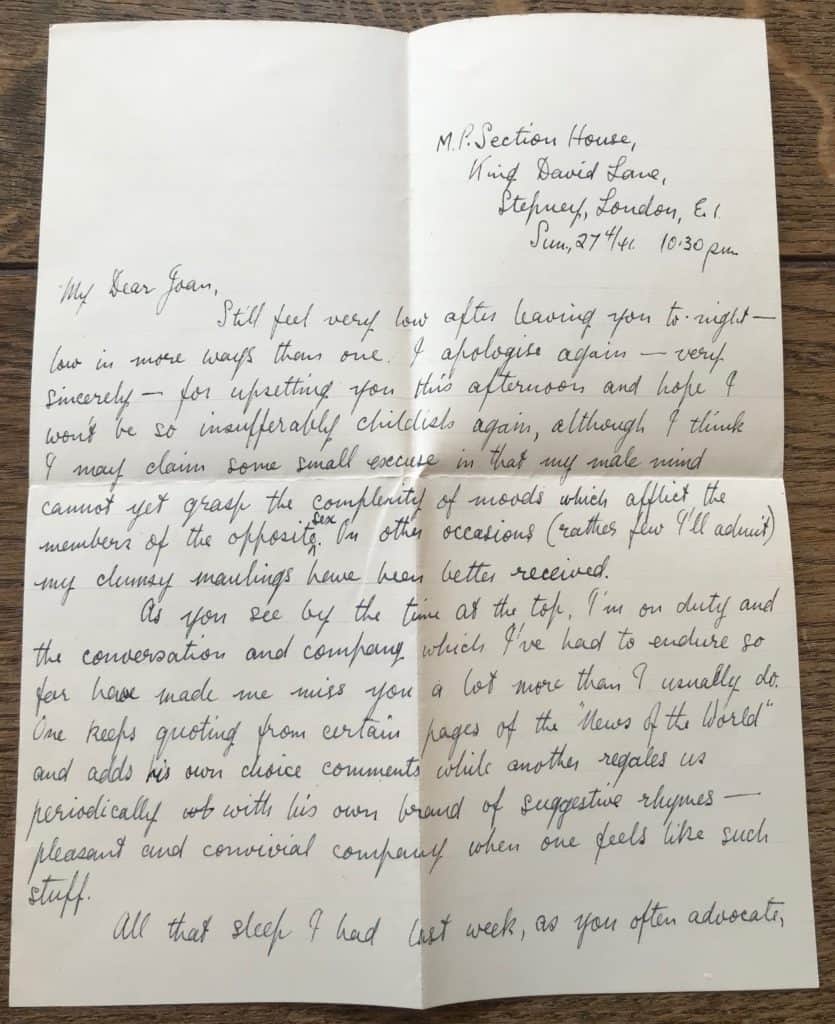 MP Section House
King David Lane
Stepney, London, E1
Sun 27 4/41. 10:30pm
My Dear Joan
Still feel very low after leaving you tonight – low in more ways than one. I apologise again – very sincerely – for upsetting you this afternoon and I hope I won't be so insufferably chiIdish again, although I think I may claim some small excuse in that my male mind cannot yet grasp the complexity of moods which afflict the members of the opposite sex. On other occasions (rather few I'll admit) my clumsy maulings have been better received.
As you see by the time at the top, I'm on duty and the conversation and company which I've had to endure so far have made me miss you a lot more than I usually do. One keeps quoting from certain pages of the "News of the World" and adds his own choice comments while another regales us periodically with his own brand of suggestive rhymes – pleasant and convivial company when one feels like such stuff.
All that sleep I had last week, as you often advocate…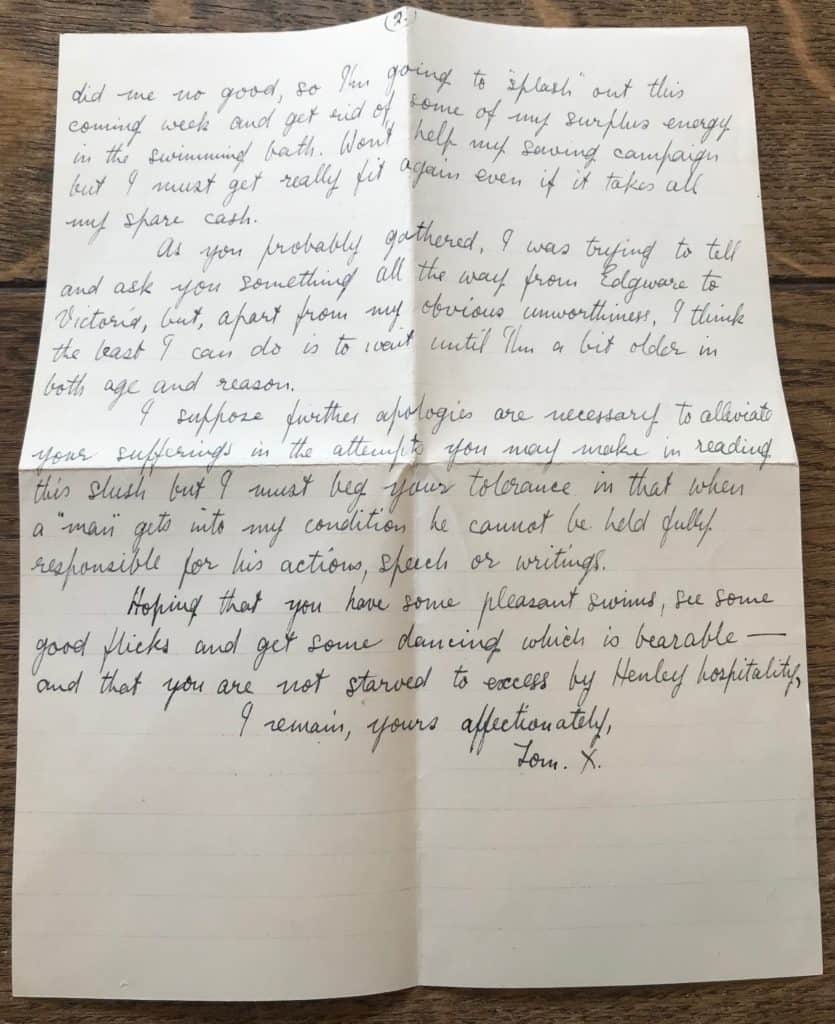 …did me no good, so I'm going to "splash" out this coming week and get rid of some of my surplus energy in the swimming bath. Won't help my saving campaign but I must get really fit again even if it takes all my spare cash.
As you probably gathered, I was trying to tell and ask you something all the way from Edgware to Victoria, but, apart from my obvious unworthiness, I think the least I can do is to wait until I'm a bit older in both age and reason.
I suppose further apologies are necessary to alleviate your sufferings in the attempts you may make in reading this slush but I beg your tolerance in that when a "man" gets into my condition he cannot be held fully responsible for his actions, speech or writings.
Hoping that you have some pleasant swims, see some good flicks and get some dancing which is bearable – and that you are not starved to excess by Henley hospitality,
I remain yours affectionately
Tom X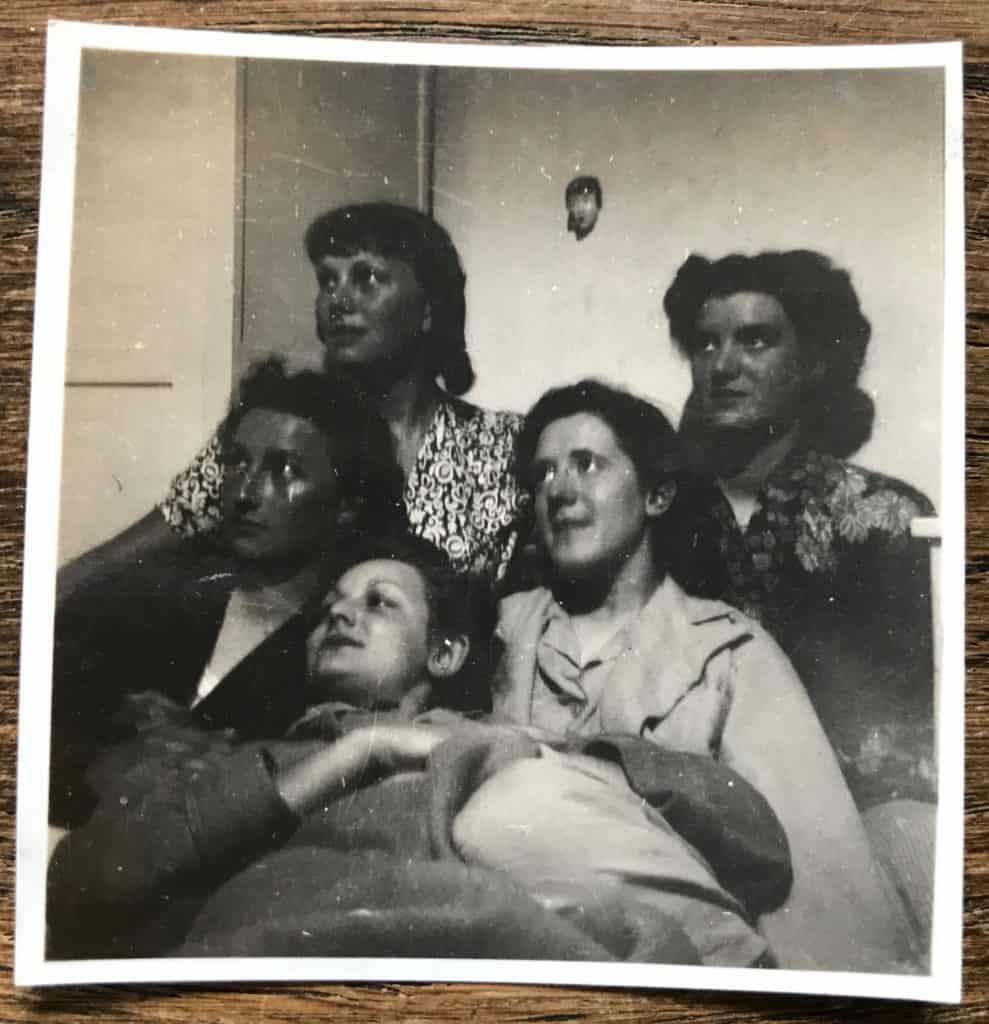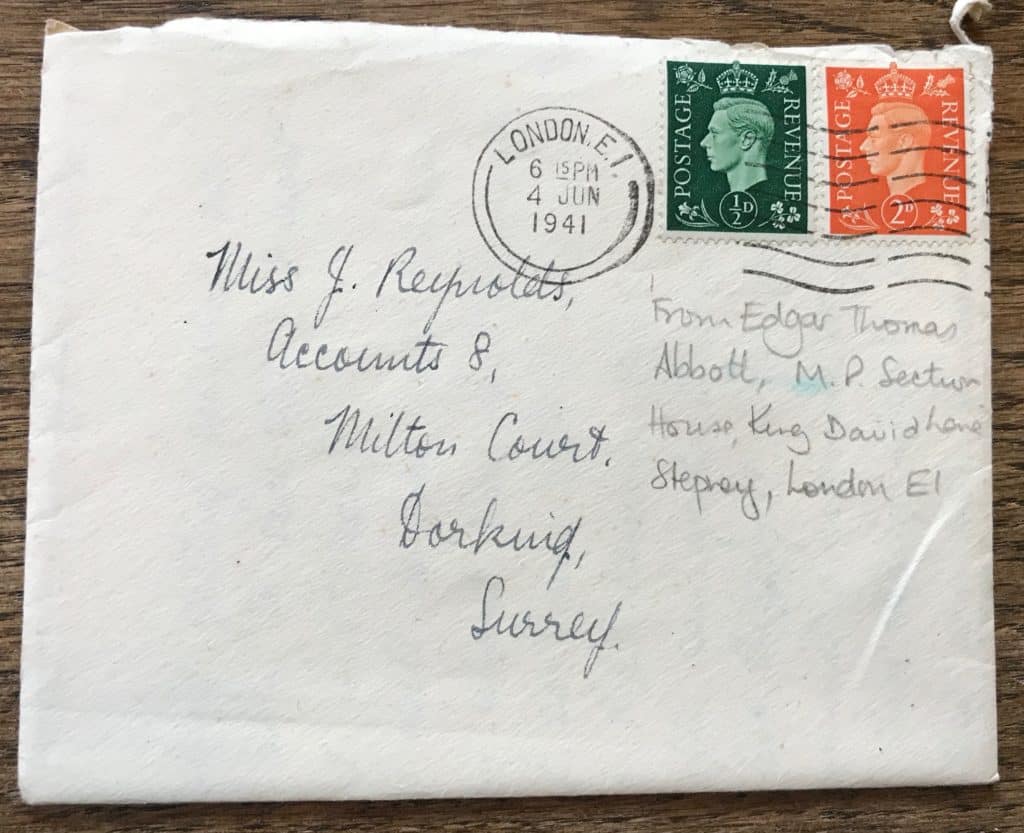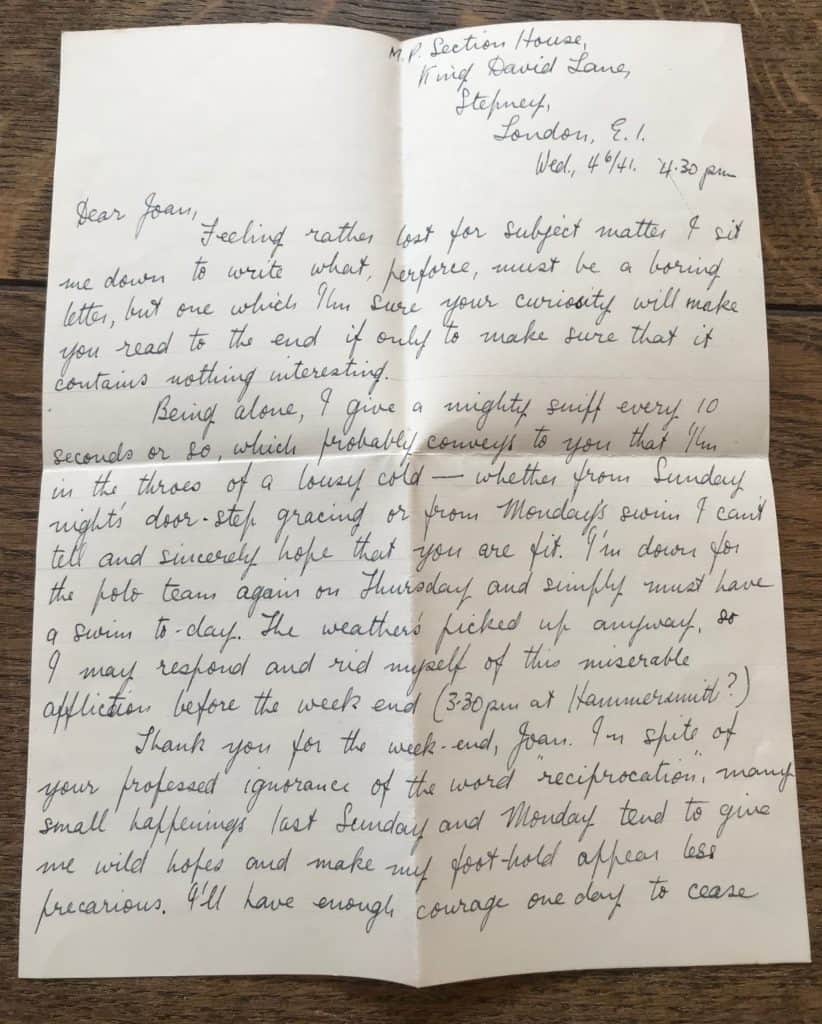 M.P. Section House,
King David Lane
Stepney
London E.1
Wed., 4 6/41. 4:30pm
Dear Joan
Feeling rather lost for subject matter I sit me down to write what perforce, must be a boring letter, but one which I'm sure your curiosity will make you read to the end if only to make sure that it contains nothing interesting.
Being alone, I give a mighty sniff every 10 seconds or so, which probably conveys to you that I'm in the throes of a lousy cold – whether from Sunday night's door-step gracing or from Monday's swim I can't tell and sincerely hope that you are fit. I'm down for the polo team again on Thursday and simply must have a swim today. The weather's picked up anyway, so I may respond and rid myself of this miserable affliction before the week-end (3:30pm at Hammersmith?)
Thank you for the week-end Joan. In spite of your professed ignorance of the word "reciprocation", many small happenings last Sunday and Monday tend to give me wild hopes and make my foot-hold appear less precarious. I'll have enough courage one day to cease…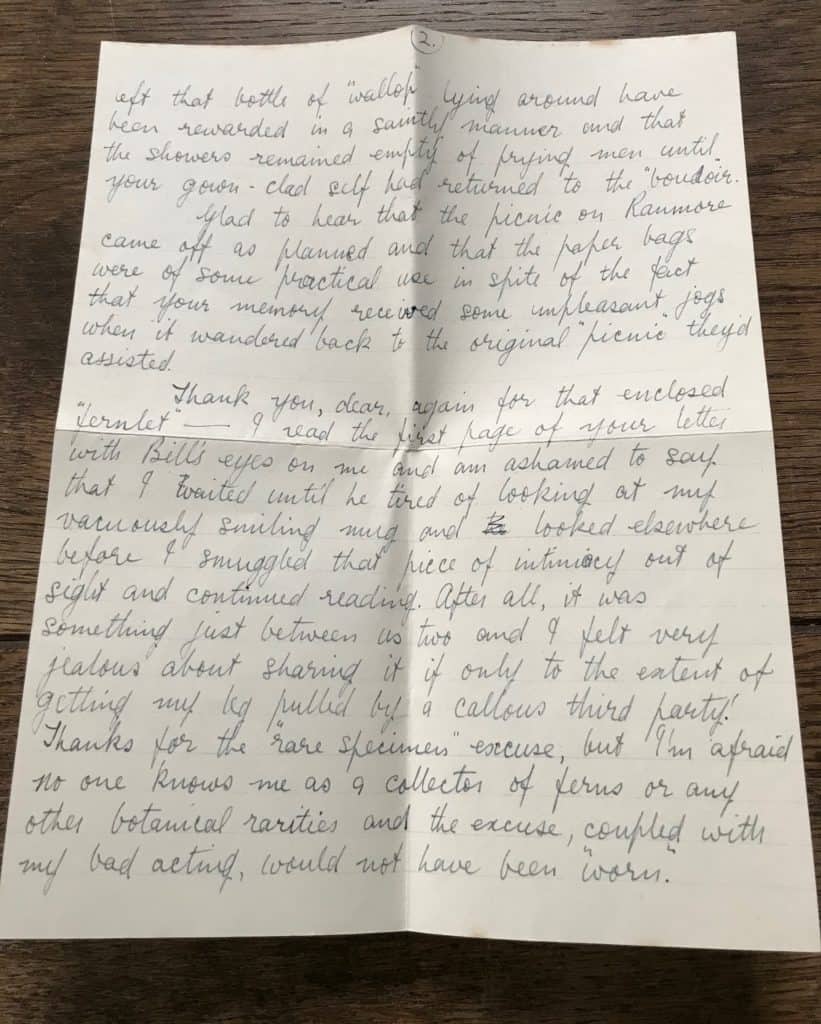 … and left that bottle of "wallop" lying around have been rewarded in a saintly manner and that the showers remained empty of prying men until your gown-clad self had returned to the "boudoir".
Glad to hear that the picnic on Ranmore came off as planned and that the paper bags were of some practical use in spite of the fact that your memory received some unpleasant jogs when it wandered back to the original "picnic" they'd assisted. Thank you, dear, again for that enclosed "fernlet" – I read the first page of your letter with Bill's eyes on me and am ashamed to say that I waited until he tired of looking at my vacuously smiling mug and looked elsewhere before I smuggled that piece of intimacy out of sight and continued reading. After all, it was something just between us two and I felt very jealous about sharing it if only to the extent of getting my leg pulled by a callous third party. Thanks for the "rare specimen" excuse, but I'm afraid no one knows my as a collector of ferns or any other botanical rarities and the excuse, coupled with my bad acting, would not have been "worn".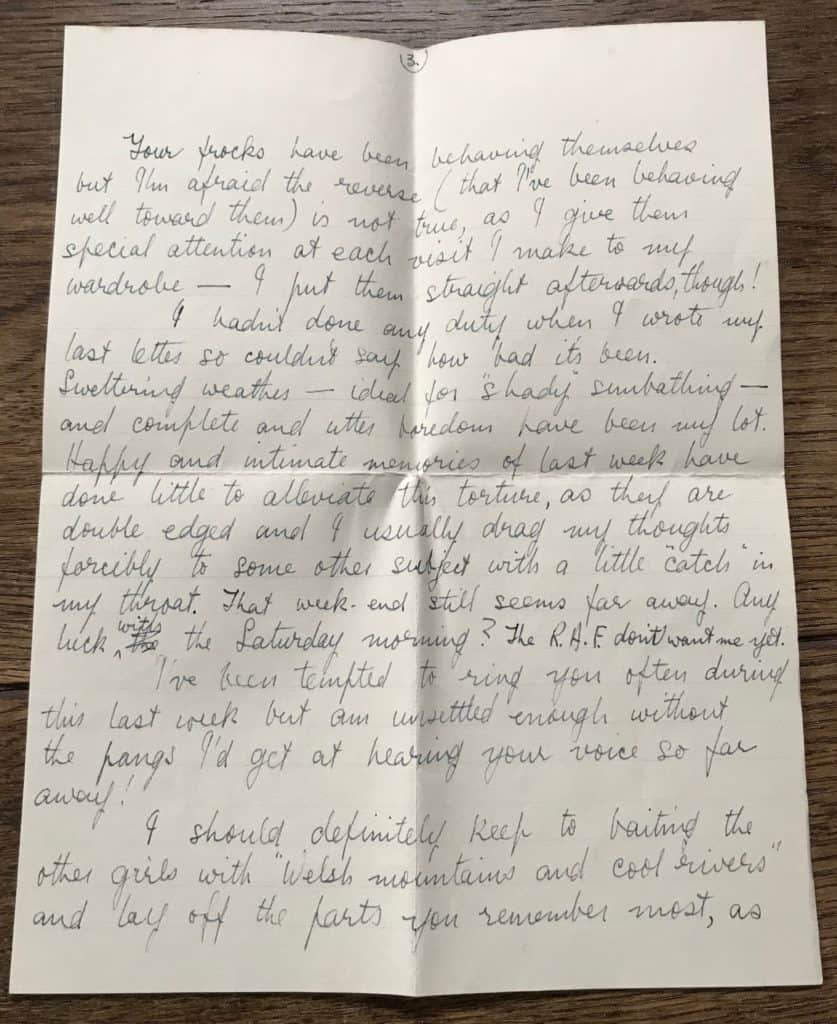 Your frocks have been behaving themselves but I'm afraid the reverse (that I've been behaving well toward them) is not true, as I give them special attention at each visit I make to my wardrobe – I put them straight afterwards, though!
I hadn't done any duty when I wrote my last letter so couldn't say how bad its been. Sweltering weather – ideal for "shady" sunbathing – and complete and utter boredom have been my lot. Happy and intimate memories of last week have done little to alleviate this torture, as they are double edged and I usually drag my thoughts forcibly to some other subject with a little "catch" in my throat. That week-end seems far away. Any luck with the Saturday morning? The R.A.F. don't want me yet.
I've been tempted to ring you often during this last week but am unsettled enough without the pangs I'll get from hearing your voice so far away!
I should definitely keep to baiting the other girls with "Welsh mountains and cool rivers" and lay off the parts you remember most, as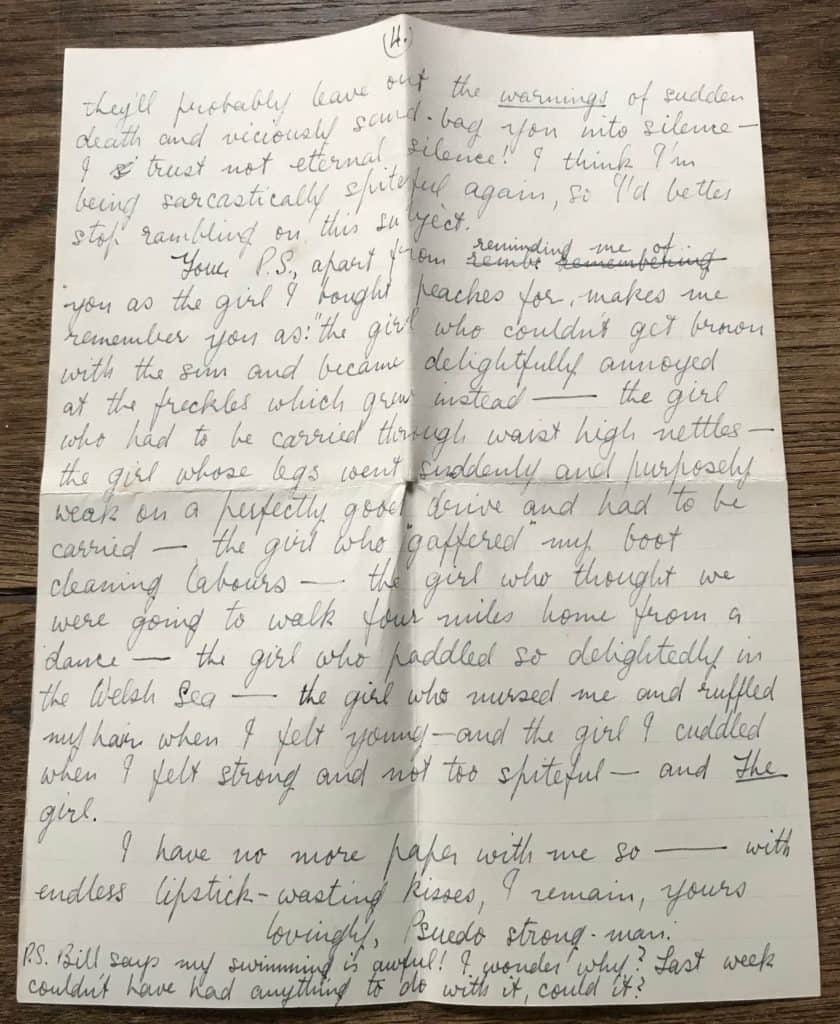 they'll probably leave out the warnings of sudden death and viciously sand-bag you into silence – I trust not eternal silence! I think I'm being sarcastically spiteful again, so I'd better stop rambling on this subject.
Your P.S., apart from reminding me of you as the girl I bought peaches for, makes me remember you as "the girl who couldn't get brown with the sun and became delightfully annoyed at the freckles which grew instead – the girl who had to be carried through waist high nettles – the girl whose legs went suddenly and purposely weak on a perfectly good drive and had to be carried – the girl who "gaffered" my boot cleaning labours – the girl who thought we were going to walk four miles home from a dance – the girl who nursed me and ruffled my hair when I felt young – and the girl I cuddled when I felt strong and not too spiteful – and The girl.
I have no more paper with me so – with endless lipstick-wasting kisses, I remain, yours
lovingly, Pseudo strong-man.
P.S. Bill says my swimming is awful! I wonder why? Last week couldn't have had anything to do with it, could it?