Thank you to Jane Anthony for the following research.
Alfred Middleton was born in 1888 at Brockham, his father, also Alfred was an Agricultural labourer. He had older twin sisters Mary and Ellen, who were also possibly known as Pollie and Mollie. His father died at a young age and his mother Elizabeth was left to bring up her family on her own. She worked as a charwoman but also fostered children to make ends meet.
By 1911, Alfred had already joined the army and was serving abroad and is listed a being in Arabia, Cyprus or Gibraltar. At the outbreak of war his Battalion were serving in South Africa. There is no trace of his mother or sisters after 1901 but they are acknowledged as next of kin in the List of Soldiers Effect.
Like several other local men, Alfred Middleton was killed at the battle of Festubert. He was one of five local men from the 2nd Battalion Queens that were killed on that day.
The battle was a continuation of Aubers Ridge which had taken place six days previously. The main objective was to capture the German trenches to the left of the village. The attack was preceded by a 60 hour artillery barrage; the 2nd battalion Queens own entered the attach early on the morning of the 16th May and despite being hit by intensive machine gun fire managed to secure their object, although they were forced to withdraw that evening.   The attack on the German lines was unsuccessful and a very small advance of 1 kilometre was made at the expense of over 16,000 lives lost. It is best know as the first British attempt at attrition; but also it marked the beginning of the end of Sir John French's command.
He along with the other Dorking men who gave their lives on 16th May 1915 is commemorated at the Le Touret Memorial near Festubert. He was aged 27.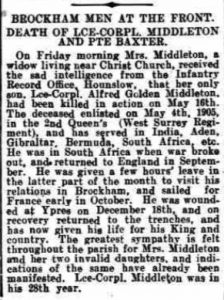 On Friday morning Mrs. Middleton, a widow living near Christ Church, received the sad intelligence from the Infantry Record Office, Hounslow, that her only son, Lce-Corpl. Alfred Golden Middleton had been killed in action on May 16th. The deceased enlisted on May 4th, 1905, in the 2nd Queen's (West Surrey Regiment), and has served in India, Aden, Gibraltar, Bermuda, South Africa when war broke out, and returned to England in September. He was given a few hours' leave in the latter part of the month to visit his relations in Brockham, and sailed for France early in October. He was wounded at Ypres on December 18th, and on recovery returned to the trenches, and has now given his life for his King and country. The greatest sympathy is felt throughout the parish for Mrs. Middleton and her two invalid daughters, and indications of the same have already been manifested. Lce-Corpl. Middleton was in his 28th year.
| | | |
| --- | --- | --- |
| Born | Betchworth | |
| Lived | Brockham | |
| | | |
| Son of | The late Alfred and Elizabeth Middleton of Brockham, Betchworth Green, Surrey | |
| | | |
| Enlisted | Guildford | |
| | | |
| Regiment | 2nd Battalion, The Queen's, Royal West Surrey Regiment | |
| Number | L/8379 | |
| | | |
| Date of Death | 16th May 1915 | |
| Place of Death | Aubers Ridge, France | |
| Cause of Death | Killed in Action | |
| | | |
| Age | 27 | |
| | | |
| Memorial | Le Touret Memorial | |