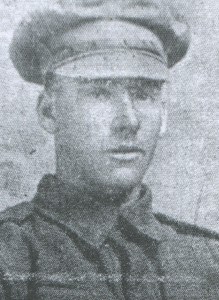 Thank you to John Callcut for letting us reproduce the following information, taken from his book: A Village at War. Newdigate in World War One.
Cecil Thomas Hills was born at Copdock in Suffolk in 1892. His parents were Arthur and Emma Hills and he grew up, along with his seven brothers and sisters on a farm where his father worked. The family moved south, and Arthur became the family bailiff at High Trees Farm in Newdigate.
Shortly afterwards, in 1912, Cecil emigrated by himself to Australia. His records show that he was 5' 8 ½ '' tall and weighed 190 lbs, with a fair complexion, grey eyes and black hair. He took a job as a station hand at Dunvagen in Dieungra, New South Wales.
On the 11th February 1915 he enlisted with the Australian Light Horse. His regiment embarked from Sydney on HMAT A29 Suevic on the 13th June and they landed at Gallipoli on the 29th August, barely six months after he enlisted. The weather gradually turned as winter swept in, and on the 27th November the bitterest blizzard for forty years swept across the Dardanelles. It was so cold that at Helles sentries were found frozen to death. The very next day he was wounded in the thigh and hand by gunfire and it must have been some relief to him when he was transferred to the hospital ship Karapara and taken to Malta.
In February 1916 he was transferred to Alexandria and a period of training and courses ensued. On the 17th October 1917 he was promoted to Lance Corporal and later that month he was with the 12th Australian Light Horse in Palestine.
On the 31st October he participated , as part of 'C' Squadron, in the famous (and last ever) cavalry charge at Beersheba where we received a serious wound in the thigh and groin which punctured his pelvis. He was taken to the 35th Casualty Clearing Station at El Imara but died of his wounds on the 3rd November 1917.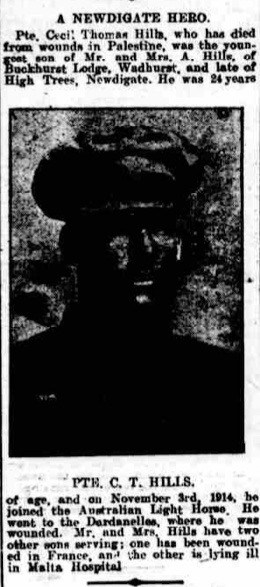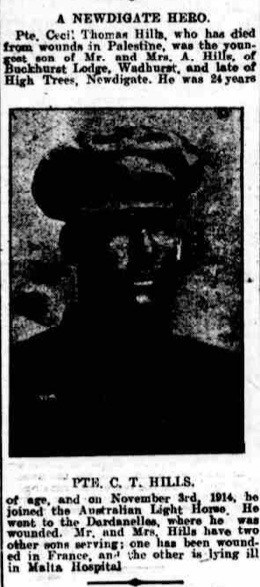 A Newdigate Hero
Pte. Cecil Thomas Hills who has died from wounds in Palestine, was the youngest son of Mr. and Mrs. A. Hills of Buckhurst Lodge, Wadhurst, and late of High Trees, Newdigate. He was 24 years of age, and on November 3rd 1914, he joined the Australian Light Horse. He went to the Dardenelles, where he was wounded. Mr. and Mrs. Hill have two other sons serving; one has been wounded in France, and the other is lying ill in Malta Hospital.
On the 18th March 1918 a parcel arrived at High Trees Farm with all his personal effects. His parents had a memorial card made – In loving memory of our dear son, Cecil Thomas Hills, 12th Australian Light Horse, who died of wounds received in Palestine, November 3rd 1917, aged 25 years.
He is buried at the Beersheba War Cemetery.
| | | |
| --- | --- | --- |
| Born | | Copdock, Suffolk |
| Lived | | Newdigate, Surrey |
| | | |
| Son of | | Fanny Miles of 2 Middle Street, Brockham |
| | | |
| Regiment | | 12th Battalion, Australian Light Horse Regiment |
| Number | | 316 |
| | | |
| Date of Death | | 3rd November 1917 |
| Place of Death | | Palestine |
| Cause of Death | | Died of wounds |
| | | |
| Age | | 25 |
| | | |
| Cemetery | | Beersheba War Cemetery, Israel |
Previously : Cyril D. Herron Next : George C. Howson