Thank you to Patricia Brazier for the following research.
Harry was born in 1891 and baptised on 3rd May 1891 at St John the Evangelist Church in Guildford. He is the oldest son of Henry Maurice Poulton and Clara Amelia Christmas.
When the 1901 census was taken; Harry's family is living at 8 Avenue Terrace, in Stoke, Guildford. Henry his father is a Builder's Carter. Harry has three siblings, Frederick aged 6, Amelia aged 4 and Willie aged 4 months. When the 1911 census was taken the family is still living in Avenue Terrace. Harry is now 20 years old and working as a porter, his brother Frederick is a milkman, Amelia and Willie are at school and there are two more children Rosie aged 8 and Maud aged 5.
He originally joined The Buffs East Kent Regiment and was given the service number 1342. He was wounded in December 1917, therefore entitled to wear a wound stripe on his left sleeve. He then was transferred to the Nottingham and Derbyshire Regiment and given the number 102463. He was them promoted to Lance Corporal and joined the Essex Regiment.
In Early 1916 Harry married Sylvia Olive Godfrey in Guildford. They had one child, Harry Robert Godfrey Poulton, he was born in the last quarter of 1918, just after his father was killed.
Harry died on 8th October 1918; he is buried in Marcoing British Cemetery which is 2 Kilometres south east of the village of Marcoing.
Sylvia did not remarry and lived for many years at Clock House Cottage in Abinger with their son. She died in 1974.
 Harry Jnr became a Flight Lieutenant in the RAF. He married Nancie Dallyn in Shere in 1942.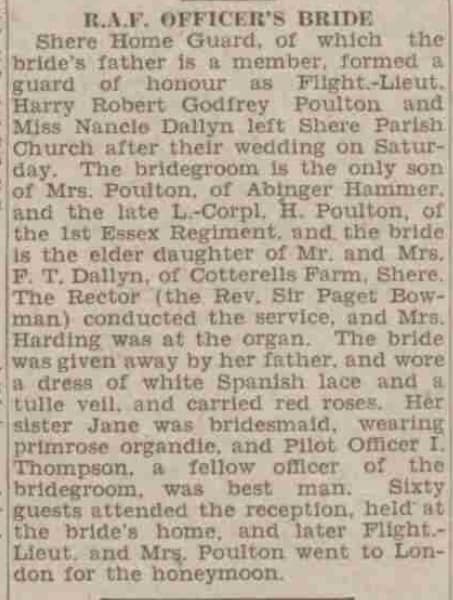 | | | |
| --- | --- | --- |
| Born | | Guildford, Surrey |
| Lived | | Guildford, Surrey |
| | | |
| Son of | | Harry and Clara Poulton, of Guildford |
| Husband of | | Sylvia Olive Poulton, of Abinger Hammer |
| Father of | | Harry Robert Godfrey Poulton |
| | | |
| Regiment | | 1st Battalion. Essex Regiment |
| Number | | 49918 |
| | | |
| Date of Death | | 8th October 1918 |
| Place of Death | | France |
| Cause of Death | | Killed in action |
| | | |
| Age | | 29 |
| | | |
| Cemetery | | Marcoing British Cemetery, France |