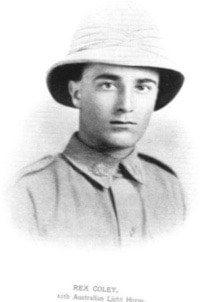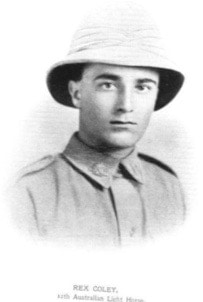 Thank you to Lenka Cathersides for the following research.
Harry "Rex" George Coley was born on 10th July 1895 in Handsworth, Staffordshire to jeweller Harry and Frances Maria (nee de Fallon).
Rex's father Harry was born on 22nd March 1865 in Birmingham to jeweller George, born about 1837 and Emma, born about 1834, both in Birmingham. Harry was baptised on 13th of February 1903 at St Mary's church in Handsworth, Staffordshire. His mother Frances Maria de Fallon was born in the 1st quarter of 1861 in Aston, Warwickshire to police constable James, born about 1836 in Ireland and Catherine, born about 1836 in Shelton, Shropshire. Frances was baptised on 3rd February 1861 at St James the Less' church, Ashted, Warwickshire. Harry and Frances married in the 3rd quarter of 1888 in Aston, Warwickshire.
Rex had three siblings of whom two are known: Dorothy born about 1890 in Aston, Warwickshire and Carl Leslie born about 1897 in Handsworth.
At the time of the 1901 Census, the family lived at 15 Wellington Road, Handsworth. Harry senior was working as a gold ring maker and Frances was at home. The household further comprised of their children: Dorothy, Harry (Rex) and Carl. The family also employed a cook.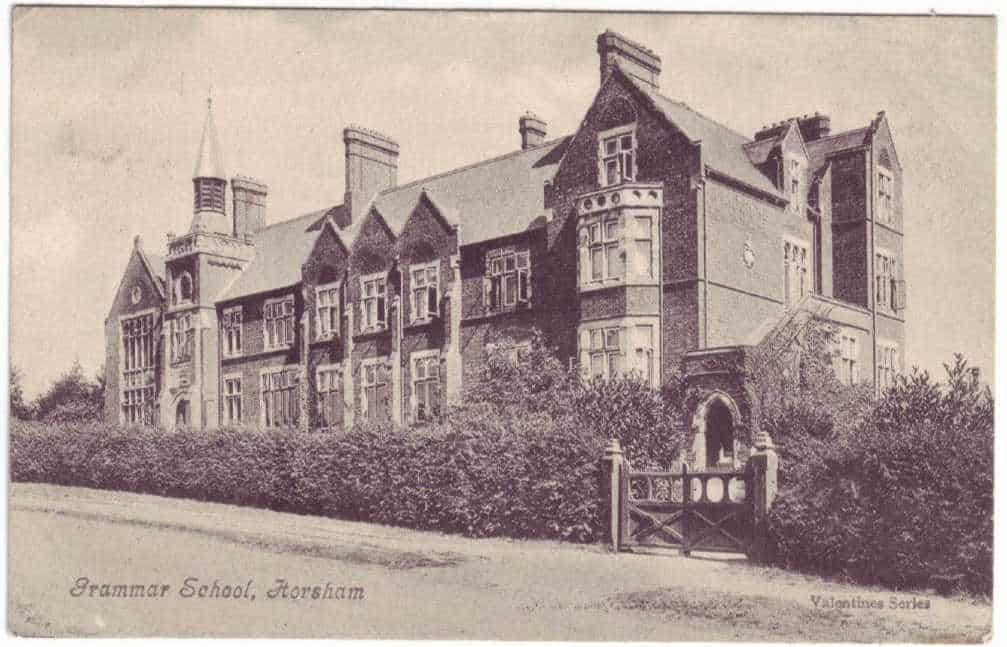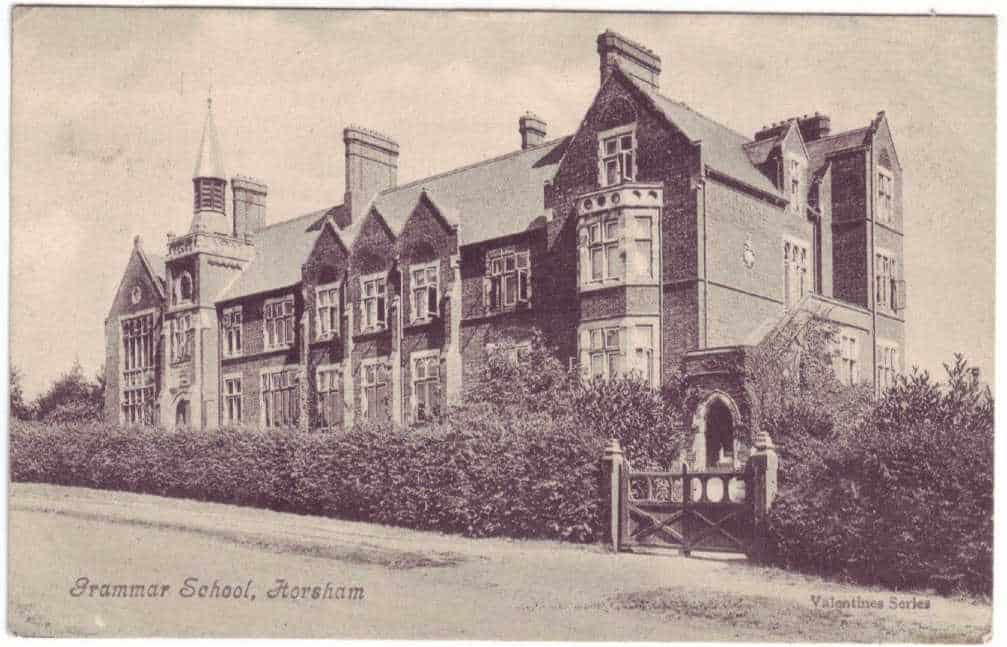 Rex attended Wycliffe College School House, Gloucestershire. Later, on 13th September 1909 he was admitted into Collyer's Grammar School in Horsham. At the time of his admission the family lived at 39 Clarence Road in Horsham. He left the school on 4th April 1910.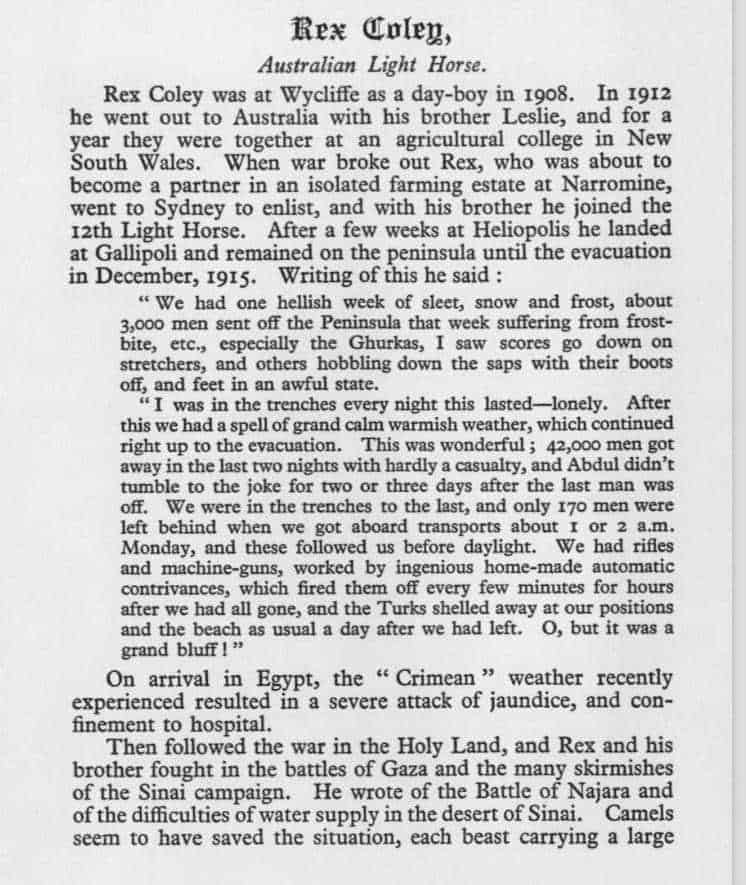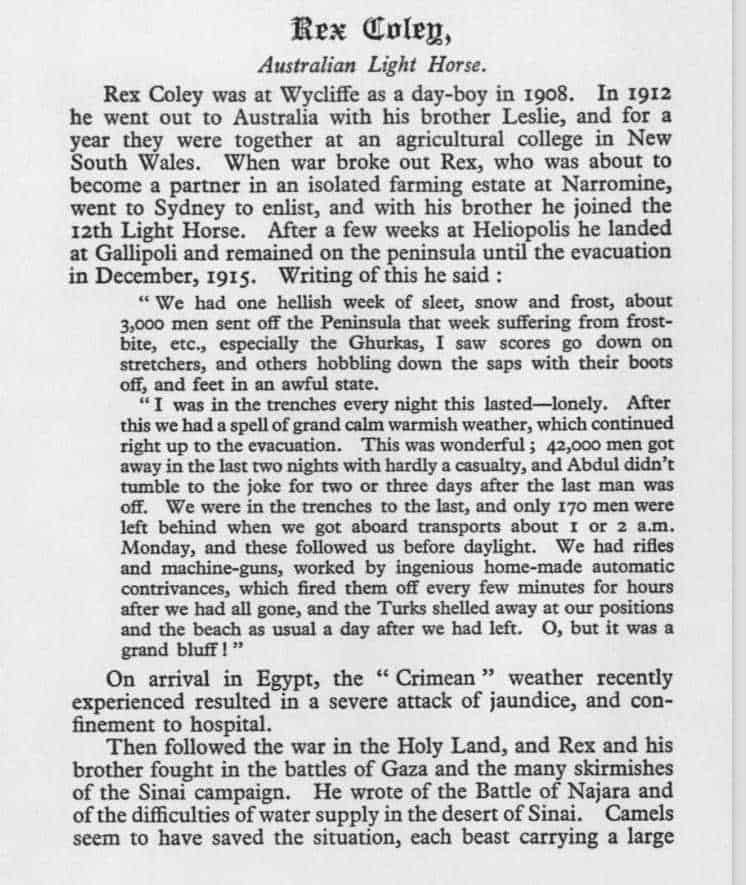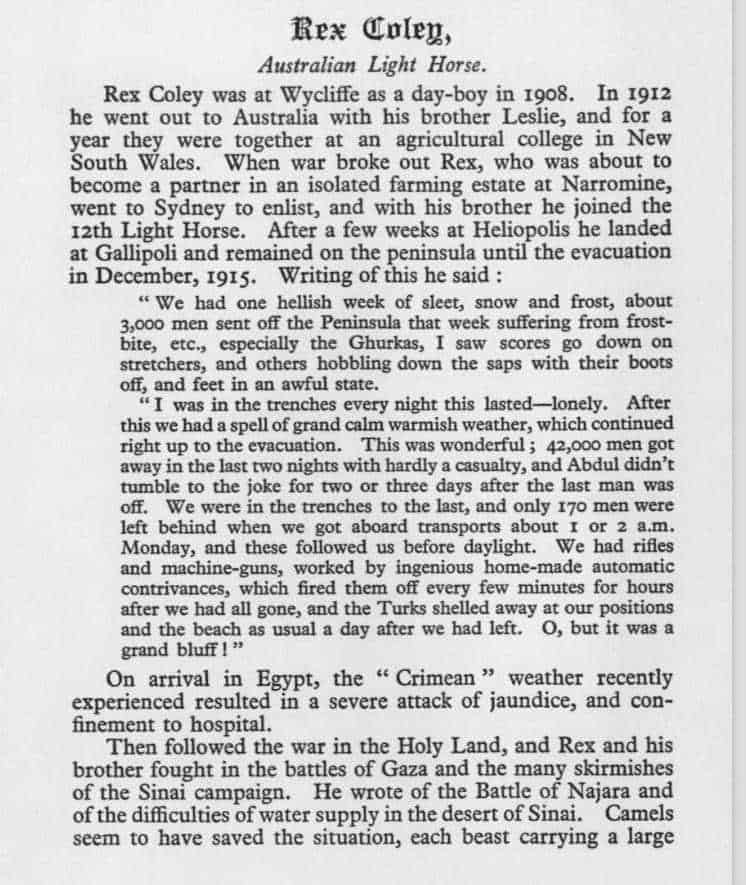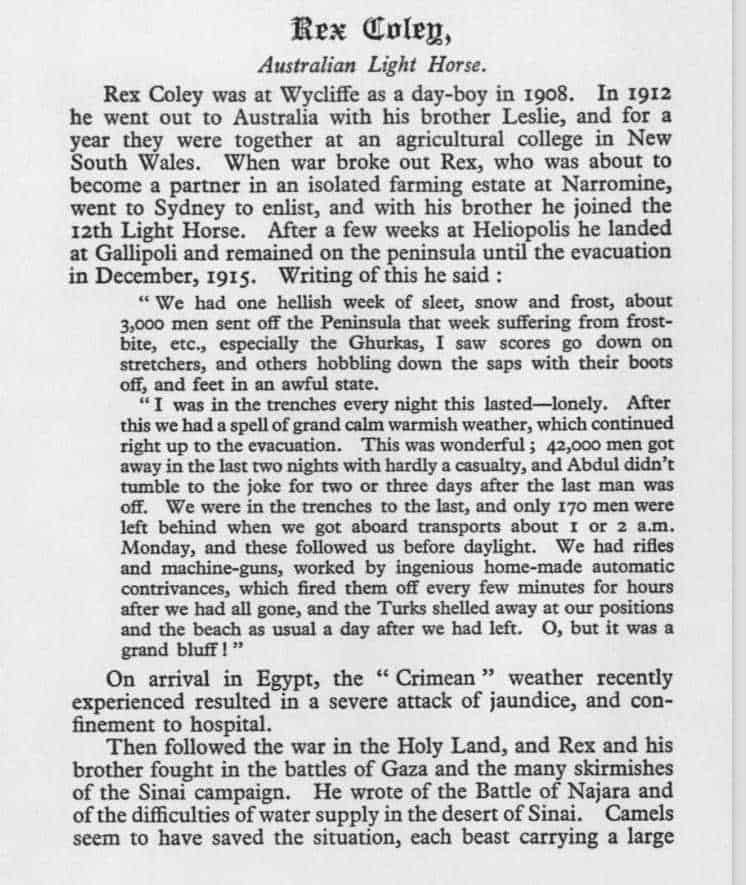 Rex's father Harry travelled from Southampton on board the SMS Friedrich Der Grosse to Sydney, Australia, arriving on 13th December 1909.
At the time of the 1911 Census, Frances and her children Dorothy, Rex and Carl lived at Rosemarkie [sp], Gordon Avenue, Bognor, Sussex. Dorothy was working as a governess and Rex was a cashier. Frances stated that she had given birth to four children of whom three were still alive. The house had six rooms.
Rex travelled from London on board of Rangatira to Sydney, New South Wales, Australia, arriving on 20th March 1913.
Rex's mother Frances was buried on 19th June 1915 at St Mary's church in Reigate. At the time of her death she lived at the Cottage, Glovers Farm, Reigate. She was 57 years old.
In Australia, Rex studied for a year at an agricultural college in New South Wales. When the war broke out, Rex, who was about to become a partner in an isolated farming estate in Narromine, went to Sydney to enlist
Rex enlisted on 4th June 1915 in Liverpool, New South Wales into the Australian Imperial Force. He was a Private with regimental number 923. At the time of his enlistment he was a farmer and lived with his father at "Truro", Raglan Street, Mosman, Sydney.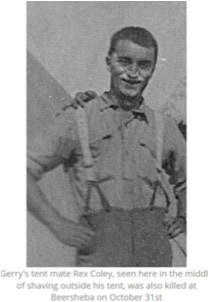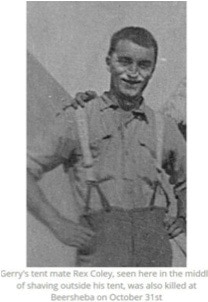 From 9th June 1915, Rex was part of the 12th Australian Light Horse Regiment. The regiment trained at Holsworthy Camp in Liverpool, New South Wales. Rex embarked on 9th August 1915 on board of HMAT A54 Runic from Sydney to Heliopolis, Egypt. After a few weeks at Heliopolis he landed at Gallipoli and remained there until the evacuation in December 1915. On 13th November 1915 in Gallipoli he was transferred into the 1st Light Horse Regiment. On 11th January 1916 Rex disembarked in Alexandria, Egypt. He contracted jaundice on 18th January and was admitted into the No. 1 Australian Auxiliary Hospital in Egypt. On 22nd February, Pte Coley was transferred into the 12th Light Horse Regiment. Rex contracted mumps on 8th March and was admitted into the 4th Auxiliary Hospital in Abbassia, Cairo, Egypt. He left the hospital on 17th March 1916. He was detached to Kasr'l'Nil Barracks, Cairo on 26th April and re-joined his unit on 7th of May 1916.
On 5th May 1917, Pte Coley entered the Hotchkiss Gun Course at the Imperial School of Instruction in Zeitoun near Cairo. He passed the 26th Hotchkiss Gun Course as a gunner. He re-joined the 12th Light Horse Regiment on 17th May in Fukhari, Palestine where he became a Lance Corporal on 20th May 1917. On 24th September 1917 he marched out to Rest Camp, Port Said in El Fara, Palestine and re-joined his unit on 4th October 1917. Lance Corporal Coley fought in the battles of Gaza and many skirmishes of the Sinai Campaign.
He was killed during the charge on Beersheba, Palestine on 31st October 1917. Coley and several others were shot outside Beersheba.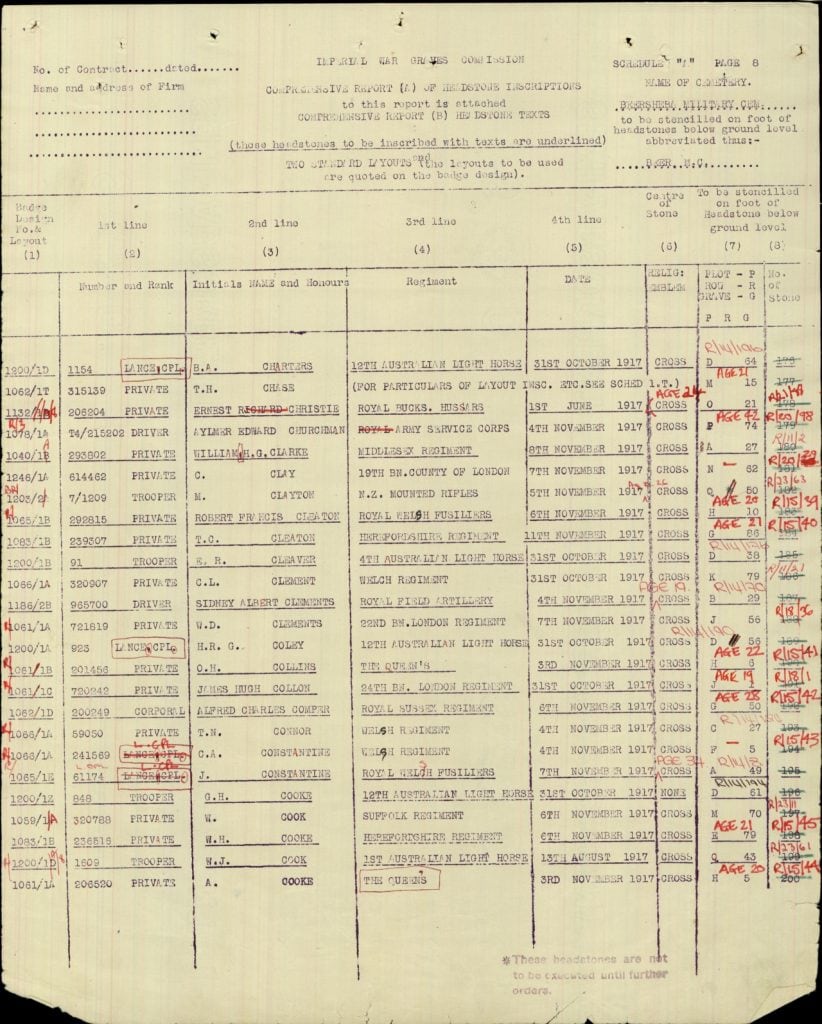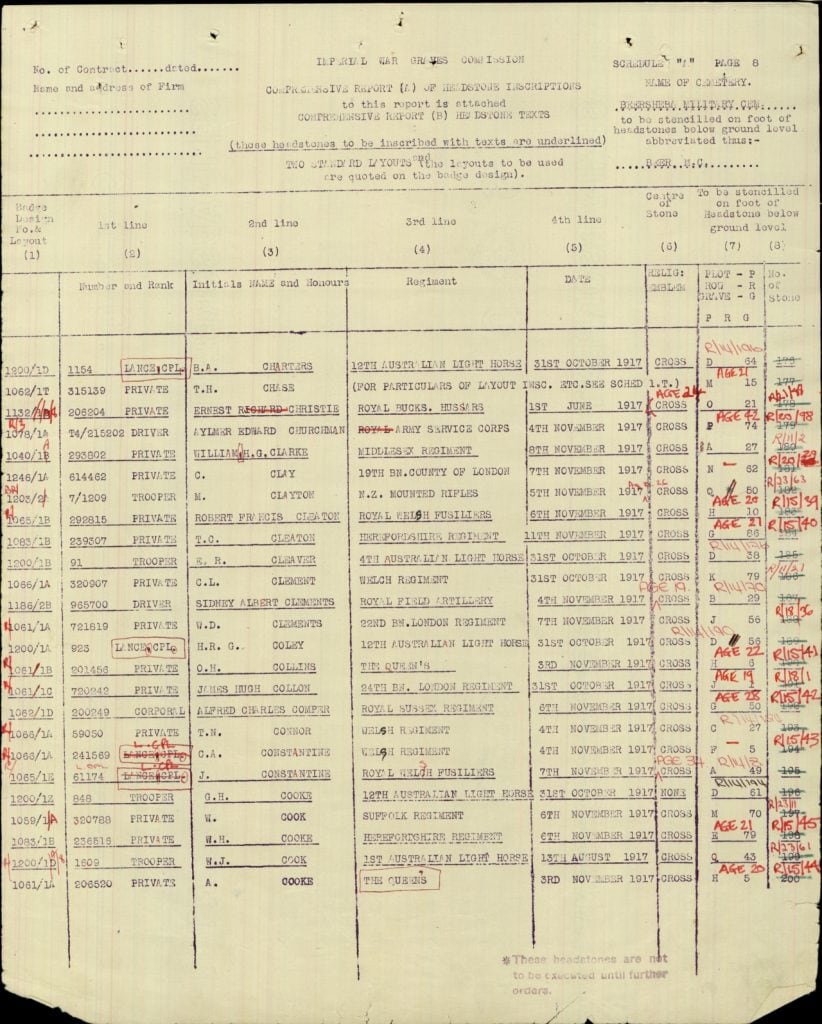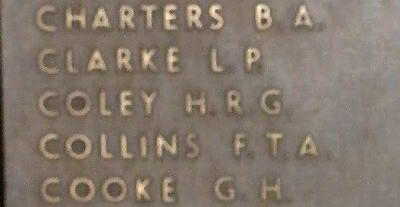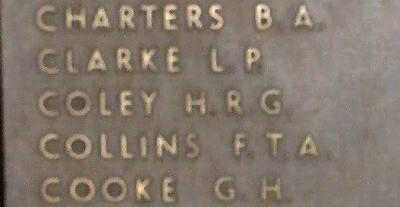 He is buried at the Beersheba Military Cemetery in Palestine (now Israel and Palestine -including Gaza). His grave reference number is D.56.
Rex was short, had a medium complexion, dark hair and hazel eyes. He was always clean shaven and very popular.
In 1917 Rex's father Harry received his personal effects including: 1 tin containing photos & negatives, 1 balaclava cap, 1 razor, 3 pair of socks, 2 handkerchiefs, correspondence, 1 diary, shaving soap, insect powder, 2 spool-films, buttons and a brush. In 1918 he further received a black wallet containing photos, a small calendar, letters, postcards, diary and a leather purse.
He also received the "Where the Australians Rest" booklet, photographs of his son's grave, the 1914 and 1915 Star, the British War and Victory medals, and the Memorial Scroll and Memorial Plaque.
Later, Rex's father Harry lived at Young, New South Wales. In 1921 he lived at Holly, Raglan Street, Mosman, NSW.
See Rex Coley's war records here.
| | | |
| --- | --- | --- |
| Born | Birmingham | |
| | | |
| Son of | Harry of Young, New South Wales and the late Frances Marie Coley of Reigate | |
| | | |
| Regiment | 12th Australian Light Horse | |
| Number | 923 | |
| | | |
| Date of Death | 31st October 1917 | |
| Place of Death | Palestine (now Israel) | |
| Cause of Death | Killed in Action | |
| | | |
| Age | 22 | |
| | | |
| Cemetery | Beersheba War Cemetery, Israel | |