Thank you to Lenka Cathersides for the following research.
Cyril Francis Cattley was born on 2nd November 1888 in Marylebone, London to hop merchant Arthur Cyril and Margaret Eliza (nee Richardson). He was baptised on 3rd January 1889 at St Martin´s church in Dorking. At the time of the baptism the family lived at Meadowbank in Dorking.
At the time of the 1891 Census, the family lived with Margaret's widowed father Francis Richardson at Meadowbank, near Ranmore Road, in Dorking. Margaret was at home with her sons: Cyril and Gerald Wildman. The household further comprised of a maid, cook, housemaid, parlourmaid and two nurses.
Cyril's father, Arthur, died at the age of 34 on 21st September 1895 at Meadowbank. He became ill about 2 years after his marriage in 1887. Prior to his illness Arthur was quite athletic and a good cricketer. His 167 on one occasion for his Leatherhead club was well remembered. In 1889 Arthur and Mr Robert Bovill made a tour to Australia. He was also remembered for his cheerful character. Arthur was buried on 25th September 1895 at Dorking Cemetery. He left to his wife Margaret; £3965, 8s and 3d in his will.
Margaret re-married Ernest Brooke Sewell on 31st January 1898 at St Peters´ Church, Cranley Gardens, Kensington and Chelsea. At the time of the marriage Margaret was living at Meadowbank, Dorking and Ernest at 3 Selwood Terrace in London. Ernest worked at the Stock Exchange.
At the time of the 1901 Census, Margaret and Ernest lived at Meadowbank. The household further comprised of their two children; and a cook, housemaid, nurse, nursemaid and parlourmaid.
Margaret died on 10th February 1908. She left £30735, 13s and 3d to Ernest in the Probate.
Cyril attended Eton College and Magdalene College in Oxford. He left Eton in 1906 and matriculated at Magdalen College in Oxford in 1907. Cyril was a member of the University Contingent of the Office's Training Corps prior to 1915.
Regimental Records of the Officers´ Services read that Cyril passed from the University in 1910 and was part of the 1st Battalion, The Buffs Regiment. He became a Lieutenant in 1911 and Captain in 1912-1913. He passed a Transport Course in 1912.
Cyril Francis was a keen cricketer and in 1910 played in the Oxford Seniors Match. He was a member of the Oxford University Authentics Cricket Team. On 15th July 1914 he took part in the Northumberland Club and Ground versus Oxford University Authentics game. The match was drawn.
He was also a fine horseman and was well known in hunting circles and as a steeplechase rider. His successes included the Buffs´ regimental point-to-point in 1913.
In 1914 Cyril Cattley became part of the British Expeditionary Force and mobilised in September 1914 He disembarked on 7th September 1914 in France. On 3rd June 1916 Cyril received the Military Cross and was also mentioned in dispatches.
On 27th April 1916, Captain Cyril Cattley relinquished the rank of Temporary Major.
On the 9th June 1917 Captain Cyril Francis Cattley, M.C. was to become Temporary Major.
At the time of his death Cyril was a Temporary Major of the 1st Battalion attached to the 6th Battalion, the Buffs (East Kent Regiment).

He was killed in an action on or around 30th November 1917 in Cambrai, France.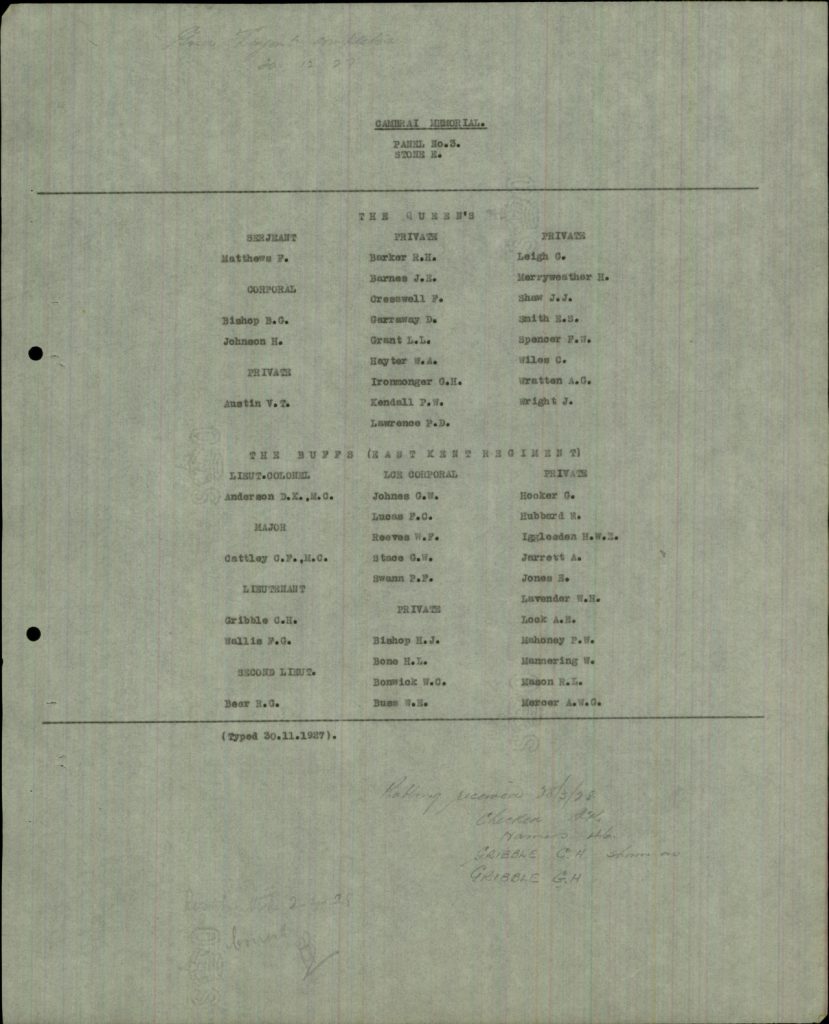 He was awarded the British War and Victory medals and the 1914 Star.
Cyril left to his stepfather Ernest £8321, 1s and 2d in the Probate.
Cattley Family History
Cyril's father Arthur Cyril was born on 17th November 1861 in Croydon to hop merchant Wildman, born about 1838 in Clapham, and Caroline Elizabeth, born about 1841 in Islington. Wildman later lived at Oakdene, Holmwood. Arthur was baptised on 17th January 1862 at St Peter's church in Croydon. At the time of the baptism the family lived at Brighton Road in Croydon. His mother Margaret Eliza Richardson was born about 1864 in Charlton, Kent to East India Merchant Francis, born about 1815 in Glasgow, and Agnes, born about 1829. Arthur and Margaret married on 6th June 1887 in Dorking.
Cyril had a brother: Gerald born on 17th February 1890 in Dorking. He was baptised on 15th June 1890 at St Martin´s Church in Dorking. In 1908, Gerald matriculated at Magdalene College in Oxford. He was working as a colonial civil servant. On 18th April 1917, he departed on SS Akabo from Liverpool, England to Sekandi-Takaradi, Ghana, Gold Coast. Gerald was part of the Nigerian Land Contingent in West Africa. He died of an illness on the 1st of August 1918 at the Colonial Hospital, Cape Coast, Gold Coast. He left to his stepfather, £12,068, 4s and 9d in the Probate.
Cyril´s paternal grandfather Wildman of 22 Second Avenue, Hove, Sussex died on 7th December 1918, and left to Stephen Cattley and Ernest Brooke Sewell £119,848, 0s and 5d in the Probate.
| | | |
| --- | --- | --- |
| Born | Marylebone, London | |
| Lived | Dorking, Surrey | |
| | | |
| Son of | Arthur Cyril and Margaret Eliza Cattley (nee Richardson) of Meadowbank, Dorking | |
| | | |
| Regiment | 1st Battalion. East Kent Regiment. Attached 6th Battalion. | |
| | | |
| Date of Death | 30th November 1917 | |
| Place of Death | France | |
| Cause of Death | Killed in Action | |
| | | |
| Age | 29 | |
| | | |
| Memorial | Cambrai Memorial, France | |