Thank you to Karen Wilson from Betchworth Village Archives for allowing us to publish her research.
When the Reverend John Thornton and his wife Agnes came to live in The Meadows in 1904, Noel Shipley Thornton, their youngest son, was an undergraduate at Cambridge. John Thornton had retired from the living at St. Mary's, Ewell but was still preaching locally, notably at Mickleham. In 1911 Noel married Norah Bovill from Broome Perrow, Buckland at St. Michael's where his father officiated at the service. It was a large wedding and a description of it in the local paper occupied two columns (mostly devoted to details of the wedding presents). Noel and Norah went to live in Budleigh Salterton where Noel worked as a land agent and they had two children.
When war broke out, Noel Thornton enlisted on September 3rd 1914 in the Public Schools Brigade, 19th (Service) Battalion Royal Fusiliers and went to France with them on the 14th November 1915. In July 1916 he was granted a Commission in the Rifle Brigade and after a brief spell in England, he joined the 7th (Service) Battalion in France on August 24th as a 2nd Lieutenant. Three days after this he was given command of a Company and for several months he was a Lewis-Gun Officer.
He was made Temporary Captain in March 1917 but in May was invalided to England with trench fever. He went out to France again in August 1917 and was promoted to Captain and appointed Adjutant of his old Battalion, the 7th. On December 18th 1917 he was mentioned in Despatches and was made a Temporary Major, 2nd in Command of the 7th Battalion. In March 1918 he obtained command of this Battalion.
On April 3rd he was severely wounded in action during the operations in front of Amiens and was taken to No. 2 Stationary Hospital, Abbeville. He was visited there on April 7th by the Matron-in Chief, BEF, E. Maud McCarthy. She wrote in her diary: 'After dinner I was asked by the DMS, Major-General Carr, to visit the unit and see what was going on. I talked to Major Thornton, who was in a very critical condition.'
Noel Thornton died of his wounds on April 10th 1918, aged 34. After his death he was awarded the DSO and Military Cross for his 'conspicuous gallantry' and 'magnificent example of courage and leadership' on April 3rd.
He was buried at the Abbeville Communal Cemetery Extension. III E29. His mother Agnes later chose the following inscription for his headstone: 'Greater Love Hath No Man Than This That He Lay Down His Life For His Friends'. His father did not survive Noel for long; he died in May 1918 and an obituary in the June Parish Magazine attributes his death to failing health but also states that: ' …without doubt the end was hastened by the great shock of the death of his youngest son, Major Noel Thornton.'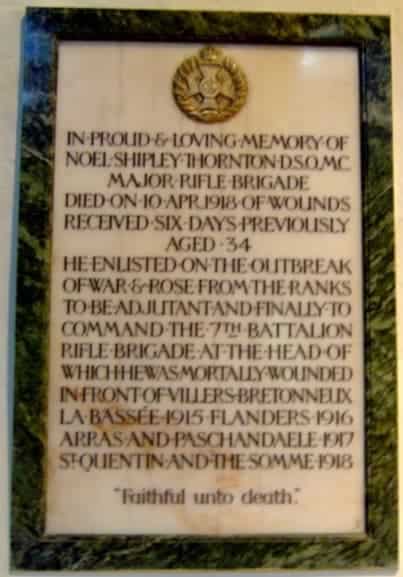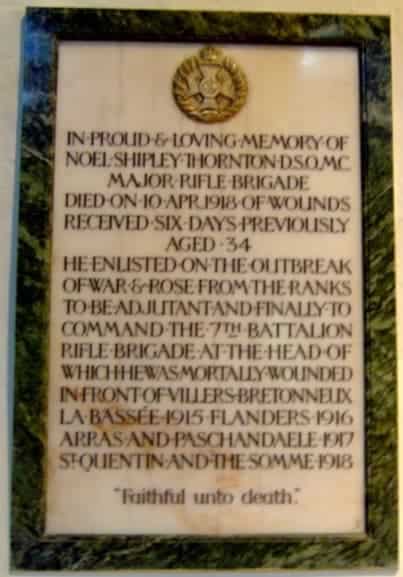 There is a memorial to Noel Thornton inside St. Michael's church as well as a stained glass window memorial to him in Holy Trinity Church, Yockleton where he was born and his father was vicar.
| | | |
| --- | --- | --- |
| Born | Yockleton, Shrewsbury, Shropshire | |
| Lived | Budleigh Salterton, Devon | |
| | | |
| Son of | Reverend John and Agnes Thornton | |
| Husband of | Norah Thornton (nee Bovill) of Broome Perrow, Buckland | |
| | | |
| Regiment | 6th Battalion attached 7th Battalion. Rifle Brigade | |
| | | |
| Former Regiment | 19th Battalion. Royal Fusiliers | |
| | | |
| Date of Death | 10th April 1918 | |
| Place of Death | Amiens, France | |
| Cause of Death | Died of wounds | |
| | | |
| Age | 34 | |
| | | |
| Memorial | Abbeville Communal Cemetery Extension, Abbeville, France | |