Thank you to Lenka Cathersides for the following research.
Frederick George Stenning was born on the 1st of October 1897 in Dorking to gardener Percy Thomas and Louisa (nee Oliver). He was baptised on the 14th of November 1897 at St John's, North Holmwood.
Frederick's father Percy was born in the 1st quarter of 1864 in Kirdford, Sussex to agricultural labourer Thomas, born about 1836 and Ellen, born about 1834, both in Kirdford, Sussex. Percy Thomas was baptised on the 6th of March 1864 in Kirdford. Percy married Louisa Oliver in the 1st quarter of 1891 in Dorking. Frederick's mother Louisa was born about 1863 in Alderley Edge, Cheshire to gardener Thomas and Elizabeth. Louisa was baptised on the 11th of October 1863 in Chorley near Macclesfield. At the time of the 1891 Census, Percy and Louisa lived at 39 Mount Pleasant Road, Dartford, Kent.
Frederick had seven siblings of whom five are known: Ellen born about 1892; Gladys born about 1894; Sidney born about 1896, all in Dorking. Thomas born about 1901 and Florence Victoria born about 1902, both in Woking, Surrey.
At the time of the 1901 Census, the family lived at Grove Villas, 4 Sandy Lane, Woking. Percy was working as a gardener and Louisa was at home looking after their children: Ellen, Gladys, Sidney, Frederick George and Thomas.
Percy Stenning died in the 3rd quarter of 1907 in the Registration District of Marylebone, London.
At the time of the 1911 Census, the widowed Louisa was living at 3 Acacia Villas, Woodbridge Road, Guildford. She was working as a laundress at Guildford Steam. The household further comprised of her children: Thomas and Florence. Louisa stated that she had given birth to eight children of whom six were still alive. The accommodation had two rooms.
At the time of the 1911 Census, Frederick was at the Watts Naval Training School (Branch of Dr Barnardo's Homes), North Elmham, Norfolk.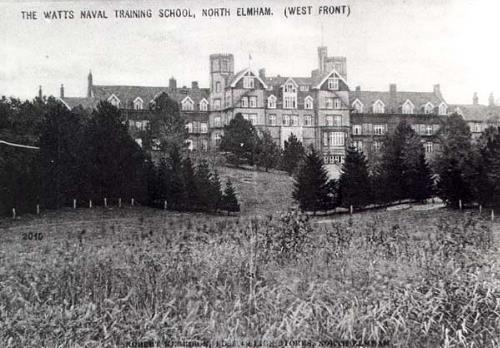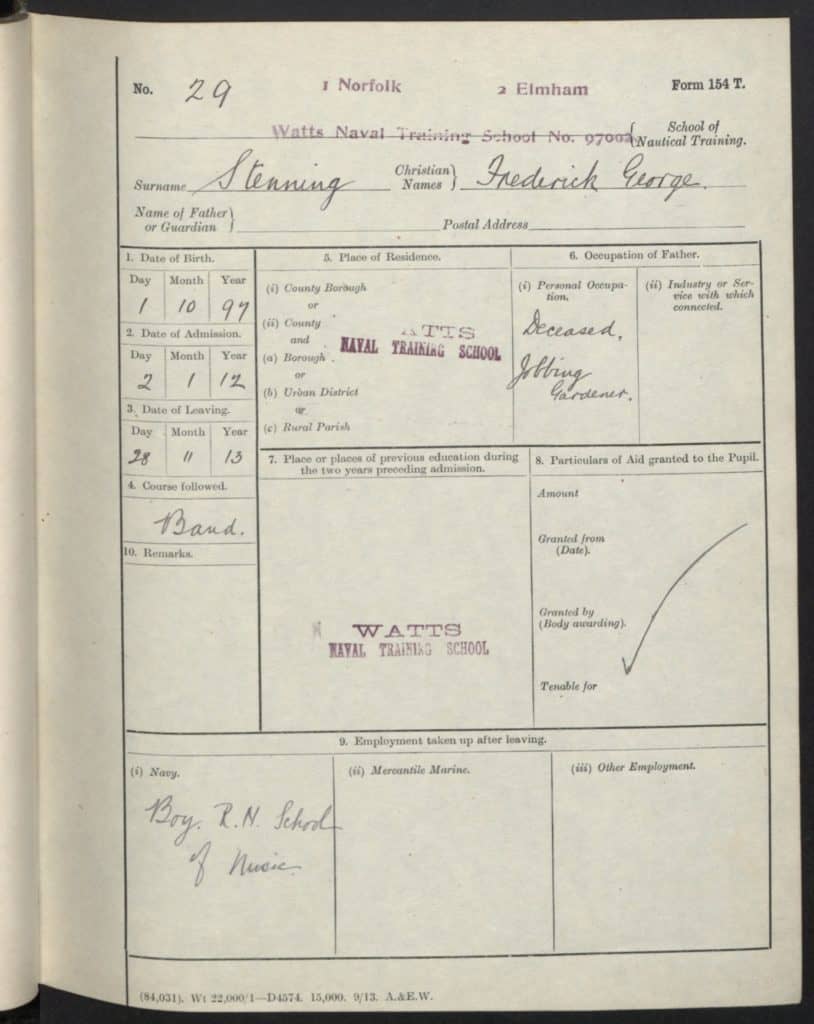 Frederick was admitted into the Watts Naval Training School on 2nd of January 1912. He left the school on 28th November 1913.
Then, on 3rd December 1913 he enrolled into the Royal Naval School of Music situated at the in Eastney Barracks, Portsmouth. He left the school on 22nd October 1914.
After his studies he became part of the Royal Marines Band Service which provided Bands for the Royal Navy. He was a Musician with service number R.M.B./2185. He could swim, had brown eyes, brown hair and a fresh complexion. He had also scars on the side of and under his right eye.
Frederick was posted from 23rd October 1914 to 20th March 1919 to India. From 21st March 1919 to 6th July 1919 he was situated at the Royal Naval School of Music in Eastley.
Frederick married Edith Eleanor Pegg on 29th May 1919 in Guildford. Edith was born on 14th January 1898 in Battersea to railway guard Isaac William, born about 1861 in Wetherden, Suffolk and Ellen, born about 1863 Beedon, Berkshire. Edith was baptised on 13th March 1898 at St Paul's, Battersea.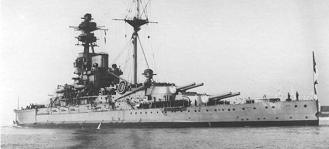 Frederick served on the HMS Royal Sovereign from 7th July 1919 to 5th December 1920.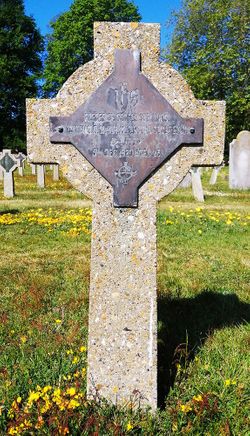 Frederick Stenning died on 5th December 1920 from a disease at the Royal Naval Hospital Haslar, in Gosport, Hampshire. He was buried on 9th December 1920 at Haslar Royal Naval Cemetery, Gosport, Hampshire. Location of his grave is: New./41./16. At the time of his death he lived in Haslar.
Frederick Stenning received the British War and Victory medals and the 1914-15 Star.
His widow Edith lived at 14 Bedford Road, Guildford. She remarried Percy H. Durrant in the 3rd quarter of 1921 in Guildford. In 1933 she lived at 5 Stag Hill, Guildford.
| | | |
| --- | --- | --- |
| Born | | Dorking, Surrey |
| Lived | | Guildford, Surrey |
| | | |
| Son of | | Percy Thomas and Louisa (nee Oliver) Stenning |
| Husband of | | Edith Eleanor Pegg |
| | | |
| Regiment | | Royal Marine Band |
| Number | | 2185 |
| | | |
| Date of Death | | 5th December 1920 |
| Place of Death | | Royal Naval Hospital Haslar, Gosport, Hampshire |
| Cause of Death | | Died of disease |
| | | |
| Age | | 24 |
| | | |
| Cemetery | | Haslar Royal Naval Cemetery, Gosport |