Thank you to Lenka Cathersides for the following research.
Charles John Colbran was born on 30th December 1884 in Ore, Sussex to Thomas William and Mary Jane (nee Cooper).
At the time of the 1891 Census, the family lived at 1 Summer Hill Cottages, Priory Road, Hastings, Sussex. Thomas was working as an excavation labourer and Mary was a charwoman. The household further comprised of their children: Elizabeth Ann, Caroline R., Thomas G., Phillis J. and Charles John. Charles' mother Mary died in the 4th quarter of 1893 in Hastings.
At the time of the 1901 Census, Charles was a Boy, 2nd class, on a vessel in Portsmouth, Hampshire. Charles enlisted into the Royal Navy on 30th December 1902 in Portsmouth. His service number was: 208778 (PO). He lived at 3 Moores Road in Dorking with his sister Elizabeth. At the time of his enlistment he was a sea boy. He had brown eyes, brown hair and a fresh complexion. He had the word "love" tattooed on his left forearm.
At the time of the 1911 Census, Charles was an Able Seaman on HM Submarine C37 in China and East Indies. He served aboard several ships, the first being HMS Impregnable: from 1st March 1900.
On 3rd December 1912 Charles became a Petty Officer. On 5th September 1916 he was awarded D.S.M. for his services in Gallipoli.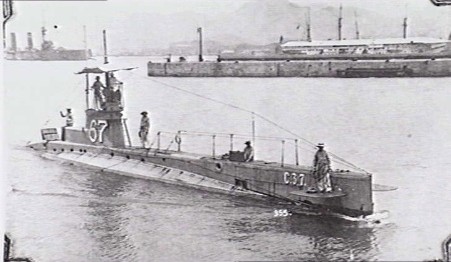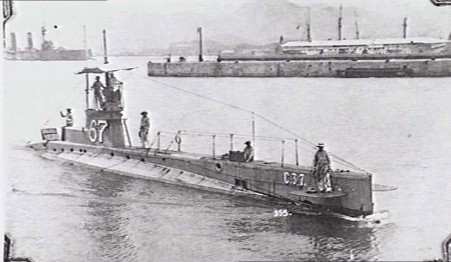 The last ship he served on was HMS Verdun: from 1st March 1917. From 1st October 1917 he became part of the crew of HM Submarine H5.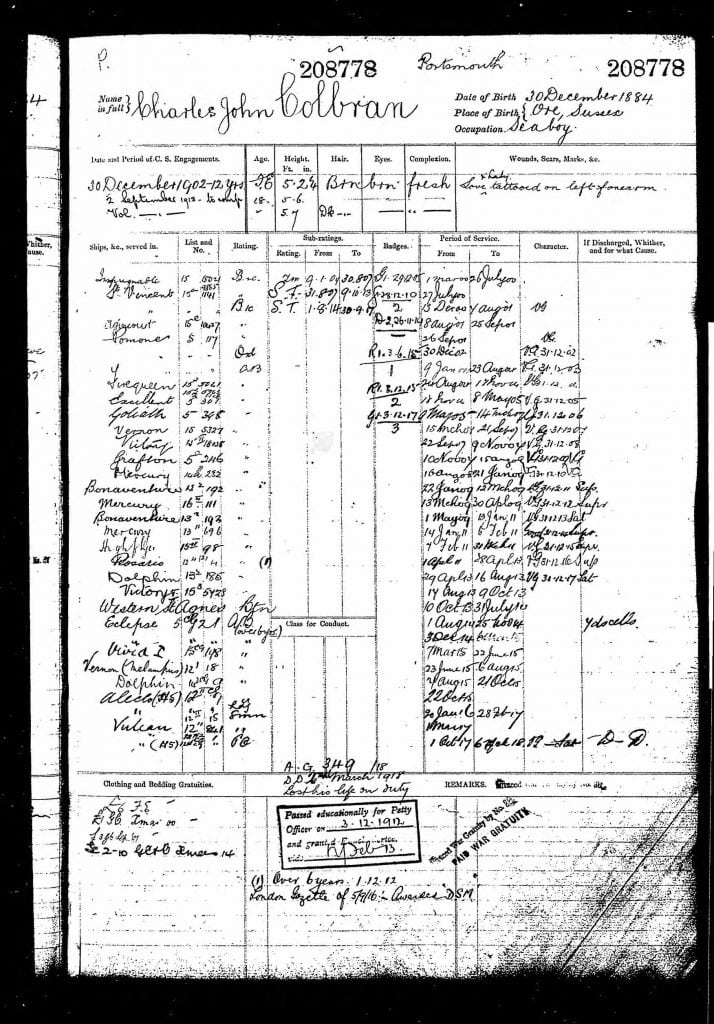 Charles Colban drowned on 2nd March 1918 in the accidental loss of HM Submarine H5 in the Irish Sea.
"A medium sized coastal defence submarine, HMS H5 was patrolling the Irish Sea on surface patrol when rammed by the British merchantman SS Rutherglen who believed the submarine was an enemy U-boat. Cries were heard in the water and a strong smell of petrol was also present. The British Admiralty ordered Rutherglen to leave the scene and never told the crew of the mistake. Instead, they were given a bounty for sinking a German U-boat. Twenty-six of the March 2, 1918, victims were British. The other was Lt. Earle Wayne Childs – the first American submariner killed in European and world conflict." http://aquilinefocus.blogspot.cz/2006/03/submarines-hms-h5-uss-h-5-built-in.html
The truth was revealed some 50 years later. http://www.bbc.co.uk/programmes/p02f0sf9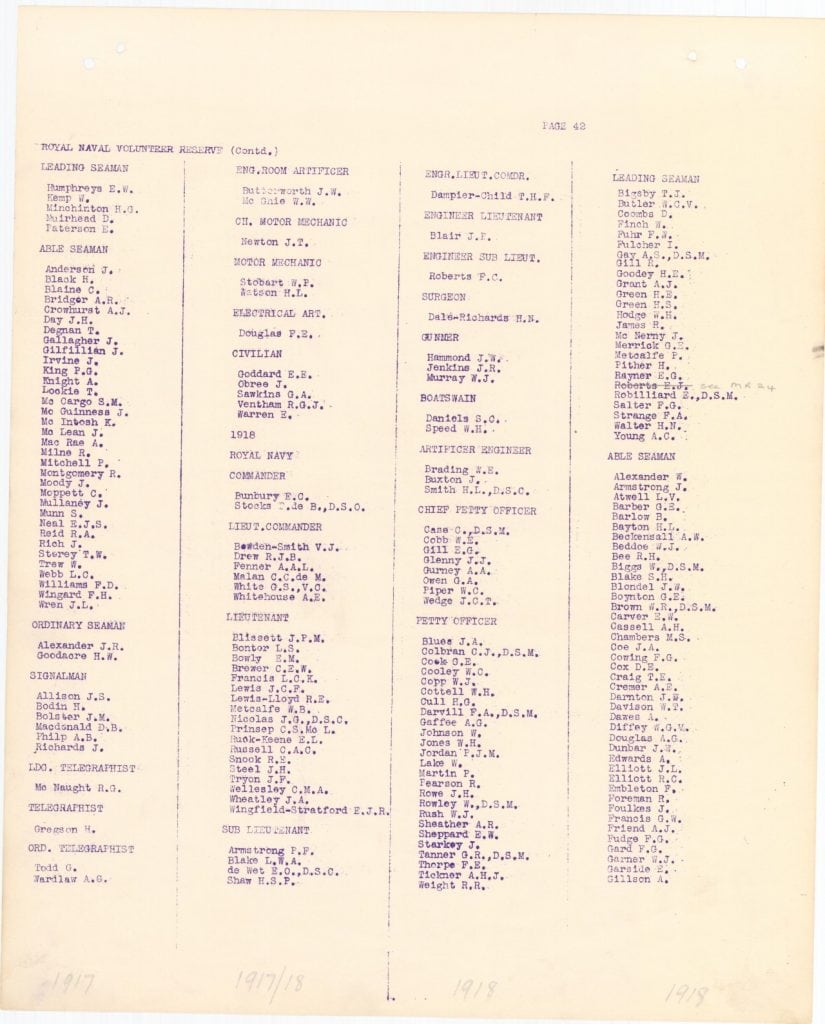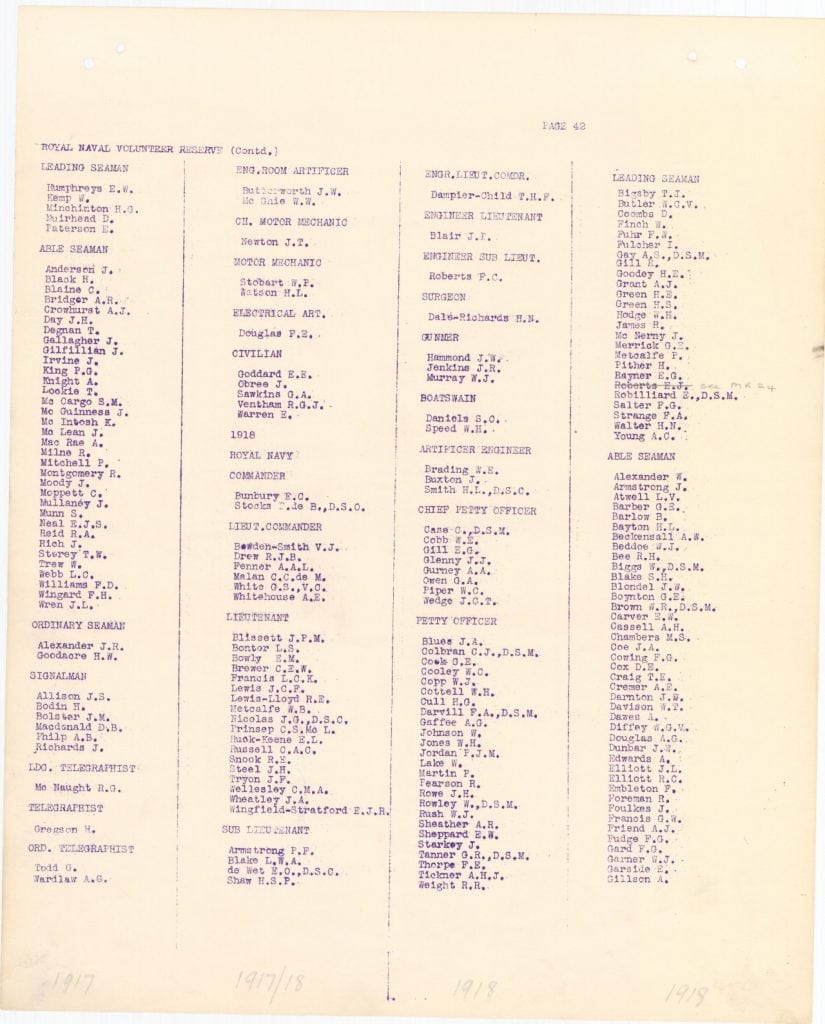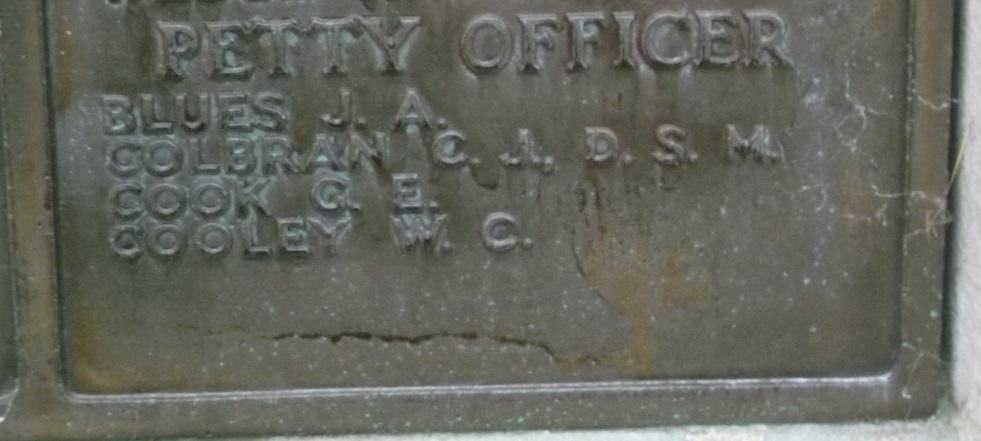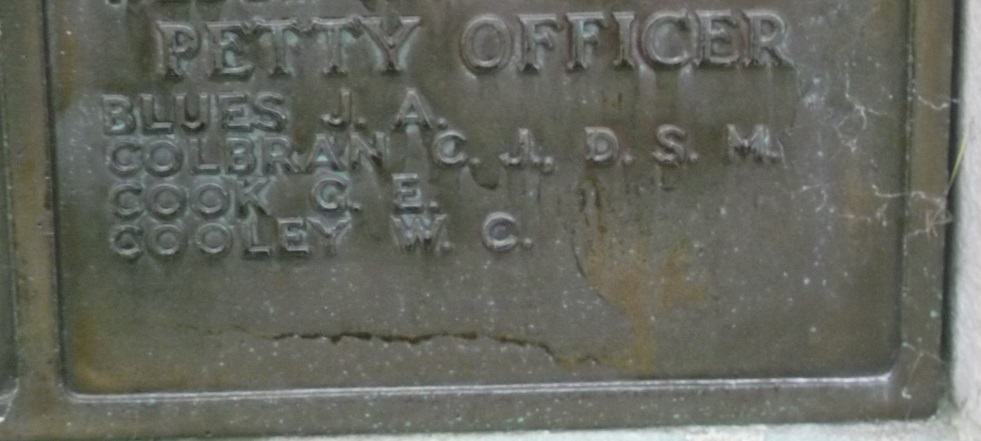 He is commemorated on the Portsmouth Naval Memorial in England. His memorial reference is 28.
Charles left to his brother in law, Edward and his sister Elizabeth Capon £88 and 2d in Probate.
Colbran Family History
Charles' father Thomas was born in the 3rd quarter of 1849 in Rye, Sussex to Charles and Anna. Thomas was baptised on 30th July 1849 in Rye. His mother, Mary Jane was born about 1852 in City of London to railway worker William, born about 1829 in Scotter, Lincolnshire, and Elizabeth, born about 1828 in Sawbridgeworth, Hertfordshire. Thomas and Mary married on 6th August 1876 in Rye.
Charles had four known siblings: Elizabeth Ann born about 1878; Caroline R. born about 1879; Thomas G. born about 1885 and Phillis J. born about 1887, all in Hastings, Sussex.
At the time of the 1881 Census, the family lived at 23 Hughenden Road, Ore, Hastings. Thomas was working as a carman and Mary was at home looking after their children: Elizabeth Ann and Caroline R. The household further comprised of Mary's two brothers and a boarder.
At the time of the 1901 Census, Charles' sister, Elizabeth was a servant for architect Frederick Bargman at 4 Horsham Road (Woodbourne) in Dorking. Elizabeth married Edward John Capon in the 2nd quarter of 1903 in Dorking.
The 1921 Surrey, England, Electoral Register reads that Edward and Elizabeth still lived at 3 Moores Road in Dorking, Surrey.
| | | |
| --- | --- | --- |
| Born | Ore, Sussex | |
| Lived | Hastings, East Sussex | |
| | | |
| Son of | The late Thomas and Jane Colbran | |
| Brother of | Elizabeth Ann Capron of 3 Moores Road in Dorking | |
| | | |
| Regiment | H.M Submarine. H5. Royal Navy | |
| Number | 208778 | |
| | | |
| Date of Death | 2nd March 1918 | |
| Place of Death | Irish Sea | |
| Cause of Death | Accidentally killed | |
| | | |
| Age | 34 | |
| | | |
| Memorial | Portsmouth Naval Memorial | |