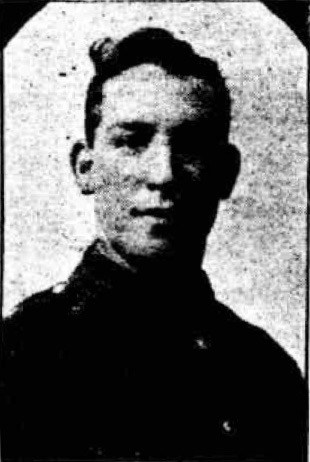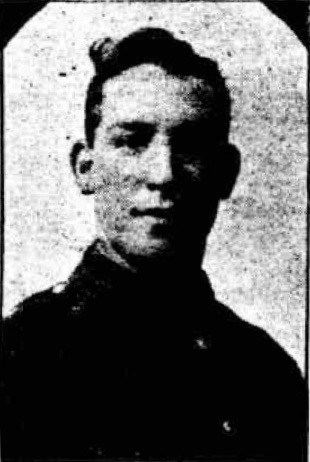 Thank you to Patricia Brazier for the following research. Thank you to Albert's niece Christine Martin for the photographs of Albert's medals. Christine Martin's mother was the youngest of twelve children and was only 8 years old when her brothers were killed. 
Albert was born in Ockley in the September quarter of 1896. His parents are William and Ellen. In the 1901 census his family are living in Birtley Green, Bramley, in Surrey. His father William is a Baker/Bread maker.
In the 1901 census his family are still living in Birtley Green, Bramley in Surrey. Albert has two sisters; Edith, born in 1890 and Irene, born in 1899. He also has four brothers; William, born in 1892, Frederick, born in 1993, Charles born in 1894 and Edward born in 1901.
The family are still living in Birtley Green in the 1911 census. Albert's father, William is now a Journeyman Miller at Wonersh Mill. Albert now has four more siblings; Sidney, born in 1903, Ellen Rose, born in 1906, Doris Vera, born in 1908 and Flora Alice, born in 1910. Susan, Edith and William have now left home. Albert is aged 14 and working as a Garden Boy.
Albert moved to Gorseinon in South Wales and became a Tin Plate Worker. He enlisted into the Grenadier Guards in Swansea in the first month of the war and arrived in France on 23rd November 1914.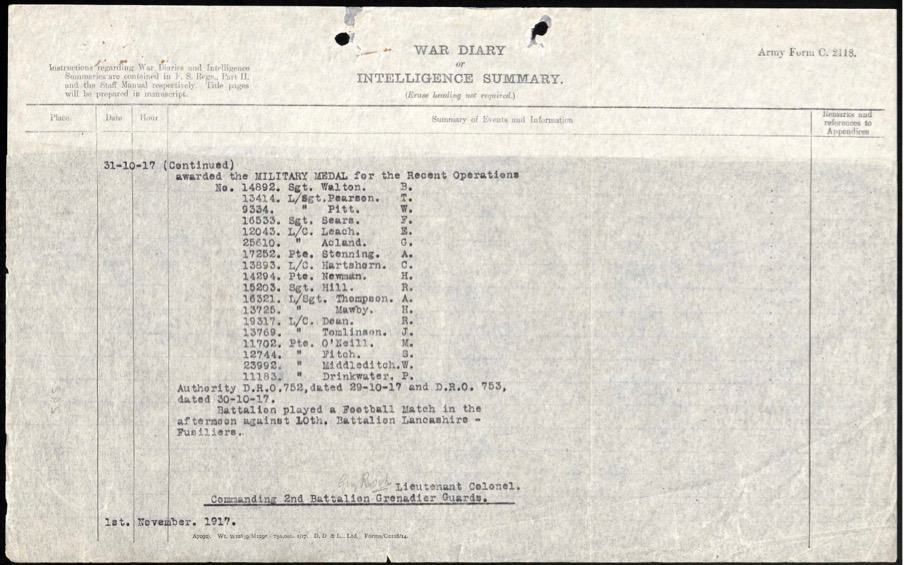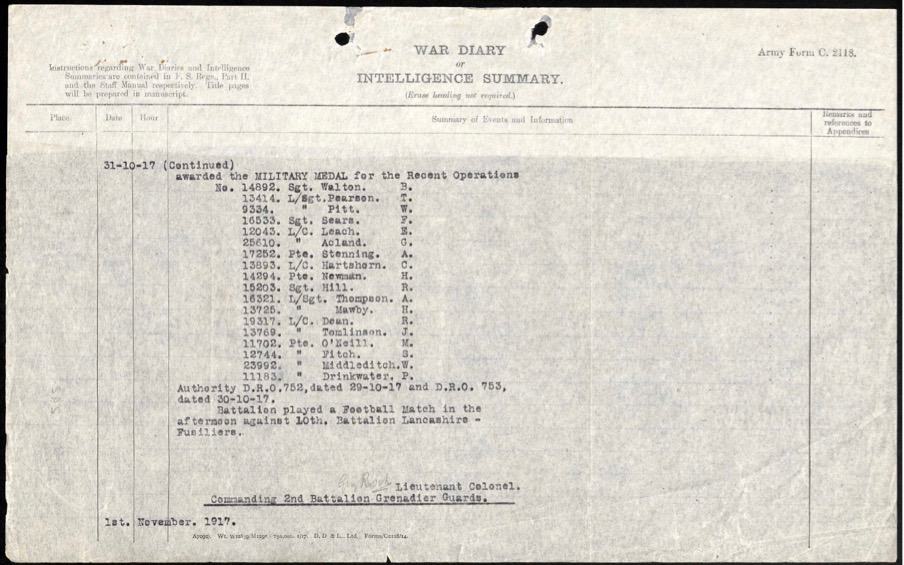 He was involved in the battles of Loose and the Somme and was wounded four times, earning him Four Gold stripes. The Fourth time he was wounded was October 1917, and he received the Military Medal for remaining at his post for 32 hours in an isolated position surrounded by the enemy. The residents of Gorseinon recognised his distinguished services by presenting him with a Wallet of notes.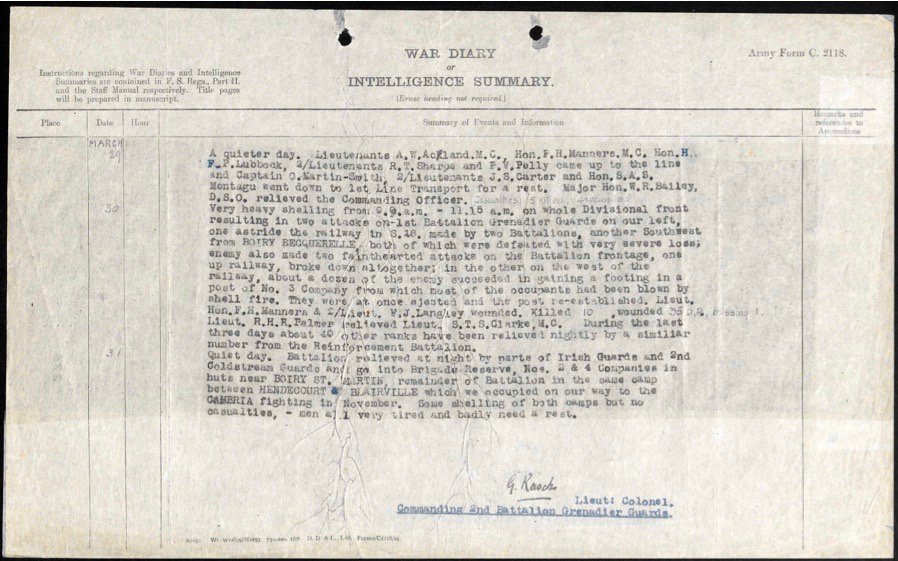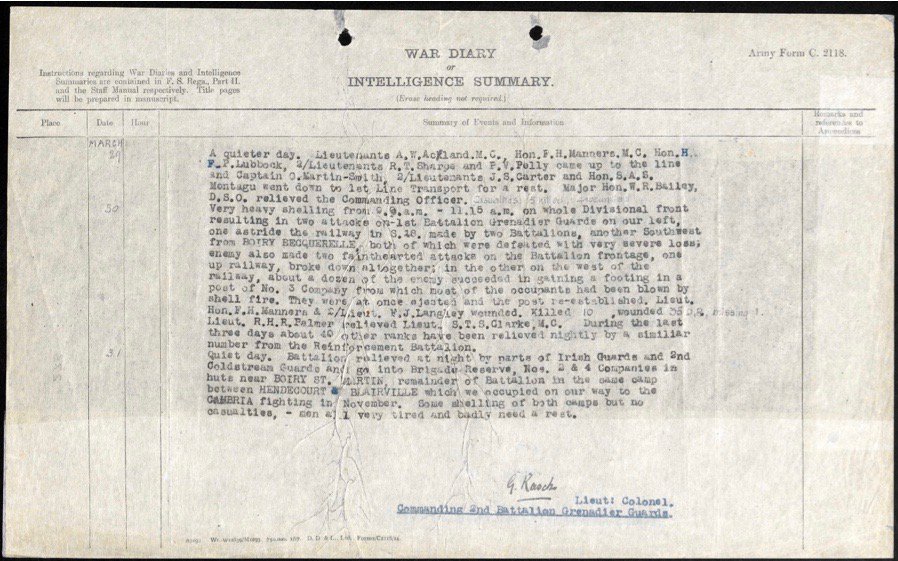 He was killed on the 30th March 1918 by a shell, during a bombardment of the trenches. His brother Corporal Stenning (Possibly Frederick) was nearby. His name appears on Bay 1 of the Arras Memorial.
Writing to his parents Lieutenant H. F.P .Lubbock said:-
"I had not known your son very long, as I have only been in command of the platoon a short time.   But I have known him long enough to appreciate what a very exceptional man he was. Apart from his charm of manner, his superb courage was always the object of my wonder and admiration. He stood out as one of the finest men I have met not merely in this company but anywhere since I have been in the army."
Albert's War Gratuity and medals were sent to his mother Ellen at 18 Jubilee Terrace, Dorking. His parents continued to live in Jubilee Terrace for many years. William Died in November 1931 and Ellen died in 1942
Albert's brother Charles served with the machine gun corps. He was killed a few months before Albert in November 1917. He is commemorated on Panel 12/13 of the Cambria Memorial to the missing. His brother Frederick served as a Corporal with the Scots Guards. He survived WW1.
His siblings continued to live in Dorking. Flora Alice married William Philpot, Vera married George Barrel, Irene married Percy Hessselgrave, Susan married Edwin Sharp, and William married Ivy Lucas. Frederick married Florence Purdue and moved to Kingston.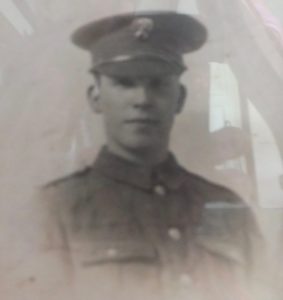 | | | |
| --- | --- | --- |
| Born | Ockley, Surrey | |
| | | |
| Son of | William and Ellen Stenning of 18 Jubilee Terrace, Dorking | |
| | | |
| Regiment | Grenadier Guards | |
| Number | 17252 | |
| | | |
| Date of Death | 30th March 1918 | |
| Place of Death | France | |
| Cause of Death | Killed in Action | |
| | | |
| Age | 21 | |
| | | |
| Memorial | Arras Memorial, France | |