Thank you to Karen Wilson from Betchworth Village Archives for allowing us to publish her research.
Alfred Mackrell was born on March 22nd 1891 in Brockham, the youngest of nine children. The family lived at Brockham Pits and Alfred's father George was a Foreman in the Lime Works. At the time of Alfred's birth his older brothers Robert (who was 17) and Charley (15) were working as general labourers, most likely in the Lime Pits.
George Mackrell died in 1897, the same year that Alfred started school at Betchworth. George was buried in St. Michael's churchyard on March 1st and Alfred started school on September 7th.
By 1901 Alfred's mother, Louisa, now a widow, was living at 11, Barley Mow Gardens with four of her children, including Alfred aged 10. Three doors away were Henry and Rhoda Mackrell and four of their children, undoubtedly relatives.
Alfred left school in 1905 to become a worker at the age of 14. He would have been at school with Ernest Durham, who was a year older than him and had lived two doors away when the family lived at Brockham Pits.
In 1907 it would appear that Alfred, at the age of 17, joined the Navy. It is not clear how long he stayed in the Navy, but by 1911 he was at Aldershot, aged 20, with the 2nd Dragoon Guards (Queen's Bays).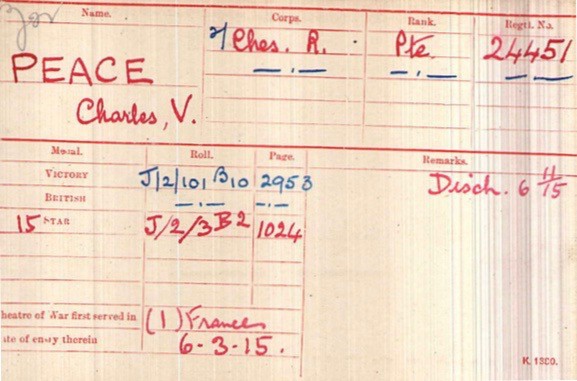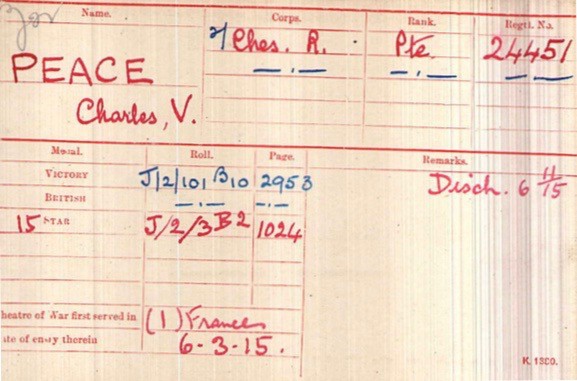 But Alfred became an enigma when war broke out in 1914. At some point he enlisted in the Cheshire Regiment, but under the name of 'C. V. Peace'. He was sent to France in March 1915 but was discharged on November 6th 1915.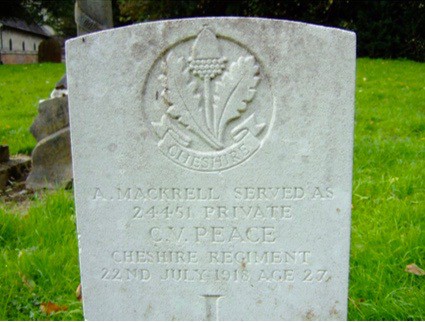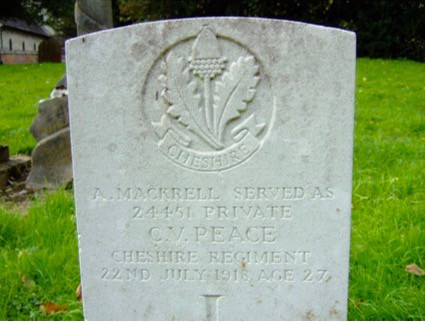 On July 22nd 1918 Alfred Mackrell died from the effects of gas poisoning. His contribution as a soldier on the Western Front did not go unrecognised and he was buried in St. Michael's churchyard with a War Graves Commission headstone. He was buried under his true name but his alias was also recognised.
| | | |
| --- | --- | --- |
| Born | Brockham, Surrey | |
| Lived | Betchworth, Surrey | |
| | | |
| Son of | George and Louisa Mackrell of 11, Barley Mow Gardens, Betchworth | |
| | | |
| Regiment | Cheshire Regiment | |
| Number | 24451 | |
| | | |
| | | |
| Date of Death | 22nd July 1918 | |
| Place of Death | At home | |
| Cause of Death | Died of the effects of gas poisoning | |
| | | |
| Age | 27 | |
| | | |
| Memorial | St Michael's Churchyard, Betchworth | |