Many thanks to Jim Edwards of North Holmwood for this research. Thank you to Lenka Carthersides for additional information.
Alfred Howard Tyler was born on 8th December 1899 in Dorking, Surrey to Alice Tyler.
Alfred's mother Alice was born in the 3rd quarter of 1872 in Holmwood, Surrey to blacksmith Esay and Emily, born about 1838 in Dorking. Alice was baptised on 11th August 1872 at St Mary's Church in Holmwood.
At the time of the 1891 Census, Alice was working as a housemaid of solicitor William Godden at 2 Ridgefield, Wimbledon.
At the time of the 1901 Census, Alfred was a nurse child of Harriett Ansell at Starmount, Beare Green. His mother Alice was a servant of Henry Roffey at Coldharbour, Surrey.
Alice married George Worsfold in the 2nd quarter of 1902 in Dorking, Surrey. George Worsfold was born about 1869 in Coldharbour.
Alfred had two known half-siblings: James born about 1904 in South Holmwood and Dorothy born about 1907 in Leith Hill.
On the 15th of June 1903 Alfred was admitted into South Holmwood Church of England School. At the time of his admission the family lived at Spring Cottage, South Holmwood.
At the time of the 1911 Census, the family lived at Spook Hill, North Holmwood. George was working as a gardener and Alice was at home. The household further comprised of their children James, Dorothy and Alfred. The accommodation had four rooms.
Alfred Tyler enlisted in Dorking into the 1st Battalion, the Buffs (East Kent Regiment). He was a Private with regimental number G/21932. At the time of his enlistment he resided in Dorking.
At the time of his death he was part of the 10th (Royal East Kent and West Kent Yeomanry) Battalion, the Buffs (East Kent Regiment). The battalion had been formed in Egypt on 1st February 1917 from the dismounted Kent Yeomanry Regiments and moved to France in February 1917.

Alfred Tyler was killed in action on or around 21st September 1918 in France. He is commemorated on the Vis-En-Artois Memorial in France. His memorial reference number is: Panel 3.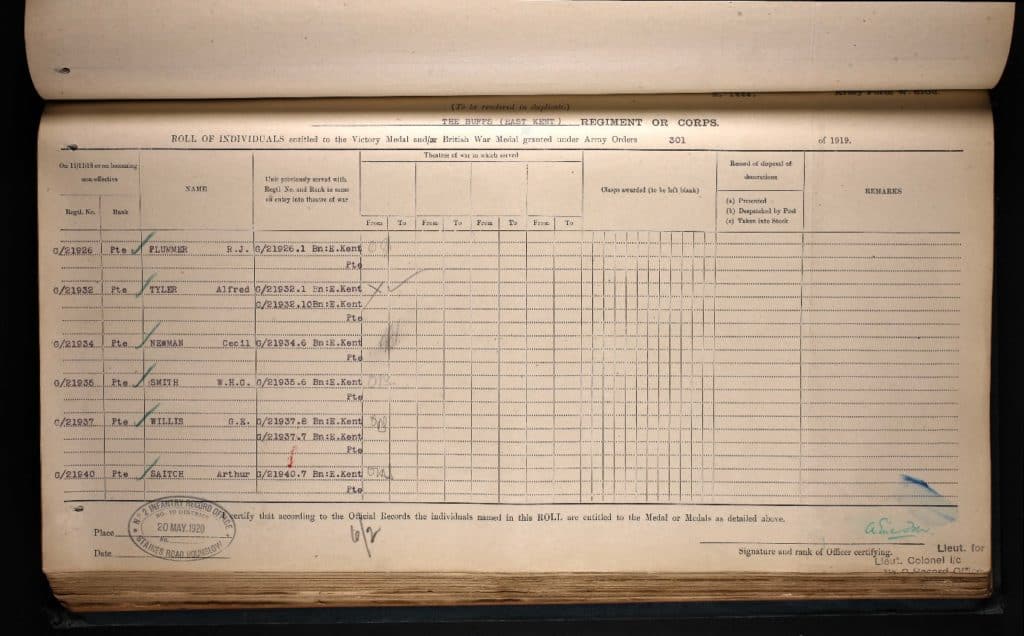 He received the British War and Victory medals.
Alice Worsfold continued to live in Holmwood.
Born
Dorking, Surrey
Lived
Dorking, Surrey
Son of
Alice Tyler and George Worsfold of Spring Cottage, South Holmwood
Regiment
10th Royal East Kent and West Kent Yeomanry Battalion.
East Kent Regiment. The Buffs
Number
G/21932
Previous Regiment
1st Battalion. East Kent Regiment. The Buffs
Date of Death
21st September 1918
Place of Death
France
Cause of Death
Killed in action
Age
19
Memorial
Vis-En-Artois Memorial, France