Thank you to Patricia Brazier for the following research. With sincere thanks to Scott Kinniburgh for allowing access to his research of his 2nd Great Uncle Angus McKellar.
Angus Peter McKellar was born on 11th November 1868 in Lobo Township in Southern Ontario. He was the son of Peter Paul McKellar and Mary Graham, both of whom were second generation Canadians whose parents had both emigrated to Canada from Argyllshire, Scotland in the mid 1820's and 1830's.
Angus had three brothers; Malcolm A, Archibald Duncan and William Graham and one sister Mary Catherine. His father, Peter was a blacksmith. In the 1871, 1881 and 1891 censuses of Canada the family were living in the North Middlesex district of Ontario. In 1891 Angus is a Military Student at D Company Infantry School in London, Ontario.
He completed two years at this school. He then left his family and moved to Dawson City in the newly acquired western and northern territories of Canada, where he served in the Royal North West Mounted Police from 1893 until 1896.
1896 was the first year that substantial amounts of gold were found in the Yukon, leading to the Klondike Gold Rush which lasted from 1896 -1899. Like many others Angus caught the Gold bug and on his 1901 census record he is listed as a partner in a Gold Mining enterprise. The 1911 census still places Angus in Dawson City, Yukon, but does not mention his occupation.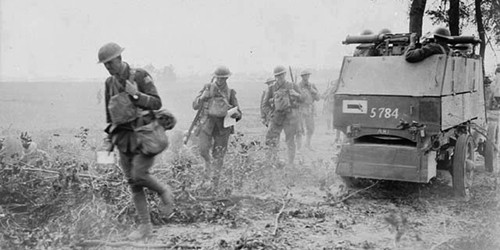 On 7th June 1916 Angus underwent his physical examination for service in the Canadian Expeditionary Force to join the newly formed Yukon Infantry Company. He was given the rank of Lance Corporal. The company then left the Yukon for Victoria British Columbia where Angus underwent another medical examination. His attestation describes his physical appearance as being 5 feet 8 3/4 inches tall, with a dark complexion, blue eyes and dark hair. He also has a long scar across his chest, caused by a knife wound. His occupation on enlistment was a Locomotive Engineer. He has changed his date of birth to 11th November 1876. Presumably there was an upper age limit for volunteers and Angus did not want to be told he could not go to the front line because of his age. An article in the Yukon News at www.yukon-news.com/opinion/yukoners-fought-at-the-battle-of-amiens talks about the forming of the Yukon Infantry, their deployment and active battles. This article mentions Angus' death at Bouchoir, France, during the Battle of Amiens.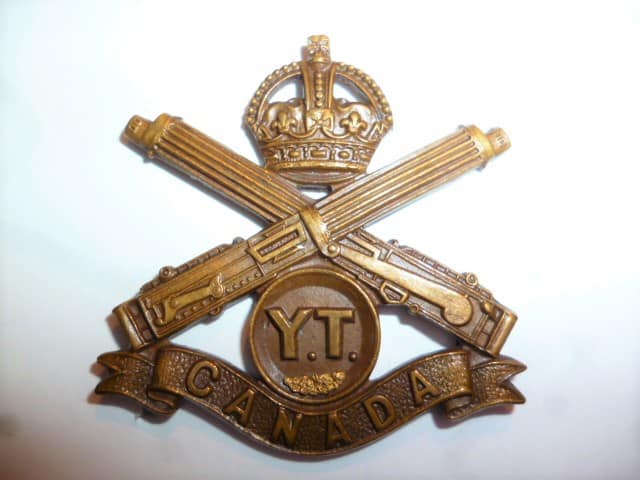 Angus left Canada with the Canadian Expeditionary Force on 24th January 1917 and arrived at Liverpool on 3rd February 1917. He then transferred to the Machine Gun Corps. They arrived in Witley Camp in Surrey on 27th March 1917. Angus met Rosa Pledge whilst stationed at Witley; she was working as a domestic servant in a nearby household. In July of 1917 he was demoted to Private, as a punishment for being absent without leave.
On 12th February 1918 Angus married Rosa Ethel Pledge at the parish church in Dorking. The Machine Gun Corps then left England and arrived in France on 25th March 1918. Angus was killed in action on 10th August 1918 near Bouchoir during the Battle of Amiens, when an enemy shell made a direct hit on his armoured car.
Angus is buried in the Hangard Communal Cemetery Plot 4 Row C. Rosa requested that "Abide with Me" be put on his headstone. It is a sad irony that had he survived another three months he would have celebrated his 50th birthday on Armistice Day.
Rosa did not marry again and died in 1968.
| | | |
| --- | --- | --- |
| Born | | Lobo Township, Southern Ontario, Canada |
| Lived | | Dawson City, Yukon, Canada |
| | | |
| Son of | | Peter Paul and Mary (nee Graham) McKellar |
| Husband of | | Rosa Ethel Pledge of Castle Gardens, Dorking |
| | | |
| Regiment | | 2nd Canadian Motor Machine Gun Brigade |
| Number | | 1015592 |
| | | |
| Date of Death | | 10th August 1918 |
| Place of Death | | Bouchoir, France |
| Cause of Death | | Killed in Action |
| | | |
| Age | | 49 |
| | | |
| Cemetery | | Hangard Communal Cemetery, France |