Thank you to Jane Anthony for this research, and thank you to Andy Bailey for additional research.
Arthur Charman was born in Oving near Chichester, Sussex in about 1893. He was the son of Henry and Emily Charman. Henry Charman was a stockman and was peripatetic, he and Emily had 11 children all 7 of whom were living in 1911. The children were born in various villages throughout Sussex, Pulborough, Midhurst Billingshurst Slinfold.
In 1911, Arthur resided in 2 Lighthouse Cottages, Kingston Gorse, and was employed as a stockman on the East Kingston Estate, West Sussex.
Arthur enlisted in Chichester in the first week of September 1914, to serve in the new 'Kitchener's Battalions', however was rushed overseas to France for active service with the British Expeditionary Force on 11th January 1915 as part of draft of 210 reinforcements for the 2nd Battalion, Royal Sussex Regiment. He immediately joined the battalion in the trenches near the 'Brickstacks' area east of Cruinchy.  
At some stage Arthur joined 7th Battalion, possibly after suffering and recovering from wounds (2/RSR were heavily involved in the Battle of Aubers – 9th May 1915 and the Battle of Loos – 25th September 1915).   It is likely that Arthur was one of the 187 officers & men wounded whilst holding the line near the Hohenzollern Redoubt (Loos battlefield) against German attacks on the night of 3/4th March 1916. A further 30 officers and men were killed in the action, and 2 men were reported missing.  
Arthur was evacuated to a Casualty Clearing Station near the village of Lapugnoy, but died of his wounds on 6th March 1916, aged 23. He was laid to rest in grave I. E. 23, Lapugnoy Military Cemetery, France   Arthur Charman is commemorated on the East Preston War Memorial and the Kingston Gorse War Memorial.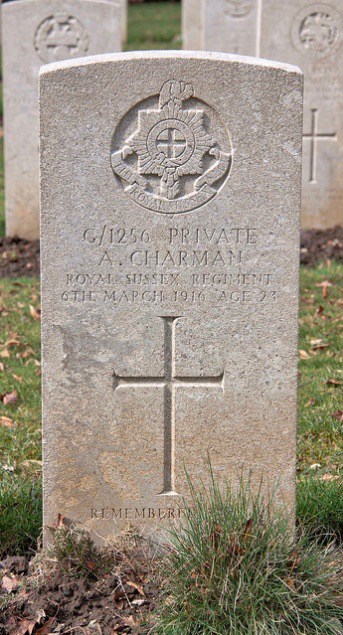 | | | |
| --- | --- | --- |
| Born | Oving, Sussex | |
| Lived | Angmering, West Sussex | |
| | | |
| Son of | Henry and Emily Charman | |
| | | |
| Regiment | 7th Battalion. Royal Sussex Regiment | |
| Number | G/1256 | |
| | | |
| Date of Death | 6th March 1916 | |
| Place of Death | Hohenzollern Crater, Loos, France | |
| Cause of Death | Died of Wounds | |
| | | |
| Age | 23 | |
| | | |
| Cemetery | Lapugney Cemetery, France | |