Thank you to Patricia Brazier for the following research.
Albert was born on the 8th of July 1880 and was baptised on 12th September 1880 in the parish church at Pepper Harrow. His parents are George and Sarah. George is a farm labourer.
Albert had eight brothers and six sisters. He attended St. Mary's Church of England School in Shakleford from March 1884 until September 1890. In the 1881 census the family are living in Peper Harow Lane, in Peper Harow. The family then moved to Shakleford and in the 1891 census they are living in Clock House. George, his father is now a stockman. His family are still living in Shakleford when the 1901 census was taken. Albert is now working as a groom.
Albert married Emily Dewdrey in Christ Church in Coldharbour, on 28th March 1910. In the 1911 census Emily is listed as living with her parents in Coldharbour, with their 10 month old daughter Gertrude May, Albert is living at Warren Farm in Mickleham, he is working as a farm labourer. Albert and Emily had three children: Gertrude May, born in July 1910; Evelyn Doris born in 1913 and William George born in 1915.
He enlisted into the Royal Fusiliers in Guildford early in 1915. In January 1917 an article in the Dorking & Leatherhead Advertiser mentions that he attended the inquest into the death of his baby. He had travelled from Dover, where he was stationed and his wife was living at 4 Holmwood Terrace, Flint Hill in Dorking. On the 23rd April 1917, after 10 months in the field, he was admitted to 138th Field Ambulance in France where he was treated for tooth decay. He was discharged on 25th April and returned to the field.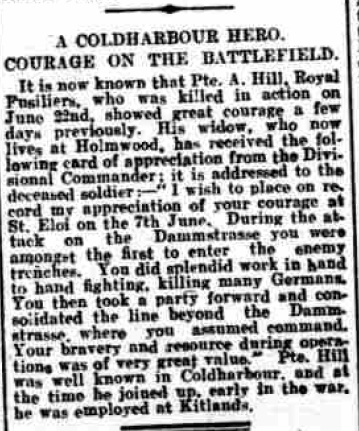 A COLDHARBOUR HERO – COURAGE ON THE BATTLEFIELD
It is now known that Pte. A. Hill, Royal Fusiliers, who was killed in action on June 22nd, showed great courage a few days previously. His widow, who now lives at Holmwood, has received the following card of appreciation from the Divisional Commander; it is addressed to the deceased soldier. "I wish to place on record my appreciation of your courage at St. Eloi on the 7th June. During the attack on the Dammstrasse you were amongst the first to enter the enemy trenches. You did splendid work in hand to hand fighting, killing many Germans. You then took a party forward and consolidated the line beyond the Dammstrasse, where you assumed command. Your bravery and resource during operations was of very great value" Pte Hill was well known in Coldharbour, and at the time he joined up, early in the war, he was employed at Kitlands.
Arthur Hill Death Notice © Dorking Advertiser – findmypast.co.uk
Albert was killed in action on 22 of June 1917; he is buried in Bus House cemetery, which is situated 4 kilometres south of the town centre of Lepers.
Albert was awarded the Military Medal for his heroic actions on 7th June 1917 at St. Eloi during the attack on the Damstrasse.