Thank you to Jane Anthony for this research. Thank you to Rachel Collins (great niece of Jack) for the family detail and the letters.
Arthur John Becket, who appears as John on the Abinger War Memorial, was the second son in the family of Thomas and Emily Beckett. He was known as Jack to his friends and family. He was born at Cublington on the Bedfordshire/Buckinghamshire borders in about 1889. His family ware all employed in agricultural, his father was initially a farm labourer who later became a stock man. Two of his brothers were also working in farms. However Jack became a gardener.
At some point between the 1901 census and 1911 he left Buckinghamshire and by 1911 he was living with the Ovington family at 23 The Dene, Abinger Hammer. Benjamin Ovington, a house painter, had been married for 6 years but his wife and one of the children were not at home for the night of the census. The three other children of the family were all very young 6 or under. Jack Beckett was boarding at the house and working as a gardener.
He enlisted in the 1st/5th Battalion of the Queens Royal West Surrey Regiment at Dorking. His Battalion was part of the Home Counties Division, which was sent to India. At the time of his death he had been transferred to the 2nd Battalion, Norfolk Regiment which was stationed in Iraq. Unusually Jack Beckett was not killed in battle, he died of his wounds, but no actual cause of death is given. He died on 11th January 1916. He is buried at the Kut War Cemetery.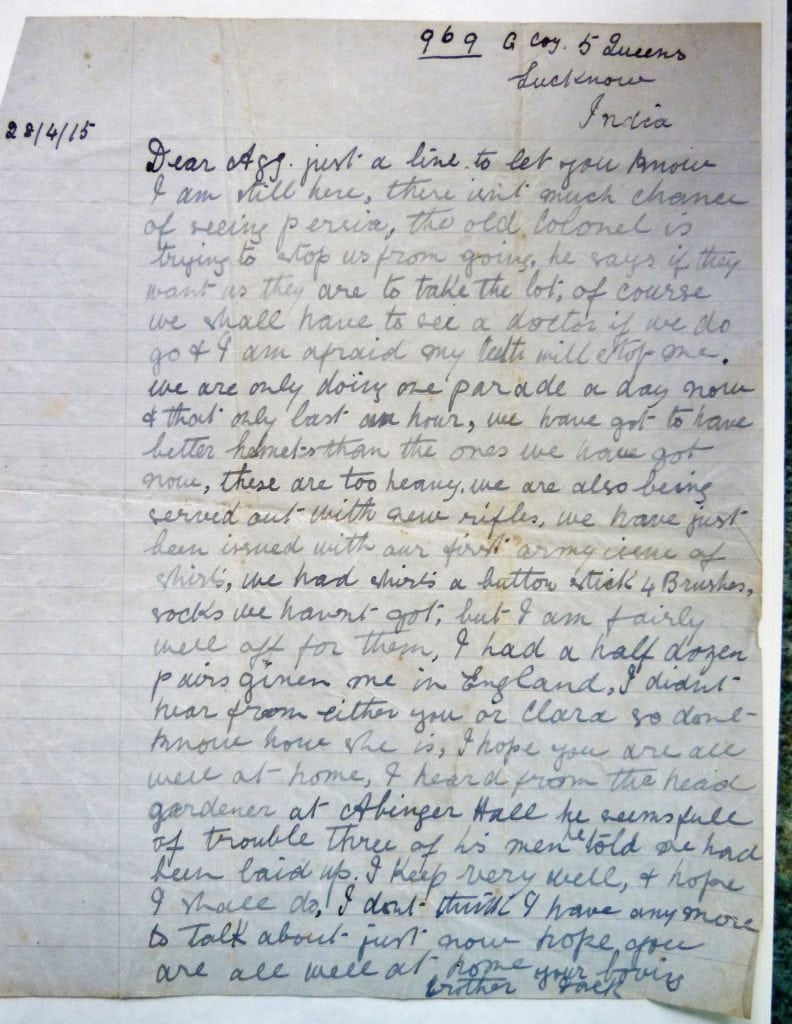 969 G Coy. 5 Queens
Lucknow
India
28/4/15
Dear Agg, just a line to let you know I am still here, there isn't much chance of seeing Persia, the old colonel is trying to stop us from going, he says if they want us they are to take the lot, of course we shall have to see a doctor if we do go & I am afraid my teeth will stop me. We are only doing one parade a day now & that only last an hour, we have got to have better helmets than the ones we have got now, these are too heavy. we are also being served out with new rifles, we have just been issued with our first army issue of shirts, we had shirts a button stick 4 brushes, socks we haven't got, but I am fairly well off for them, I had a half dozen pairs given me in England, I didn't hear from either you or Clara so don't know how she is, I hope you are all well at home, I heard from the head gardener at Abinger Hall he seems full of trouble three of his men he told me had been laid up. I keep very well, & hope I shall do, I don't think I have any more to talk about just now hope you are all well at home
your loving brother Jack
His cause of death is speculative, however the back ground is as follows: In April 1915, the Indian Expeditionary Force 'D', which had landed at Fao the previous November, began its advance inland with the intention of clearing Turkish forces out of south-west Iraq. Amara was occupied in early June and the advance continued along the line of the Euphrates to Nasiriya, and along the Tigris to Kut, which was taken on 29th September. The advance to Baghdad was resumed on 11th November, but was brought to a standstill against the strong Turkish defences at Ctesiphon on 22nd-24th November.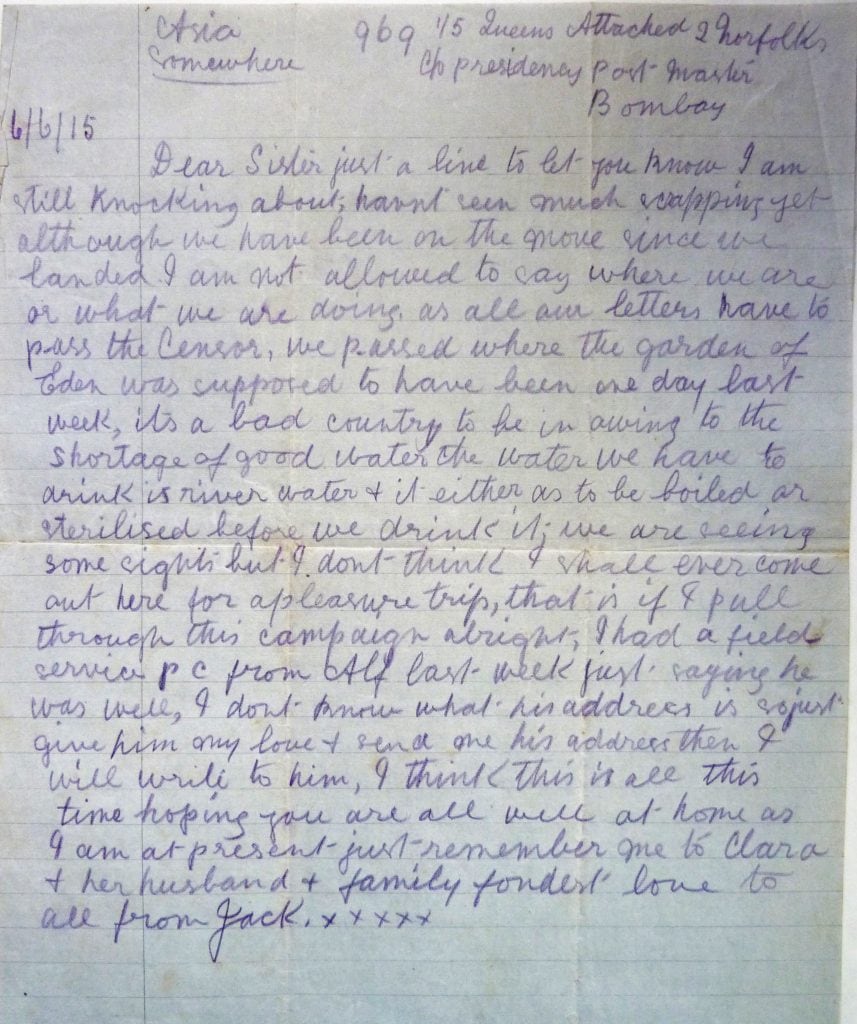 Asia Somewhere 969 1/5 Queens Attached 2 Norfolks
c/o Presidency Post Master
Bombay
6/6/15
Dear sister just a line to let you know I am still knocking about, haven't seen much scrapping yet although we have been on the move since we landed. I am not allowed to say where we are or what we are doing, as all our letters have to pass the Censor, we passed where the Garden of Eden was supposed to have been one day last week, it's a bad country to be in owing to the shortage of good water the water we have to drink is river water & it either as to be boiled or sterilised before we drink it. We are seeing some sights but I don't think I shall ever come out here for a pleasure trip, that is if I pull through this campaign alright, I had a field service pc from Alf last week just saying he was well, I don't know what his address is so just give him my love & send me his address then I will write to him, I think this is all this time hoping you are well at home as I am at present just remember me to Clara & her husband & family fondest love to all from Jack, xxxxx
By 3rd December, the force, comprising chiefly the 6th (Poona) Division of the Indian Army, was back in its entrenched camp at Kut, where they were besieged by Turkish forces. Heavy casualties were suffered in desperate but unsuccessful attempts to reach the town and raise the siege in January, March and April. The garrison was forced to capitulate on 29th April 1916 and nearly 12,000 men were taken prisoner. Jack is also commemorated in Cublington, the village where he was born.
| Born | | Cublington, Buckinghamshire |
| --- | --- | --- |
| Lived | | Abinger Common, Dorking |
| | | |
| Son of | | Thomas and Emily Beckett |
| | | |
| Enlisted | | Dorking |
| | | |
| Regiment | | 1st/5th Battalion. Queen's Royal West Surrey Regiment |
| Number | | G/969 |
| | | |
| Date of Death | | 11th January 1916 |
| Place of Death | | Kut, Iraq |
| Cause of Death | | Died of wounds |
| | | |
| Age | | 27 |
| | | |
| Cemetery | | Kut War Cemetery, Baghdad, Iraq |