Thank you to Jane Anthony for the following research.
Arthur Hayler was the eldest son of Alfred and Emma Hayler. Alfred worked at the lime works in Betchworth and the family lived at Brockham Pits. Emma had originally come from Blindley Heath and in the 1901 census Emma, Arthur and his sister were staying with their grandparents there.
By 1911 the family had expanded to four children and 15 year old Arthur was employed as a messenger.
Some time between the 1911 census and March 1914 he signed on in the regular army. In his service record when he signed on at Reigate on 7th September 1914 he states that although was not a member of any of the forces he had bought himself out in March 1914 but would continue as a reserve.
The service battalion of the Queens Own Royal West Kent Regiment was formed on 5th September 1914 as part of Kitcheners Army. They were deployed to France in July 1915.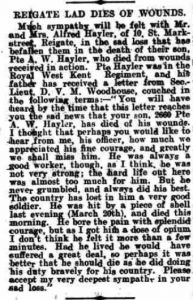 Arthur Hayler died of his wounds on 21st March 1916 aged about 20. He was buried at Chippilly Cemetery where there was a casualty clearing station nearby. Chippilly is near both Albert and Arras therefore it is likely that he was wounded at one of these.
Born                            Brockham, Surrey
Lived                           Reigate
Son of                         Alfred and Emma Hayler
Enlisted                       Reigate
Regiment                     7th Battalion, The Queen's Own Royal West Kent Regiment
Number                       G/2660
Date of Death              21st March, 1916
Place of Death             Somme, France
Cause of Death           Died of Wounds
Age                              20
Cemetery                     Chippily Communal Cemetery, Somme, France