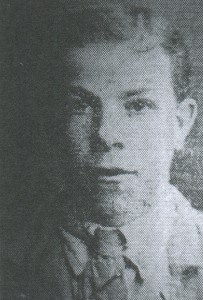 Thank you to John Callcut for letting us reproduce the following information, taken from his book: A Village at War. Newdigate in World War One.
Ben Taylor was born in 1898 and lived his entire life in Broad Lane. He was one of eight children born to Joseph and Emily Taylor. The Taylor family had been established in Newdigate for many years. From being a carter on a farm, Ben enlisted in June 1915 and was wounded in April 1916 and was hospitalized in England. After his recovery he rejoined his regiment.
The great German offensive in Flanders began on the 9th April 1918 and the battalion, under the command of Lt. Col. M. Kemp-Walsh DSO, MC, received orders that it had to be ready to move in two hours. The order duly came and they entrained at Aubigny at 3.15a.m. on the 11th April, arriving at their destination at 2.00pm.
The men – together with cookers, water carts and mess carts were then bussed to a position south of Meteren. Fighting orders were prepared and ammunition made up to 220 rounds per man. When the enemy launched a heavy attack, they created gaps in the line and exploited this advantage by rapidly pushing through light machine guns. The Queen's were overwhelmed and fell back. It was during this retreat, on the 14th April, that Ben Taylor fell. 387 officers and men from the battalion were either killed or wounded during this operation. Pte. Taylor was buried at the Canadian Cemetery, No. 2 Neuville-St. Vaast, north of Arras.
| | | |
| --- | --- | --- |
| Lived | Newdigate, Dorking, Surrey | |
| | | |
| Son of | Joseph and Emily Taylor | |
| | | |
| Regiment | 1st Battalion, The Queen's Royal West Surrey Regiment | |
| Number | G/6060 | |
| | | |
| Date of Death | 14th April 1918 | |
| Place of Death | Meteren, France | |
| Cause of Death | Killed in Action | |
| | | |
| Age | 19 | |
| | | |
| Cemetery | Canadian Cemetery No. 2. Neuville-St. Vaast | |