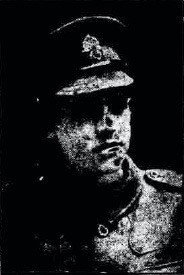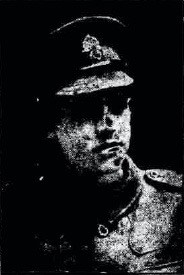 Thank you to Wendy Shuttleworth for the following research.
Bertram Wilfred Carter was born in Dorking on 21st September 1899. He was baptised on the 29th October 1899 at St. Paul's Church, Dorking. Bertram was the son of Stephen, who worked as a butcher and Amy Louisa. He had two older brothers.
In 1901, the family was living at 35 Hampstead Road.
In 1911, the family was still in Hampstead Road, Stephen was still working as a butcher, Bertram was at school.
He volunteered for the Army in Guildford on 14th January 1918. he was 5ft 4 inches and weighed 92 pounds. He listed his occupation as gardener, at Mr. Vickery's house in Harrowlands.
Bertram was a private in the 17th Battalion. City of London Regiment, Royal Fusiliers with a regimental number of G/73421.
Bertram travelled to France in the second week of July.  He was badly gassed and died on the 1st September 1918 aged 18.
According to the Dorking Advertiser, Amy, his mother, received a cable from the matron saying that she could visit him if she desired to do so. Mrs. Carter left Dorking at once, and she reached the hospital half an hour before her son passed away on Sunday evening. She remained to attend the funeral on the Wednesday.
He was buried at Terlinctliun British Cemetery, Wimile, Pas de Calais France III A 28


| Born | | Dorking, Surrey |
| --- | --- | --- |
| Lived | | Dorking, Surrey |
| | | |
| Son of | | Stephen and Amy Louisa of 35 Hampstead Road, Dorking |
| | | |
| Enlisted | | Guildford |
| | | |
| Regiment | | 17th Battalion. City of London Regiment. Royal Fusiliers |
| Number | | G/73421 |
| | | |
| Date of Death | | 1st September 1918 |
| Place of Death | | France |
| Cause of Death | | Died of the effects of gas |
| | | |
| Age | | 18 |
| | | |
| Cemetery | | Terlinctliun British Cemetery, Wimille, Pas de Calais France |